[if you wish to contact me, my email address is: diane27@gmail.com]

This is what I call the Manhire tree, mostly centred in Cornwall, England

Friday 14th December 2012

Milicent Retallick was a challenge as her name could be mis-spelled in so many ways - and was! She was born in Bilberry, Roche in 1856 to John & Mary Ann nee Matthews & christened in Luxulyan on 21 Sep 1856 (recorded as Mellice). She can be seen with parents & sibs at Bilberry in 1861 aged 4 & Trescoll, Luxulyan in 1871 aged 14. In Jul 1880 she married fisherman William Henry Roberts in Brixham, Devon, where he lived. In the 1881 census return she can be seen living on Middle Street, Brixham, with several other fishermen & wives, while he is an AbleSeaman on board the "Ernest", a cutter, trawl-fishing in Penzance Harbour. The 1891 census shows them both at home in Middle Street with 4 children. She died in Jan 1892 & William immediately married Admonisha Jane Meagor (isn't that a wonderful name?), who already had 3 children, & settled down with her. They had a further 3 children together & when he died in 1935 he left his effects to Ethel, the eldest of these three.

Thursday 13th December 2012

A couple of globe-trotting Marys today!

Mary Anne Retallick was born in Jan 1842 in Roche to William & Elizabeth (Betsy) nee Hancock. She can be seen in the 1851 census with them & 3 siblings. They all travelled to Australia in the 1850s & on 1 Apr 1861 Mary Anne married James Morvell, a Yorkshire lad, in Victoria, NSW & had 3 children there. Unfortunately she died at or soon after the birth of the third in 1866 at the age of 23 & is buried in Lexton, Victoria. James married again in 1869 to Rhoda Humphrey from Buckinghamshire, England and went on to have 8 more children. He died in 1903, and is buried at Boort, Victoria.
Mary Anne James



Mary Jane Retallick has some similarities in her story. She was born in Apr 1880 in Luxulyan to Adam & Ann. A previous daughter of the same name had been born to them in 1877 & died at the age of 3 months, so they used the name again. They can be seen together at Innisvath in the census returns of 1881 & 1891. She married in Jan 1898 local boy James Basset Jago & had a daughter Clara & son William, with who they can be seen in the census of 1901 at High Cross, Lanivet. Unfortunately Clara died at a year old and James travelled across the Atlantic to investigate emigrating. In 1902 he sent for his wife & son and they settled there. Again misfortune hit them as Mary Jane had a further baby on 5 Jul 1907 in Michigan and both mother and child died. They are both buried in Wakefield Township, Michigan. James was a miner & he joined the copper miners at Butte, Montana (we know it well! See previous references) he married again in about 1913, this time to Margaret Kearney, an Irish girl, and had at least one child with her. He fought in WW1 with Silver Bow as home address.

Wednesday 12/12/12 (ooo)

Mary Ann Retallick was born in Jan 1839 at Carn Rosemary (Bugle) to Christopher & Ann nee Hoare. Her father was at that time farming, but also brewing and not long after went on to run the New Inn, which became the Bugle Inn, where we visited a few weeks ago. In the 1841 census she can be seen aged 2 with parents, brother & step-sibs, then in 1851 at the Inn with parents & sibs aged 12. Unfortunately she died aged 21 in Jul 1860 at the Inn, and was buried on 16 August in Roche. I did not manage to track down her graveon my recent visit, only that of her mother & one brother, in Roche Churchyard (they had died 1857 & 1858, so I'm surprised she is not with them).



Tuesday 11th December 2012

Mary Retallick & her family travelled about England quite a bit. She was born to Charles & Mary nee Hodgson in Apr 1898 in Darlington, Durham, & her parents had moved there from Marrick, Yorkshire, where her mother originated, in the years just prior to her birth, as her 2 siblings were both from Yorks. Unfortunately her mother died at or just after her birth & the rest of the family moved in with Charles's parents in Devon. Her grandfather died there in 1913, grandmother in 1918 & her hather on 1944. Mary never married & remained in Newton Abbot until she died there in 1970.

Sunday 9th December 2012

Lilian Retallick provides a further chapter to the story I told on 4th August about the Fish & Chip shop in Millom, Cumberland. She was born to Christopher & Mary nee Lutey in Jan 1890 & travelled with them to Australia on the SS Jumna. After the death of her 3 siblings they returned & she can be seen with them on the 1911 census, living at the chippie in Millom with little brother Harry & 2 servants. In Oct 1916 she married local lad James Henry Edwards in Bootle, Cumberland & had 4 children there. Unfortunately she died aged 47 - at 75 Wellington Street, Millom literally around the corner from the chippie - when her youngest was only 8 years old. James may have married Mary Campbell in Bootle in 1939, but as usual without buying the certificate I cannot be sure.

I thought I had some good news for Maria Retallick - her death was incorrect at age 43, as I found a marriage at age 23, so she didn't die with her maiden name. She was born in Dec 1822 at Bawdens, Roche, to John & Jenefer nee Rowse & christened 1 Jan 1823. She can be seen in census of 1841 at Tremoderet, Roche with parents & sibs. She married Luke Thomas on 15 Jan 1846 & can be seen in censuses of 1851 & 1861 with him & 4 children at Ennisvath, then Bawdens (when her father retired). Unfortunately, when I found the 1871 census, Luke was widowed, farming with son Nicholas & family at Trethowell - she had died aged 38 in Jun 1861, just after the last census.

Monday 3rd December 2012

Hi, I'm now back from my trip to Spain, so need to find out where I got to with the research into the Retallicks. I think the last one I featured was John Courtney Retallick, so will pick up from there..

John Robert Smith Retallick was one of the rare Retallicks not born & bred in Cornwall. He was born 3 Apr 1895 in Dalton-in-Furness, Lancashire to Adam & Sarah nee Smith. He can be seen aged 5 with them and 2 brothers in 1901 at 4 Marton, then in 1911 at 20 Quebec Street, Ulverston aged 16. From 1910-1913 he was an apprentice at TF Tyson, stone mason and in 1913 lived at 16 Upper Brook Street, Ulverston, when he was called up to serve in WW1. In 1915 he served in France in the Westmoreland & Cumberland Yeomanry & gained 3 medals for this. In Apr 1928 he married Edith Emily Jessop, settled in Lancaster and had 3 children. In 1972-84 he lived at 35 Toll Bar Crescent, Lancaster. Edith died in 1974 and John in 1987, both in Lancaster.

Thursday 22nd November 2012

This completes the Cornish graveyard trip, and I am now off to sunny Spain for a week or so, so will resume the search for Retallicks etc on my return.

Tuesday 20th November 2012

In Nanpean Churchyard, the only ancestors I could locate with any certainty was John Knight & his wife Amy nee Rowe. John was born in 1822 in St Stephens to Thomas and Elizabeth nee Hammer, and christened at St Mewan on 18 November. In the 1841 census he can be seen living at Drinnick, St Stephens, with parents & sibs. On 18 September 1846 he married Amy Rowe from Nanpean, whose father Thomas was the blacksmith. In 1851 they were living at Bloom Dale, St Stephens - this was a China Clay Works, although there is a villa on the site nowadays - with 3 children In 1861 same with 6 children & also in 1871 with 5 children & granddaughter Edith Allen. In 1881 they were in Nanpean with 2 children but by 1891 retired to Grampound - a village just up the road, with son John Henry. When John died in 1893 he was buried in Nanpean, but it was only after Amy joined him 15 years later that his will was probated - maybe it went missing! He left £118 in effects to son John Henry, who unfortunately after all this time, only survived less than 2 years after inheriting.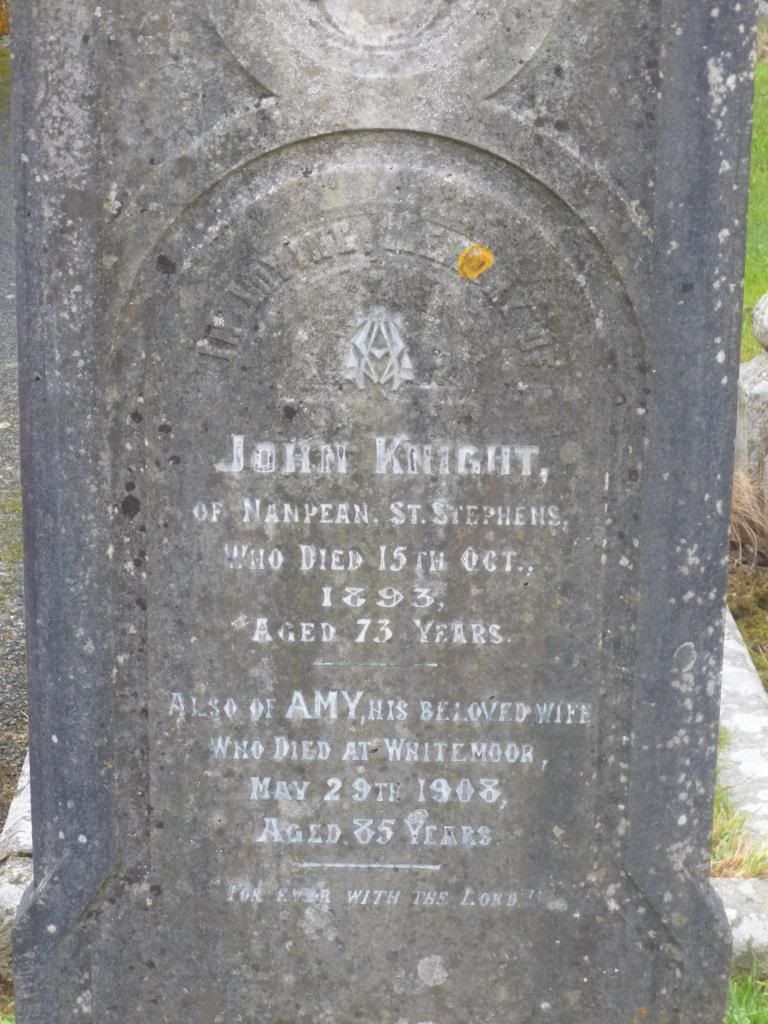 The final 3 cemeteries were not successful. The graves in St Dennis churchyard were old & worn, those in St Columb Major cemetery quite the opposite - crisp, pristine & 20th Century. In St Wenn churchyard I found lots of Retallicks but couldn't pin them down to any known ancestors. So, I will have to return at some point in the future when I have done a lot more work on more recent twigs (if indeed I need to).

Sunday 18th November 2012

Next there was another religious split. Priscilla Knight nee Hocken is buried in this churchyard, but her husband Joseph is in Innis Chapel. He was featured on 21st October & described in his inscription as "a man of strict virtue", evidently a devout Bible Christian Methodist, but his wife did not join him when she died 35 years later. Although she hadn't remarried, she had moved to St Blazey & was living with her son John Hocking Knight (the cousin who later inherited from his uncle Josiah see 13th November), but would still have been entitled to join him if she wanted, I imagine. Instead she was buried here in the C of E churchyard at Luxulyan.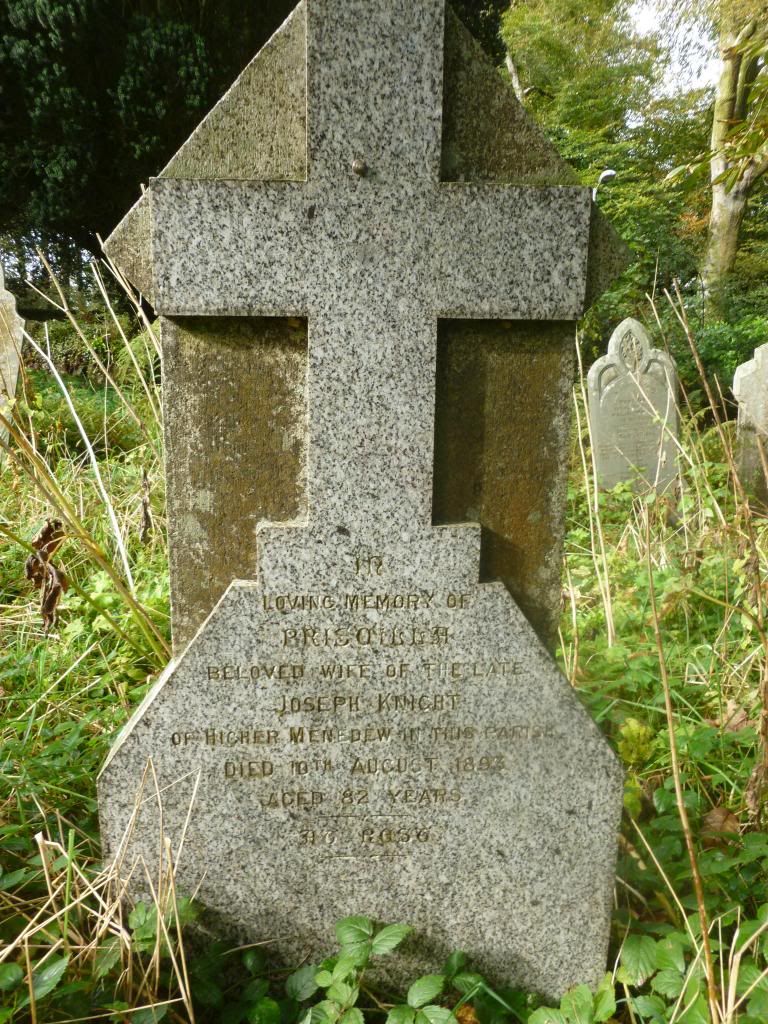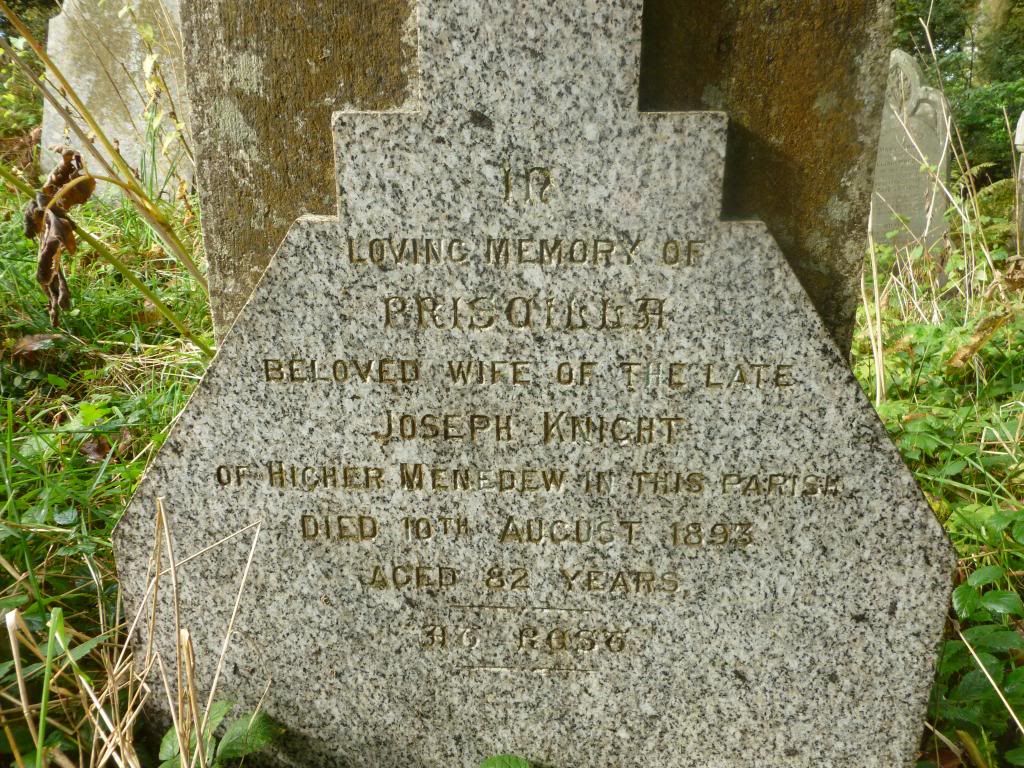 After this we moved on to St Stephen-in-Brannel and searched the lovely cemetery whose photo I feature at the top of both my blog page and my Facebook page. Unfortunately, this is a fairly modern establishment and the graves are all from the 20th Century. I did manage to track down a few old friends though.

Phillippa nee Thomas & her husband Uriah Knight were there. Again he was described as Capt Uriah Knight, but this time in a council cemetery so I wouldn't expect that to be a methodist title. I must look into this. All I know of him is that he grew up in Roche with parents Anthony & Ann nee Pinch, trained as a China Clay labourer. In 1872 he married Phillippa & by the census in 1881 they were living at New Mills, London Apprentice, a village south of St Austell, as a railway labourer. By 1891 he was a clay agent & they lived at Wheal Prosper, near Roche. For the next 20 years they lived at Virginia, St Stephen, again a clay mine, until he retired. After Phillippa died in 1907 & was buried here, he married Elizabeth Jane Udy & lived with her at Fraddon, St Enoder until he died in 1912 & joined Phillippa.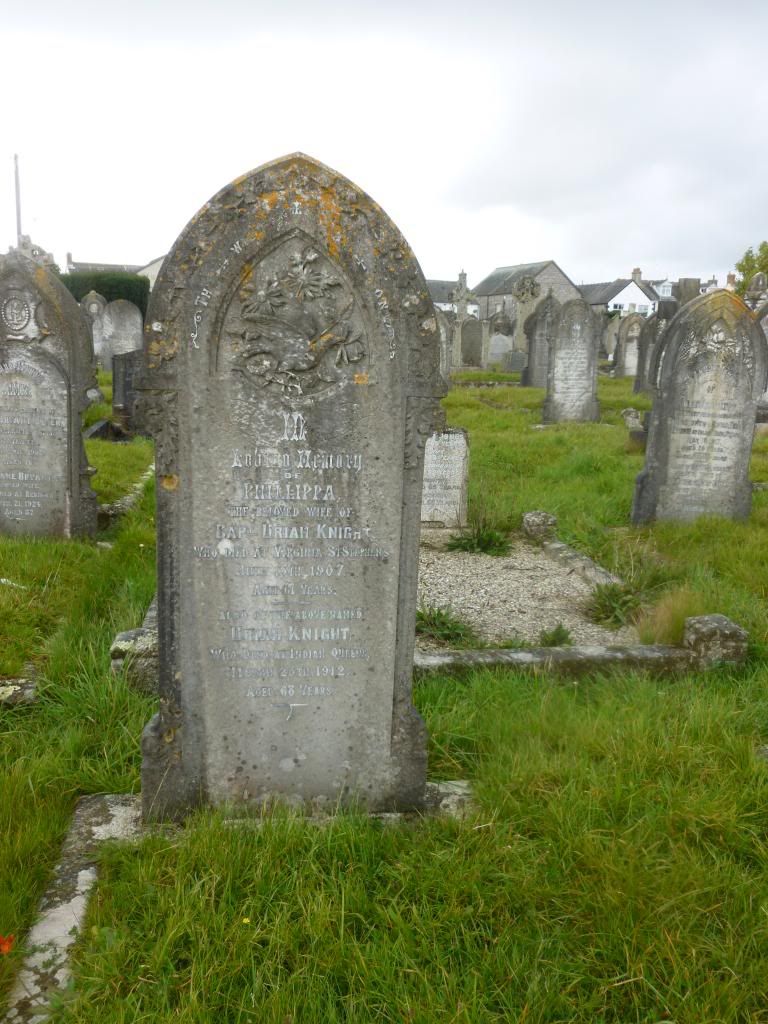 Tuesday 13th November 2012

Gordon Edmund Luke Retallick was the son of Elison I mentioned on Saturday. He was born on 5 June 1921 and in Oct 1941 married Irene Sandercock. She was born in 1923 and appears to be still living. Je died 19 Sep 1995 in Truro & is buried in Treverbyn. They had 2 children Terence b 1942 & Linda b 1949.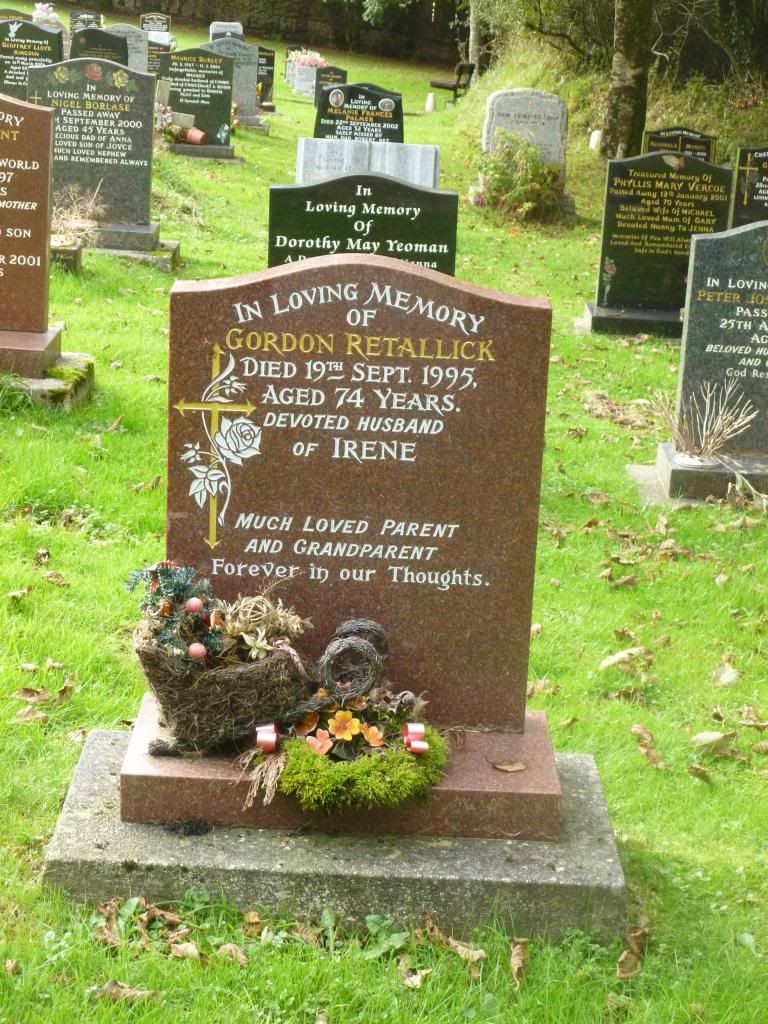 We did try Treverbyn Churchyard, but the few graves we found there were old and weathered and no "family" was recognisable.

So on to Luxulyan Churchyard, where we found a lovely spooky tomb: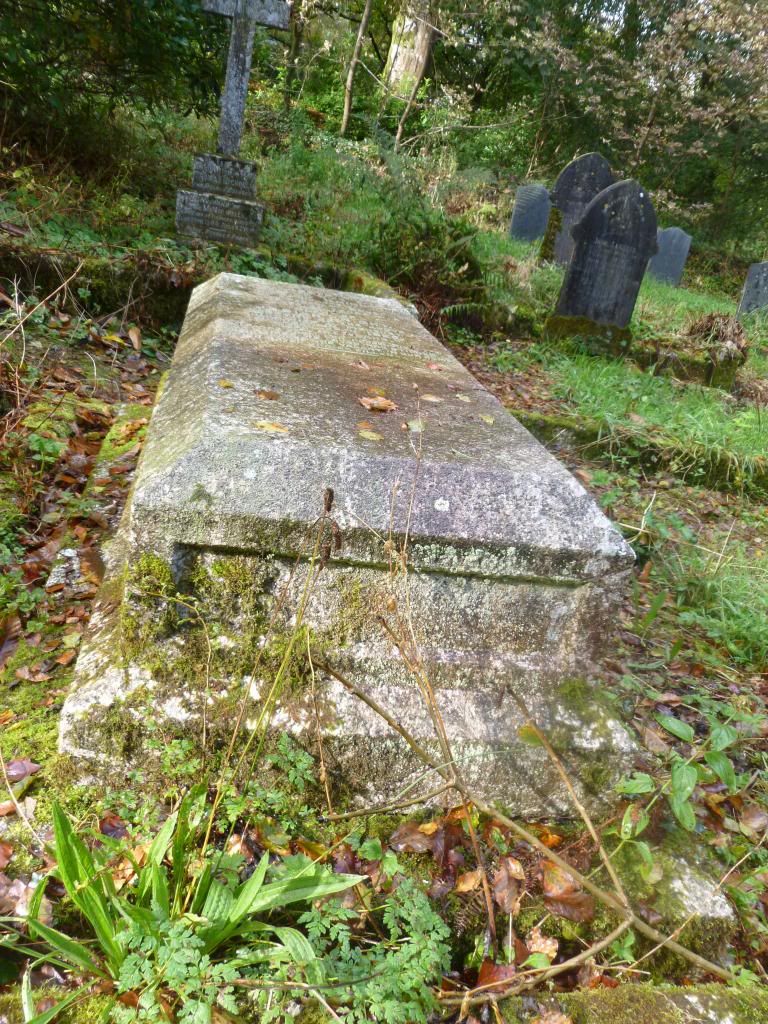 it had an inscription all over the top and another at one side: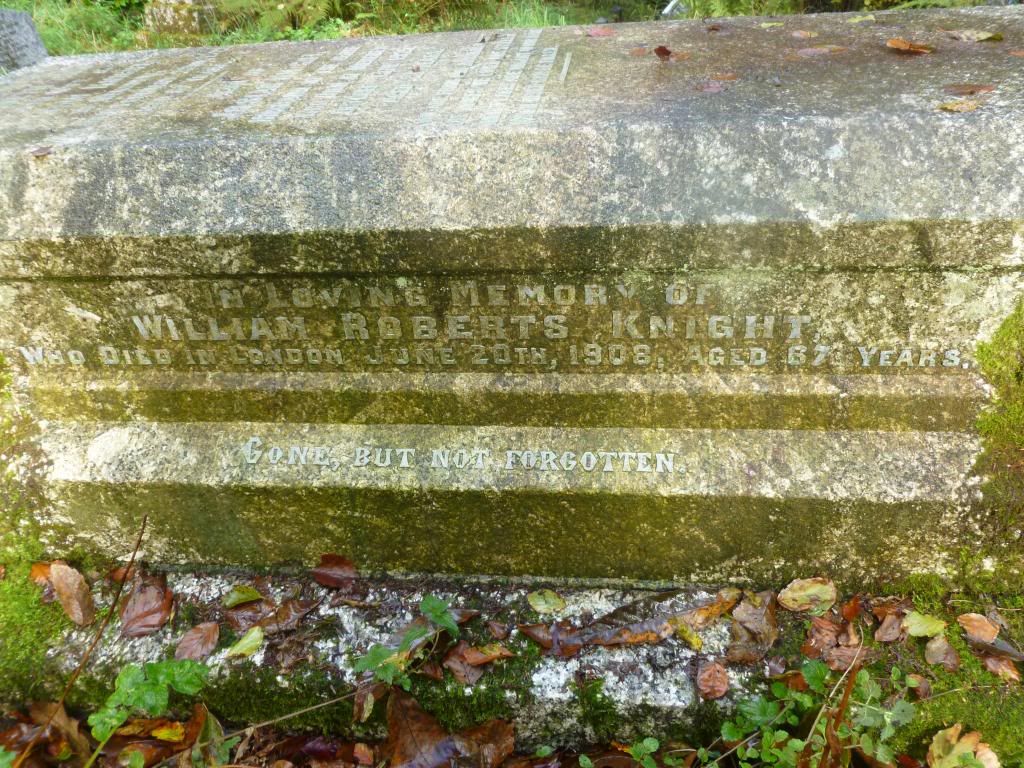 Now these are significant people. Josiah Knight and Elizabeth Ann nee Soloman are the parents who were not Bible Christians, who lost the 2 babies previously mentioned (23rd October) and William Roberts Knight was Josiah's brother. Josiah had inherited £468 and the family farm from their father James in 1886. Brother William had been in London, working as a warehouseman & living in lodgings in Marylebone & Kentish Town with dozens of other warehousemen - well, I say working but the censuses of 1871 & 1881 list him as "warehouseman unemployed". It must have been around the time of their father's death that he changed job and set up as a Commission Agent (possibly some kind of bookie) in Islington. By 1901 he can be seen as Head of a household in Islington, listed as Racing Commission Agent on Own Account ie has his own business. When he died in 1908 in St Pancras, London he left over £85,000 to Josiah and their cousin John Hocken Knight - so it was evidently a lucrative business! When Josiah himself died in 1925 he left his share £44,677 to his sons Vernon Robert, yeoman, and Clarence Heinrich, gentleman. Menadew, where Josiah lived all his life, was shown back in April, and John Hocken Knight's brother Joseph was the Refreshment House owner I mentioned then too. Nice to link up the branches.

Saturday 10-11-12 (oo spooky!)

(crossing fingers that the computer problems are now over - to resume)
The next grave was for William Hart Searle & his wife Bathsheba nee Retallick.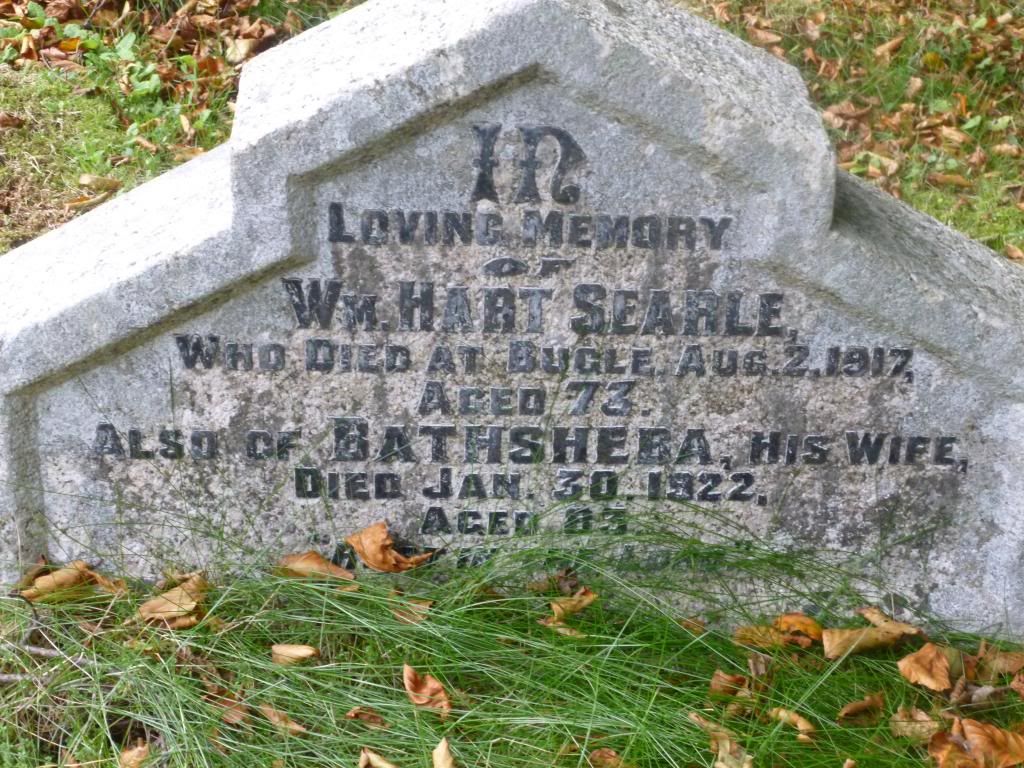 She was born in Apr 1838 to John & Ann nee Chapman, later sister to Allivyan, brought up at Ennisvath, Luxulyan. In Apr 1860 she married John Merrifield, but he died aged 32 in 1870 and she can be seen in the 1871 & 1881 censuses at Woodley, near Lanivet, widowed with 6 children. In 1887 she married again, to widower (William) Hart Searle, and lived with him and his 2 sons at Lamorrick, Lanivet, with her son Solomon next door. She & Hart moved to Bugle & he died in 1917, she in 1922.

The next "family" grave was that of Agar Lloyd Retallick. (NB This is not Agar Alexander from July). He was the son of John Courtney & Mary nee Toms (who I mentioned on 6th October) born 1 Nov 1908 & died 9 Mar 1976, and sadly I know nothing more of him



Reginald Arthur Retallick was the father of Agar Alexander. He was born in Jan 1881 at Livrean to Luke & Ellen nee Vercoe. By 1901 they were living in Bugle and he was listed as Overlooker at Clay Mine. In Oct 1905 he married Henrietta Carter and by 1911 they have 4 children and he is listed as a Clay Agent. They had a further 2 daughters and he died on 14 May 1957 at 4 Jubilee Terrace, Bugle, leaving effects worth over £1900 to eldest son Gordon Reginald, a male nurse. Henrietta lived a further 11 years, then joined him in the grave at Treverbyn: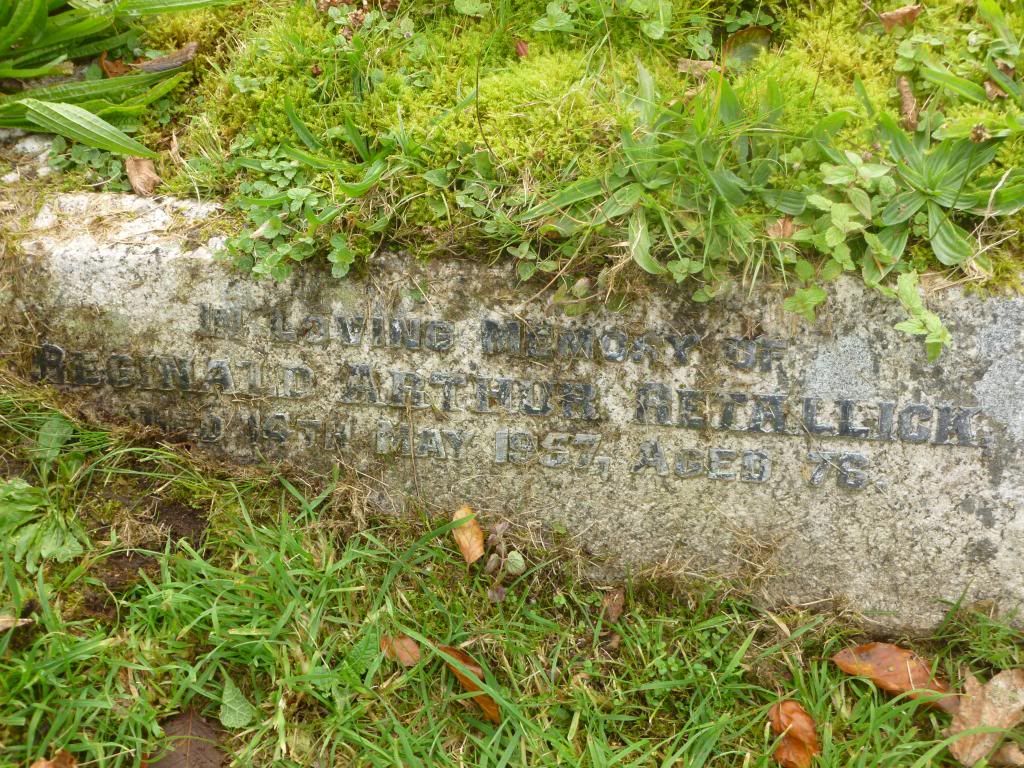 As you can see, this grave was rather dilapidated & overgrown. In contrast, that of his parents Luke Retallick & wife Ellen Jane nee Vercoe was an opulent and costly monument. Luke had been a merchant in clay and had made quite a fortune when he died in 1929: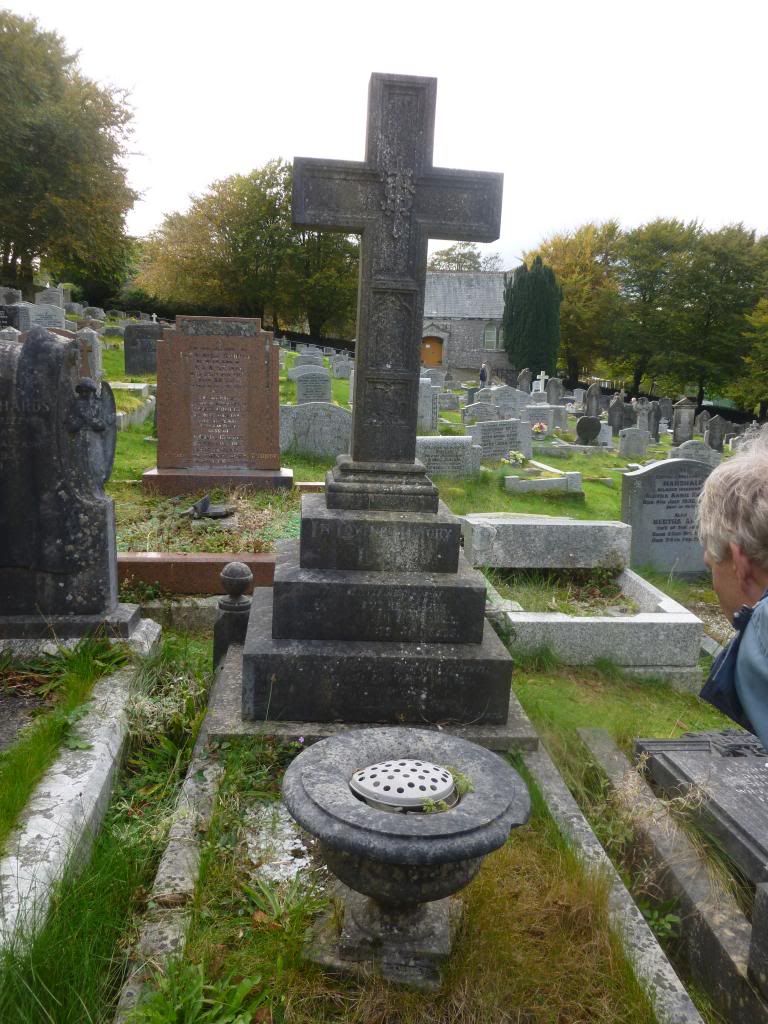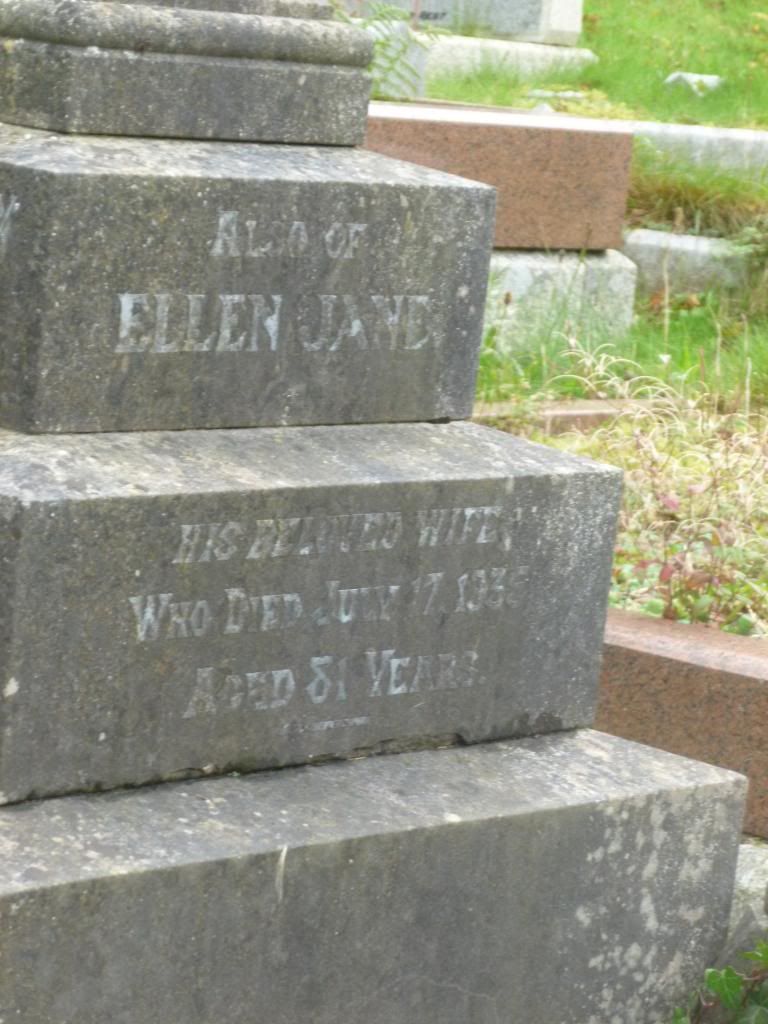 Luke Retallick Junior was born in December 1849 at Livrean to Luke and Mary Ann nee Pascoe, and lived with them and brother William until he married in 1874. He worked as a China Clay Labourer, as did most people in the area, but after his marriage, Luke turned to working as a Packer on the railway, then an Agricultural Labourer in order to support his growing family. There were 14 children born, but only 7 survived childhood. By 1901 they can be seen living at Bugle, Luke listed as a Clay Merchant, Employer, working from home, with a servant. In 1911 they are living in Fair View, Bugle (a large house with 10 rooms, excluding bathroom - there are several terraced tenements on the site today) with 5 children, and when he died in 1929 he left effects worth £7400 to sons Reginald & Elison, clay merchants, and this handsome headstone. In 1935 Ellen died, and her inscription was added to the side, as shown above.

Hugh Retallick was next. He has a fairly simple story. He was born in Aug 1910 at Stennalees to Woodman & Emmeline nee Collins. In the 1911 census he can be seen with them there aged 8 months. He married Muriel (Mo) Eva Rundle in Apr 1936 and they had 2 children, then he died aged 40 in Aug 1950. this stone dates only from 2006, when Mo died aged 94: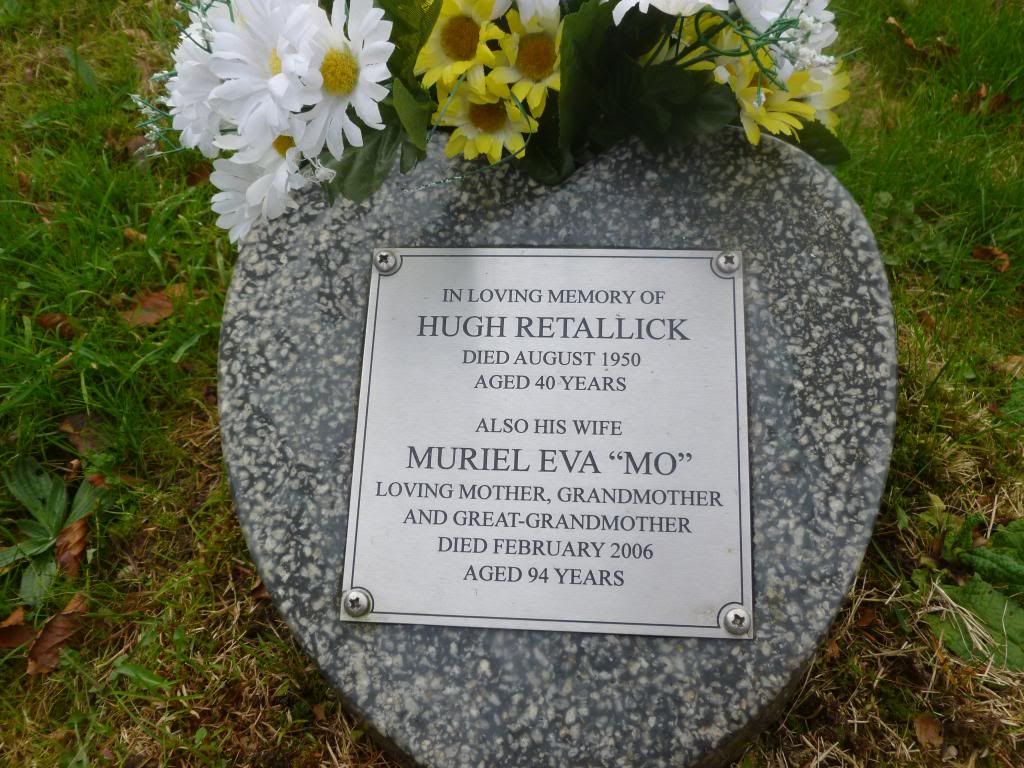 Thursday 8th November 2012

So sorry about the hiatus - having computer trouble. I hope to have it sorted & will resume at the weekend

Wednesday 31st October 2012 (let's share some graves on Hallowe'en!!)

Sister of Zerua, Oretta White nee Knight was next.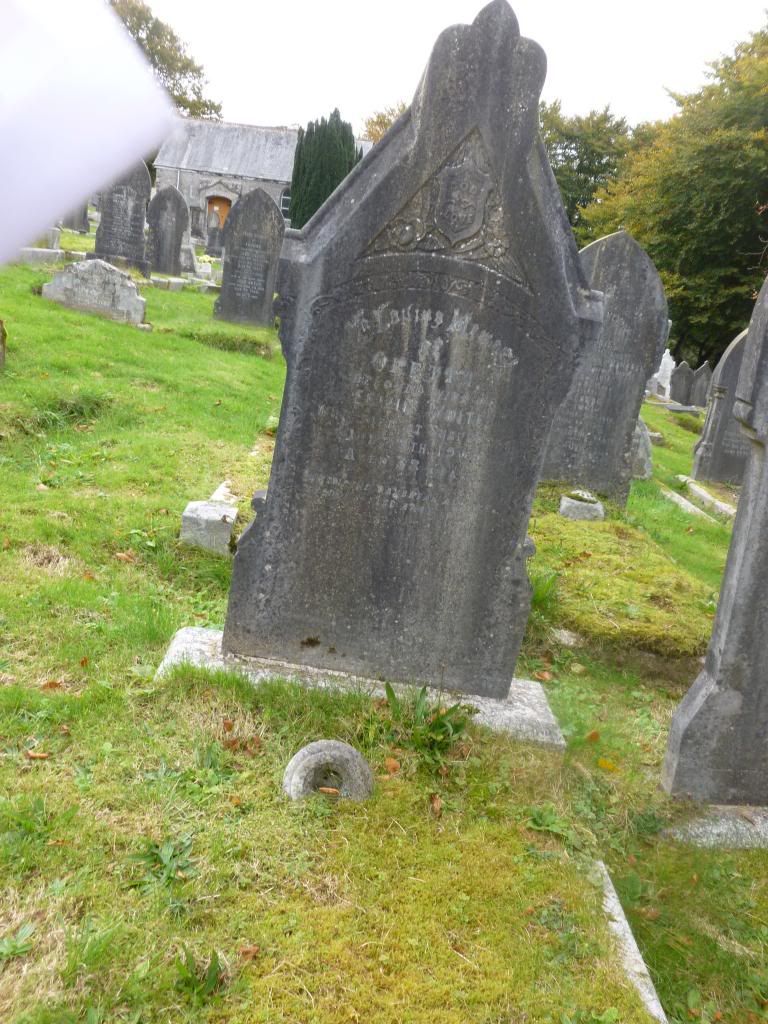 She was born 19 Mar 1871 in Roche to Robert & Lavinia nee Retallick, sister to Tahpenes (Oliver's mother). In the 1871 census she is 2 weeks old livingat Molinnis with parents & lots of sibs, in 1881 aged 10 at Bugle too. In 1891 she is aged 20, staying with her grandparents at St Columb Major. In Jan 1891 she married Edwin White and in the 1901 census can be seen in Totnes, Devon with him & their 2 sons Alick & Tom. Unfortunately, as you can see above, she died aged just 38. As this was at St Columb, I must admit I was surprised to find her here, but then as we shall see later, the cemetery at St Columb is fairly recent, and there are almost no burials as early as this.

Monday 29th October 2012

On to Treverbyn Cemetery.

I told the story of Frederick Maunder Retallick on 21st August. He is buried here with wife Ann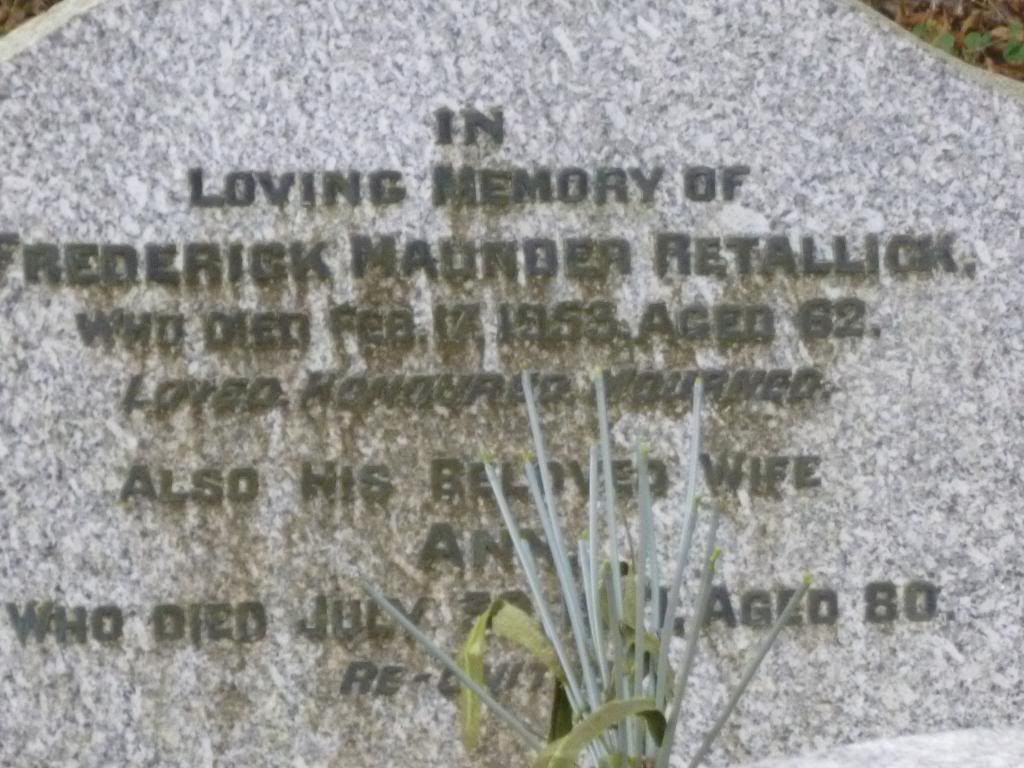 I was pleased to see any familiar names on graves, but was really shocked by this next one. I mentioned on 28th July that there was one famous person in this tree; the musician/composer Wilson Manhire, and expected much from his grave, as he left well over £3000 in effects to his sister Lona (which was a lot of money in those days). This graveyard wasn't easy to negotiate, as it is on a slope, with lines of graves running up & down the slope. As I squeezed right down to the end, beneath the trees I found a very little stone inscribed: "In Loving Memory of Ethel Annie beloved daughter of Thomas & Hannah Manhire of Molinnis who died September 17th 1933 aged 52 years. Also of Wilson beloved brother of the above who died July 17th 1942 aged 58 years. In heavenly love abiding".
I was really surprised at this modesty, as he is described thus: Wilson Manhire (1884-1942) from Molinnis near Bugle composed over 800 pieces for piano, violin, choir and organ and was leader of the Handel Festival orchestra at Crystal Palace in London. Apart from composing several sacred compositions, he was also a leading figure in setting up a Choral Society at Bugle Methodist Chapel in the 1930s.



The next fascinating grave was that of Zeruah Bennetts nee Knight & family. I discussed her life on 26th June, but didn't go into much detail on her many children then. Her gravestone reads: In Loving Memory of John beloved husband of Zeruah Bennetts who died at Bojea on December 25th 1925 (!) aged 71 years and of his 3 sons Edgar who died at Butte, Montana September 29th 1913 aged 27, Herbert killed in France October 19th 1917 aged 19 and Thomas who died in Butte, Montana July 5th 1925 aged 41. Also Zeruah Roseina wife of the above who died November 2nd 1930 aged 75".


You may remember the stories I told of the lads who left the Cornish mines to seek their fortunes at Butte, Montana - well, it seems the Bennetts were among those, and these two did not return alive.

Next I found the couple of first-cousins Jasper & Lilian Manhire, who had a family together and whose story I told on 14th July.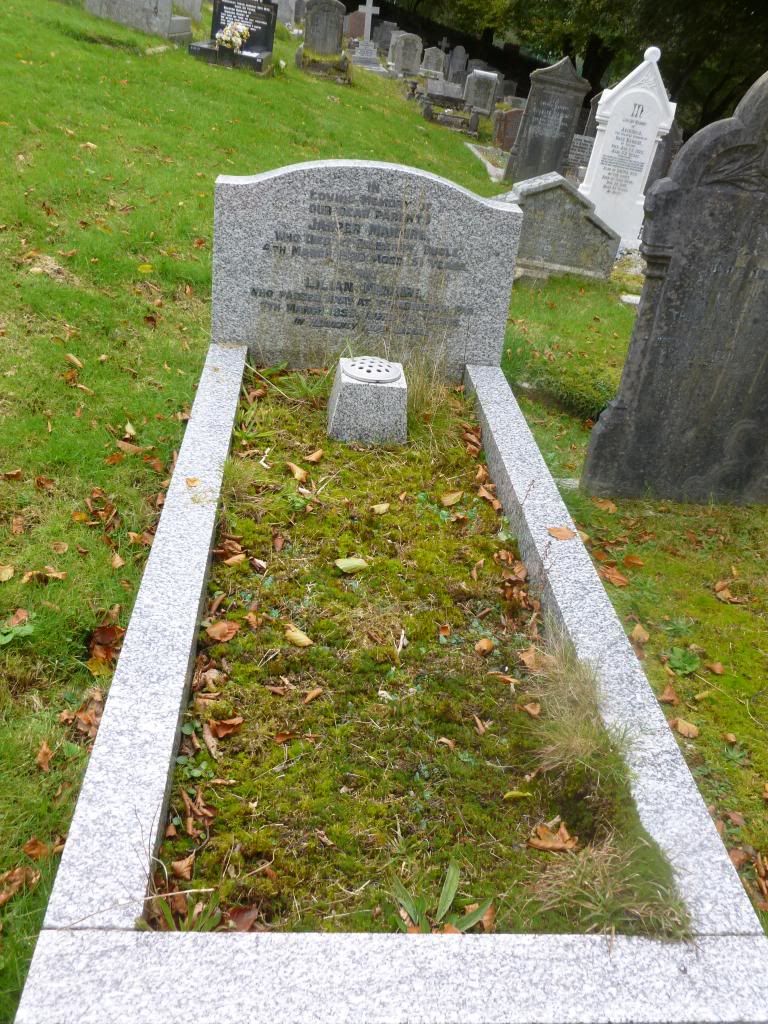 Another important find was the grave of Thomas & Hannah Manhire nee Yelland, parents of Wilson, Lona, Jasper et al.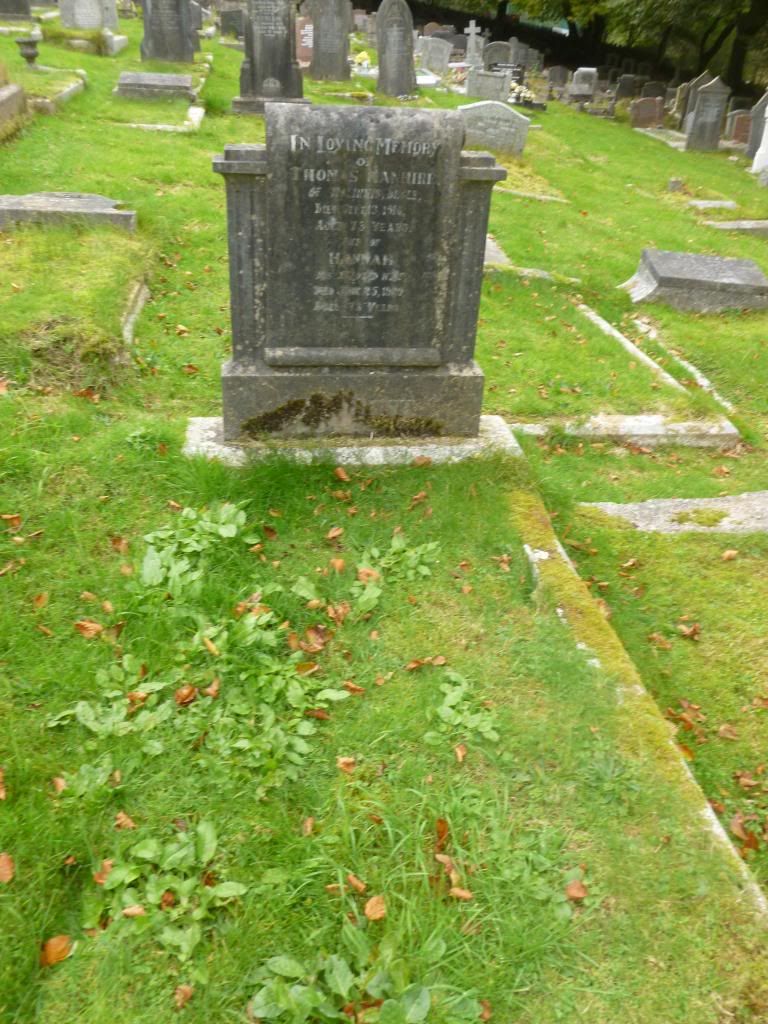 I told the stories of their children throughout July.

Sunday 28th October 2012

We put the clocks back this morning, so I was awake at 6.30am. Better make good use of it here...

The next few graves in Roche churchyard were all one family. Phillippa nee Varcoe married Anthony Knight on 10 Mar 1825 and spent a few years with him in Chile, South America, where they had their first 2 children (James & Mary Ann) before returning to Cornwall. They had a total of 8 children, but 4 died young & are buried here, Daniel & David together as they died in 1844 aged 6 and 1845 aged 3 respectively. Anthony is buried with his son Paul, as they both died in 1852. Daughter Cecilia died aged 20 in 1860 & has her own grave. Phillippa herself died in 1871: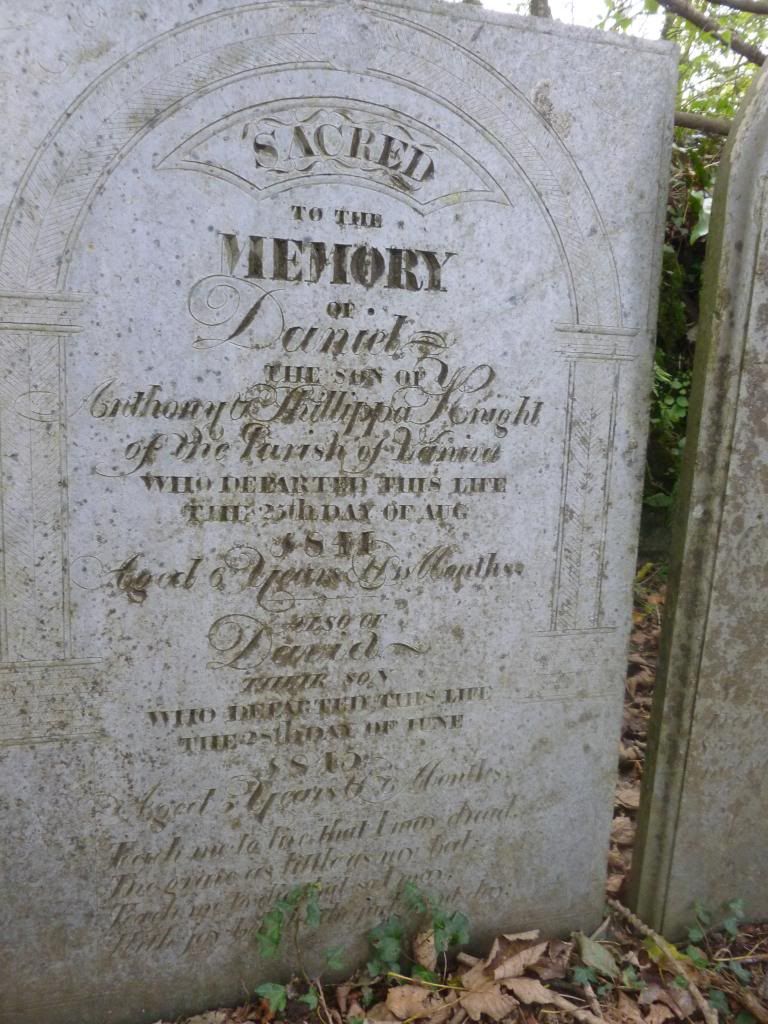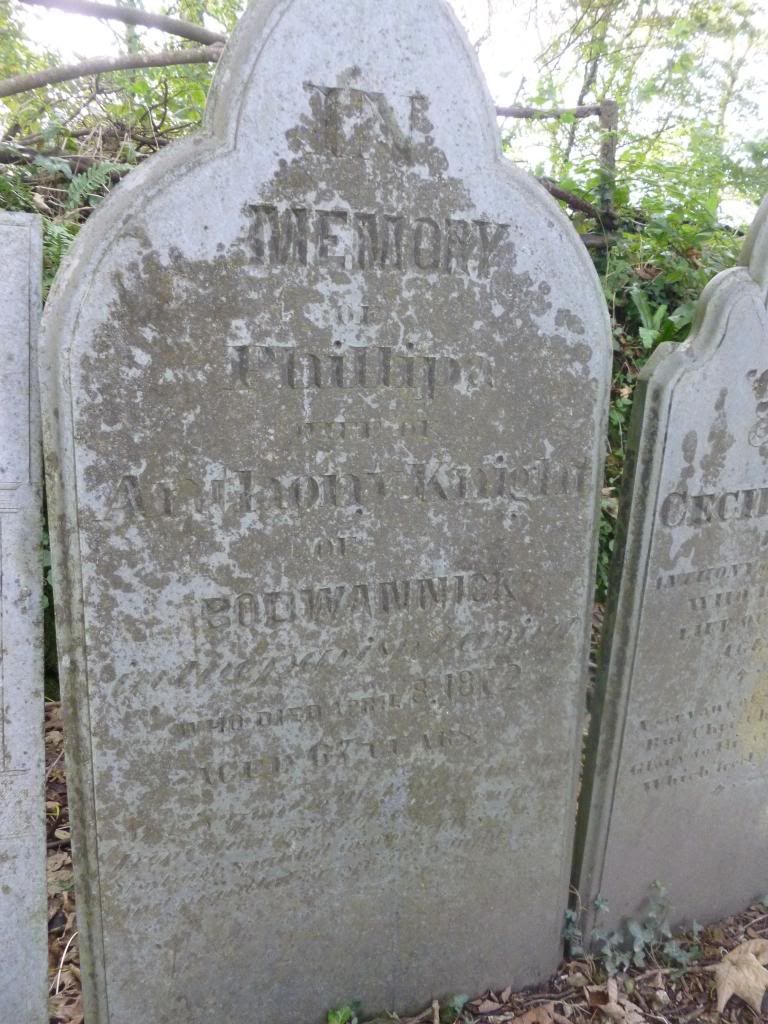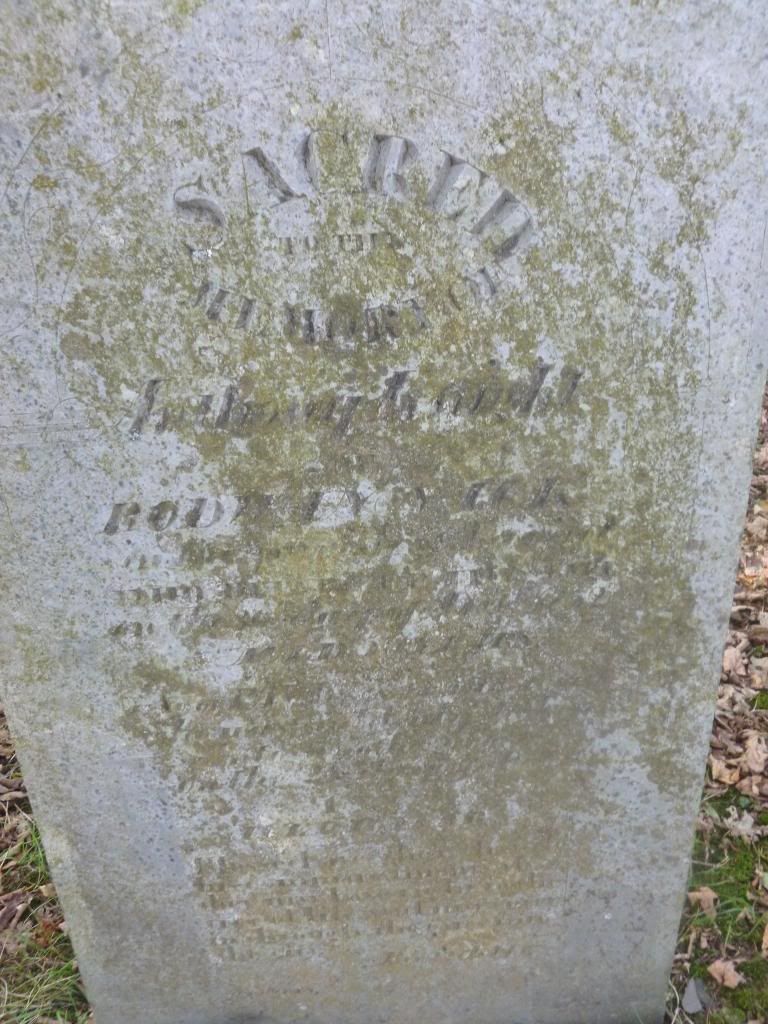 Ann Hoare married Christopher Retallick (b 1802) on 12 Jan 1837 after the death of her first husband Luke Thomas. Their 5 children were brought up together at Bugle, then known as Carn Rosemary until she died in 1857 aged 60. This Christopher Knight was the one who kept the pub called the New Inn, which I suspect became the Bugle Inn, and we popped in for a pint while we were there. They had various old photos & documents on the walls, but nothing decisive re Christopher


He then ran a draper/grocer shop and also was listed as a vet (see 4th August). He died in 1874, but I have not come across his grave, or daughter Mary Ann who died 1860 aged 21 - maybe they are together somewhere. Son Thomas Sobey Retallick is here with his mother, as he died aged 15 in 1858

[inscription reads: "In Memory of Ann beloved wife of Christopher Retallick of the New Inn Carnsmerry in the parish of St Austell who died June 19th 1857 in the 62nd year of her life and of Thomas Sobey Retallick son of the above who died 9th of April 1858 in the 16th year of his life"]

Jane Roberts married Christopher Knight in 1852, had 6 children and died in Aug 1902 aged 71. Christopher died in 1905 and his grave was nearby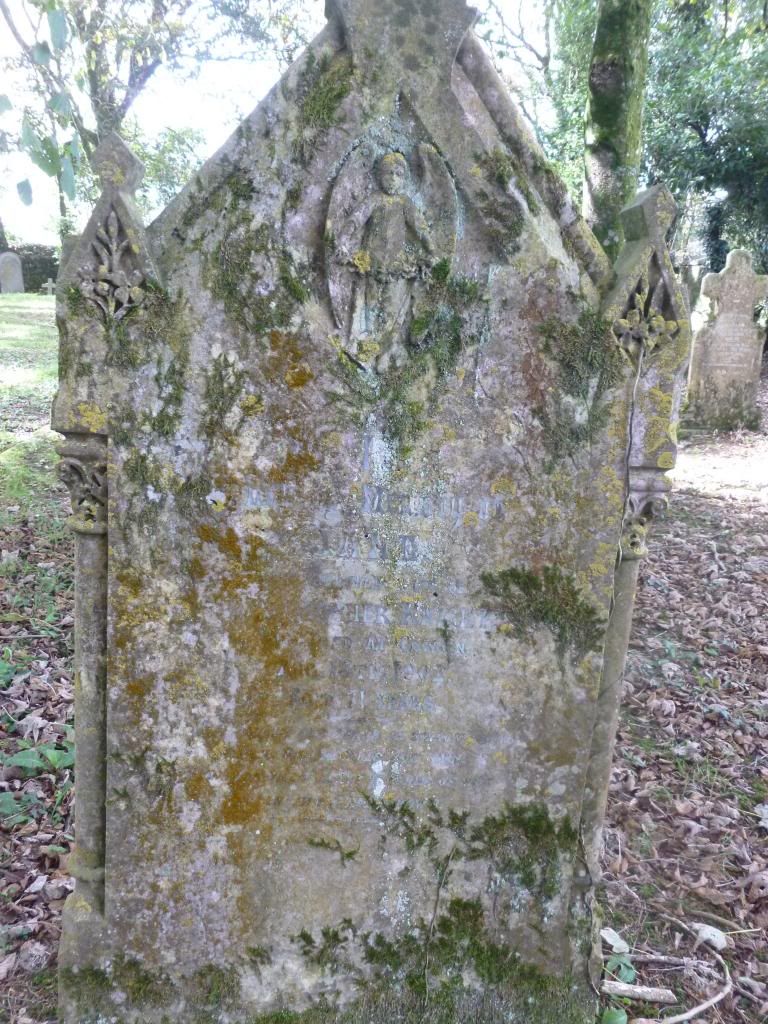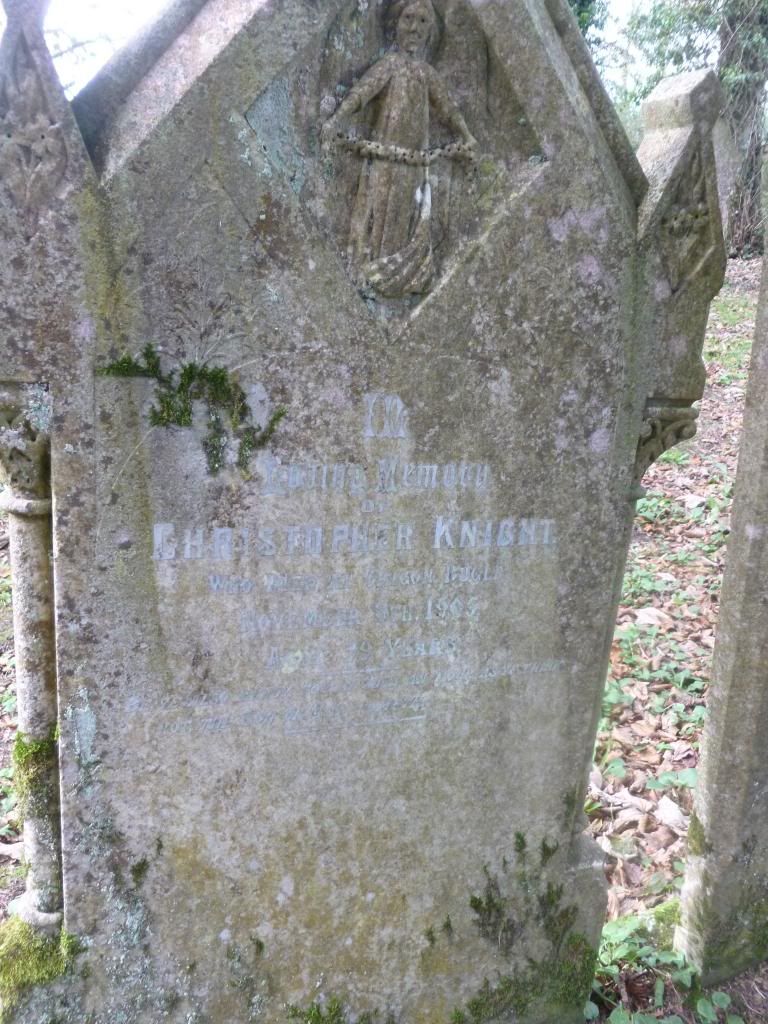 [These gravestones were evidently a matching pair & are an interesting shape. Inscription on Jane's reads: "In memory of Jane beloved wife of Christopher Knight who died at Criggan August 13th 1902 aged 71 years"]

At last, I found a relevant Manhire! Ann Brewer married Thomas Manhire in October 1843, had one son before dying in 1856 aged 34. Thomas then married Mary Ann Roberts (with whom he had no children) and died in 1890 aged 77. He is buried here, but I have not tracked down his grave.



Simon Knight married Grace Bennett in May 1845 and Grace died in 1883 after bearing 11 children. One son David emigrated to California in 1871 and died there in 1882, his body was returned to Cornwall to be with his mother. Simon married Fanny Brokenshire and died in 1897, when he was buried here with Grace & David. Fanny moved to Bodmin in her later years, so she is probably buried there.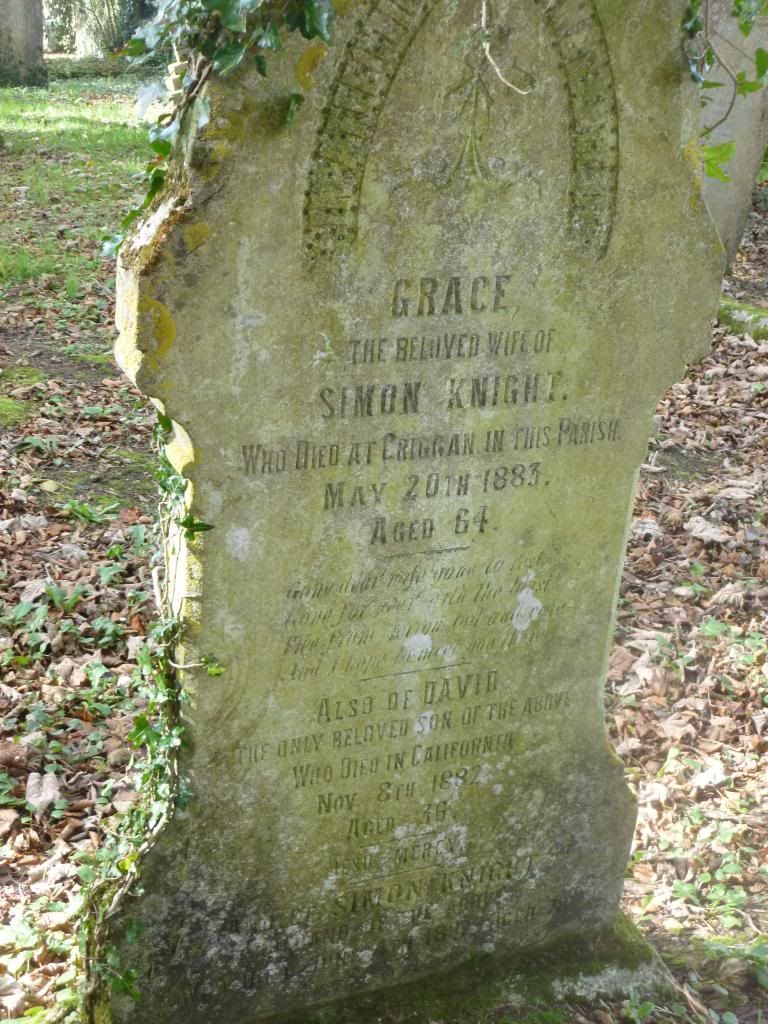 William Knight married Kitty Roach who died in Oct 1853 after 7 years of marriage - and 5 children - possibly in childbirth. He then married distant relative Charlotte Knight and had a further 4 children. He died in 1894 aged 78 and she in 1905 aged 73. William is buried here with Charlotte: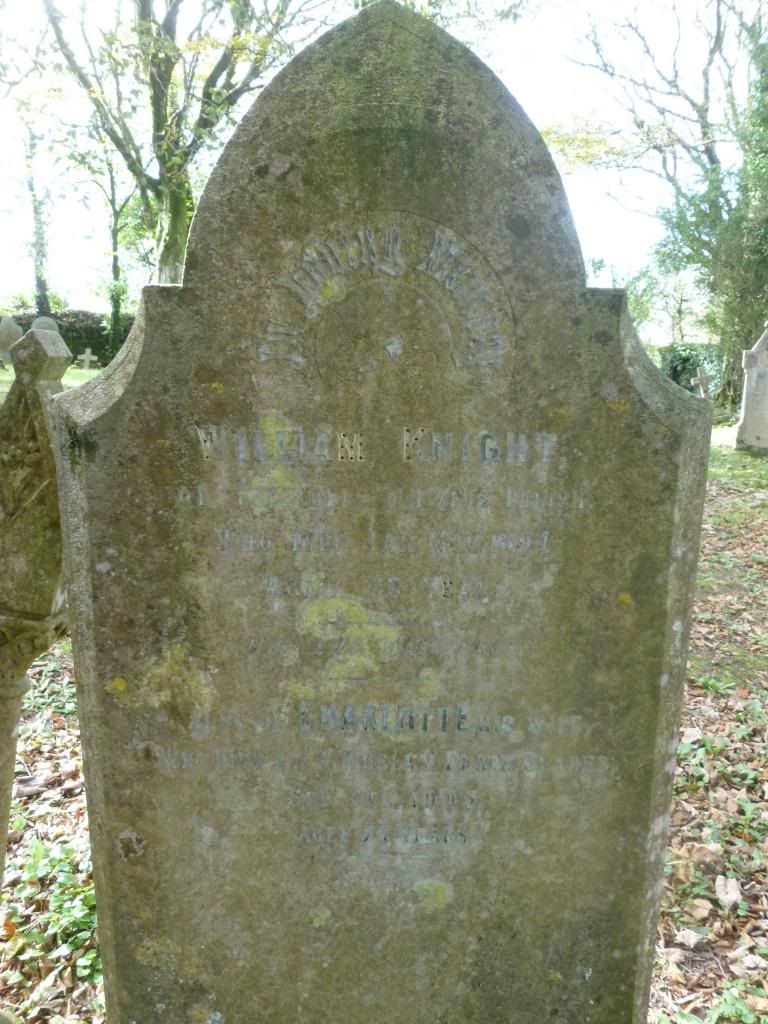 Our last grave in Roche Churchyard was that of Jane Retallick, daughter of Allivyan & Mary (see below for them). She died in Mar 1886 aged 20: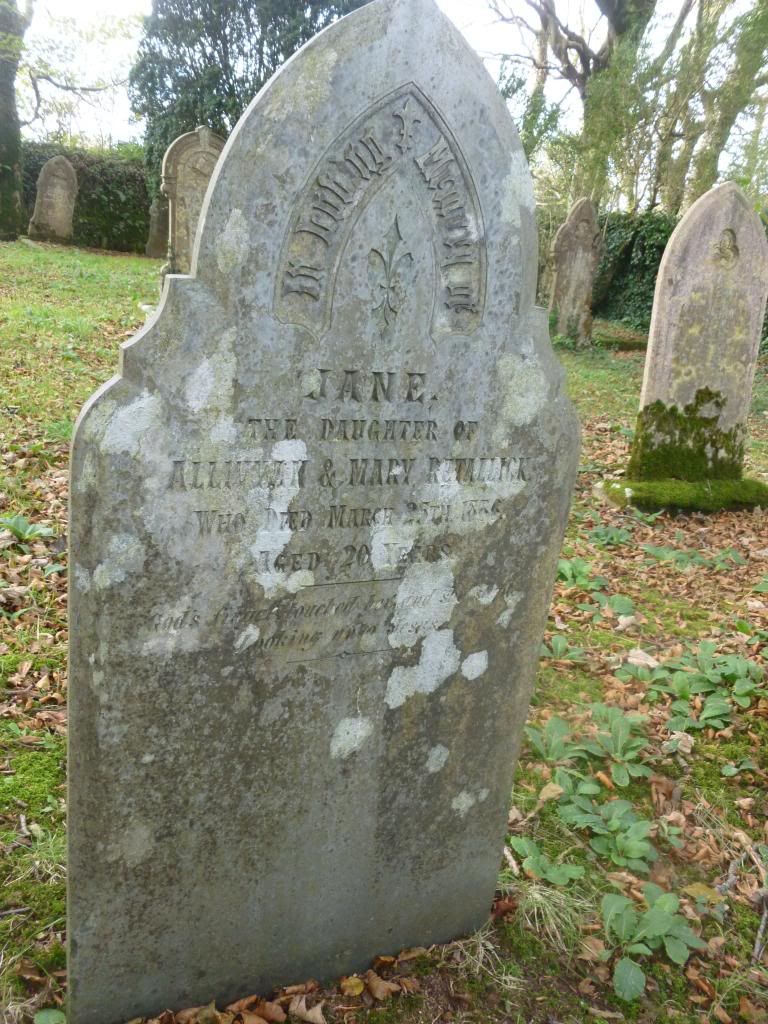 Unfortunately the only identifiable "people" in Roche cemetery were her parents Allivyan and Mary Retallick (nee Liddicoat) , who died in 1925 & 1917 respectively: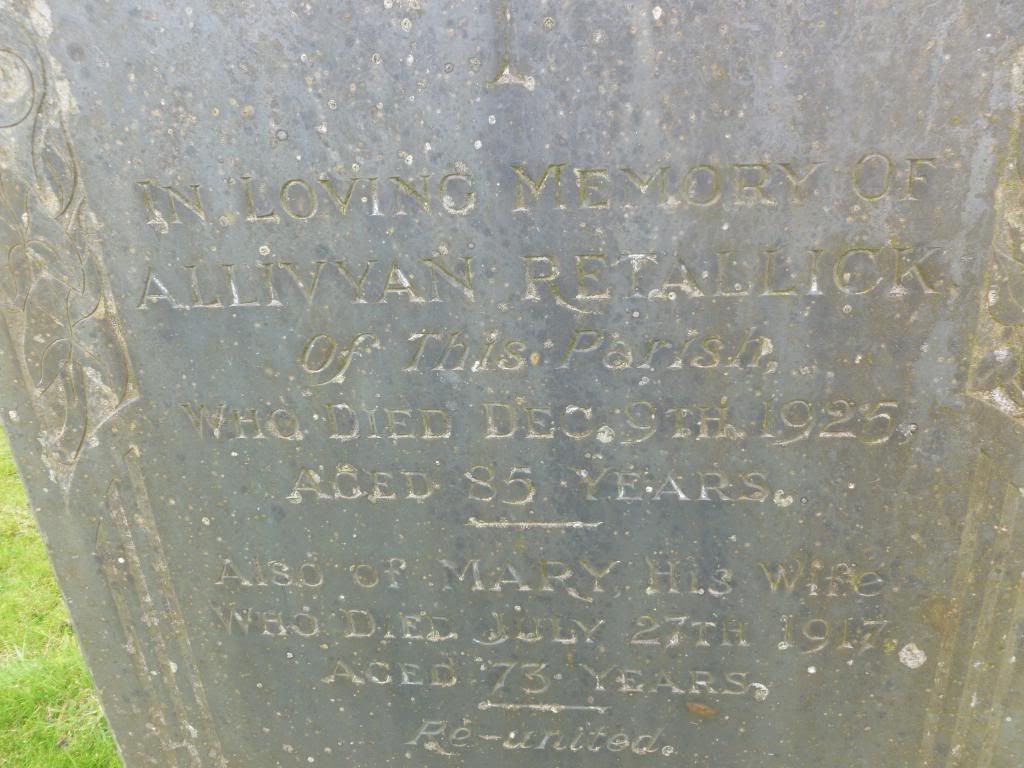 (the main reason was that the graves were much too recent for my tree, as the cemetery appears to be entirely 20th century).

Saturday 27th October 2012

I have identified the inhabitants of 50 of the graves - and that is quite enough to report on here!

The next place was Roche; as you know if you have read this blog for any length of time, this village was Home to most of the Families on our tree. There are 2 burial places, as the Bible Christian Chapel and the Methodist Chapel have no graves, as previously discussed; the Parish Churchyard and the Cemetery.

Philip Knight was born at the end of 1802 to Thomas & Elizabeth nee Mark, one of the most important ancestors as he was great grandfather of Oliver (Clive's grandfather, whose tree this is). He married Betsey Knight 6 Apr 1825 in Luxulyan and had 5 children there before settling in Hallew, Bugle, farming until he died in 1858 aged 55. Betsey lived another 20 years and although there was space on this stone for her details, it is still blank and I cannot track down her stone, although I do know she was buried here in 1878.




John Knight was born in 1813 at Hendra, Roche to Anthony & Elizabeth nee Grose, worked as a shoemaker, grocer & then engineer, married Melinda Annear on 8 Aug 1849 & had 8 children. He died & was buried on Christmas Eve 1871. Melinda remarried, so when she died it was under the name of Grose, which I didn't photogrpah (although I do remember hesitating by the name, but didn't know why...) Also in John's grave were sons John Edward and Albert Edward, who died very young (aged 15 months & 1 yr 9m respectively)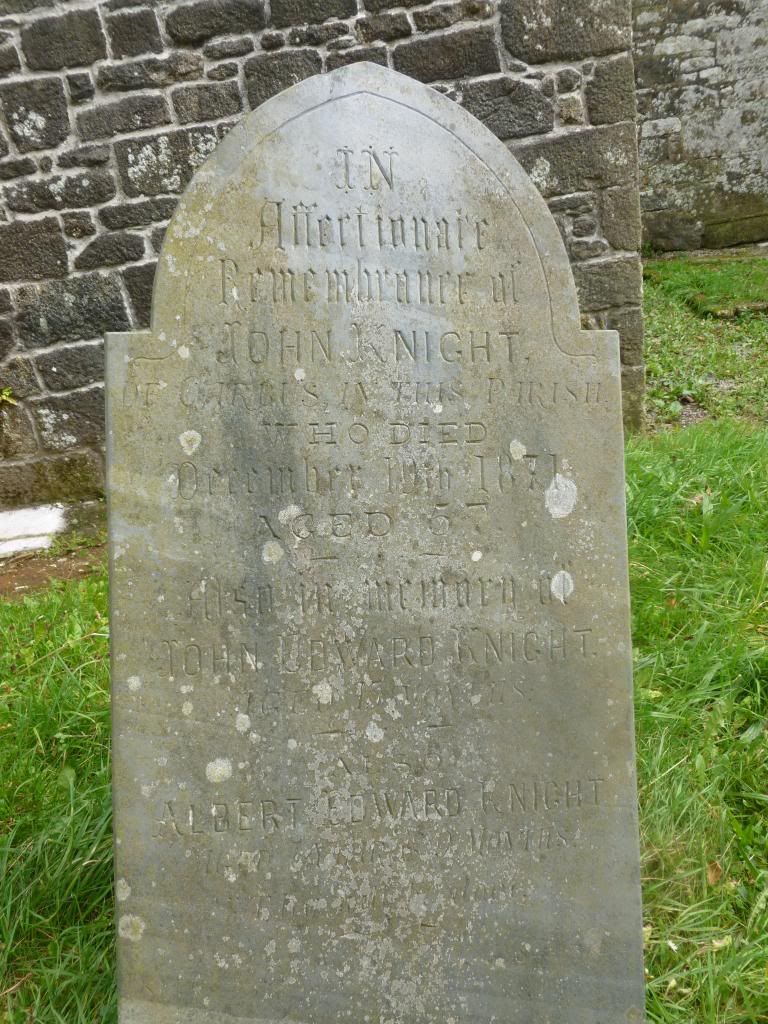 Mary Hore married Anthony Knight 6 Aug 1793 & had 5 children before dying in 1803 aged 31, probably at the birth of her final child. Anthony then married Elizabeth Grose and had a further 8 children. (We are descended from Anthony's uncle John)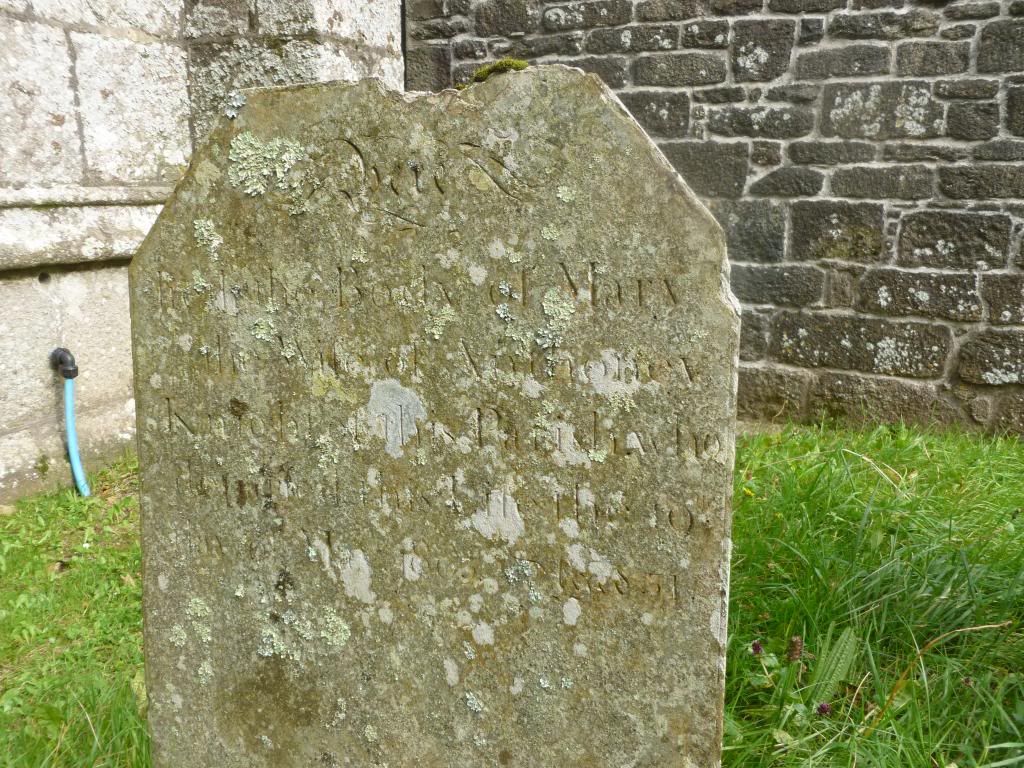 Jenepher Harris married Benjamin Knight, brother of Anthony above, in 1811 and died 3 years later. He went on to marry Christiana Lawrence and they had 3 children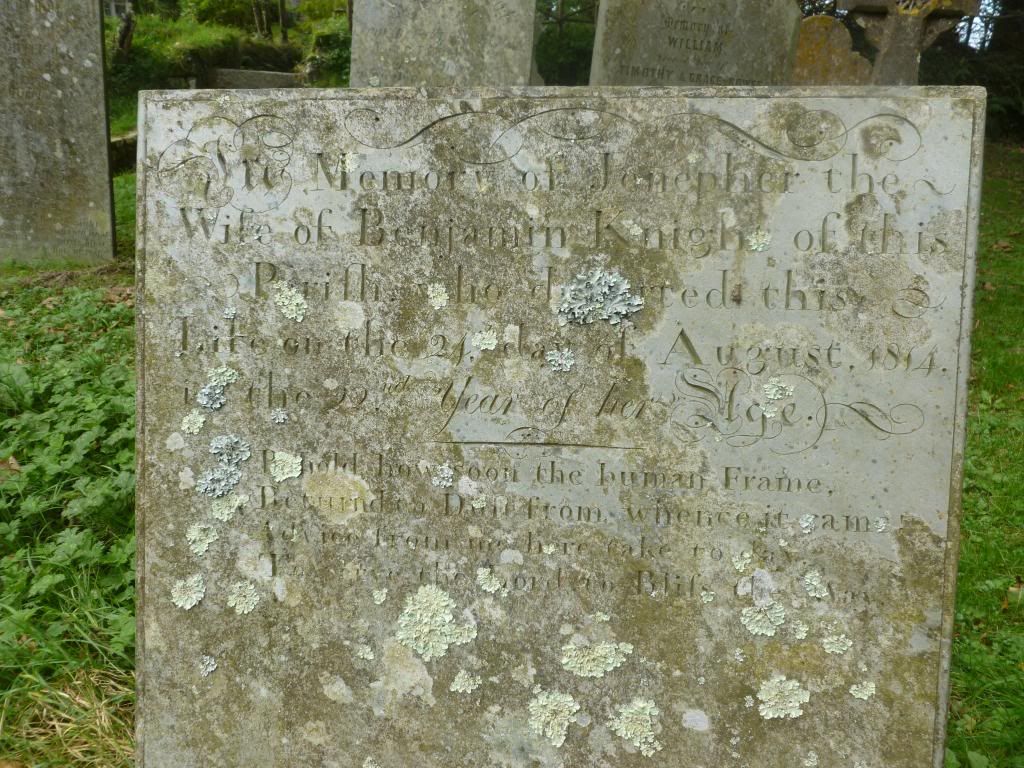 Tuesday 23rd October 2012

The next gravestone has led to a completely new branch of the family, which I shall research and get back to you later.
I am sorry if the size of these photos is slowing up the site, but you will appreciate (I hope) that in order to get any detail at all on the inscriptions the spec is high and the files consequently large.

(later...)James Knight and his wife Rebecca nee Roberts I did know about. They married in Oct 1839, had 6 children & lived in Higher Menedew for some years. James died 6 Nov 1886 & joined Rebecca in the grave at Innis Chapel, where she had been since dying in 1880. The stone gave a new detail, though, as it included a second wife Elizabeth! As James died in St Peter's Hospital in London he may well have married there and I cannot track down a marriage, as I don't know her maiden name or the date (any time between 1880 & 1886).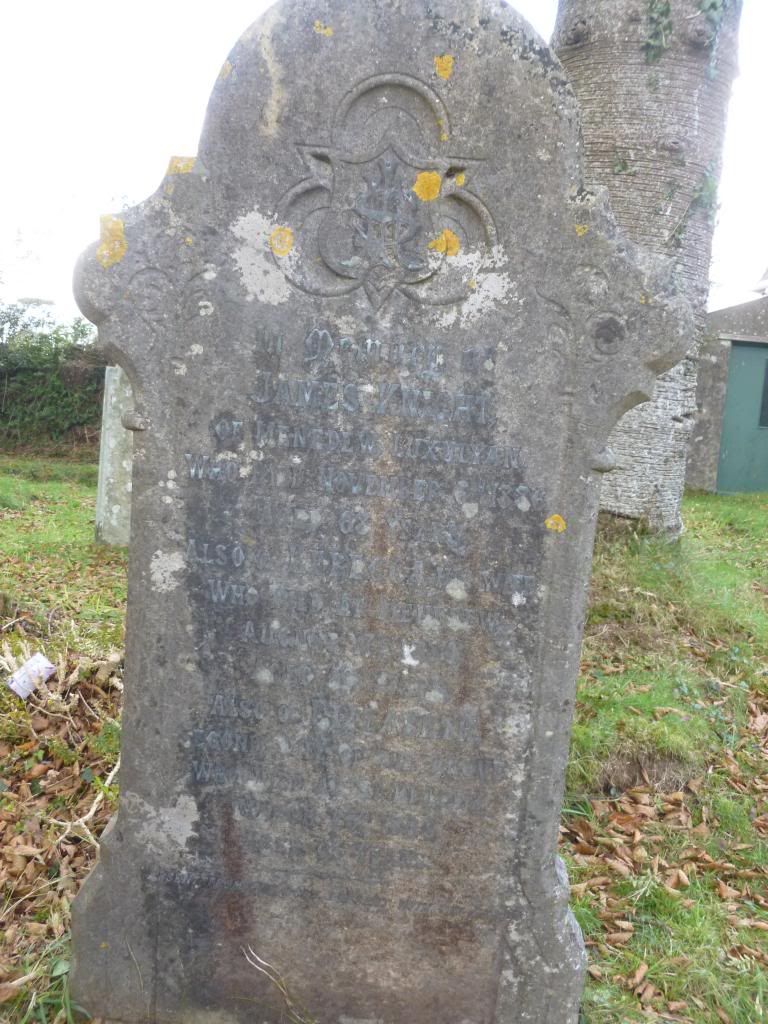 Just next to this was the grave of two of their grandchildren, who died in infancy. Their son Josiah married Elizabeth Ann Solomon and their sons Preston Solomon Knight who died 6 Apr 1889 aged 14 months and William Robert Knight who died 5 Feb 1894 aged 2 shared a grave: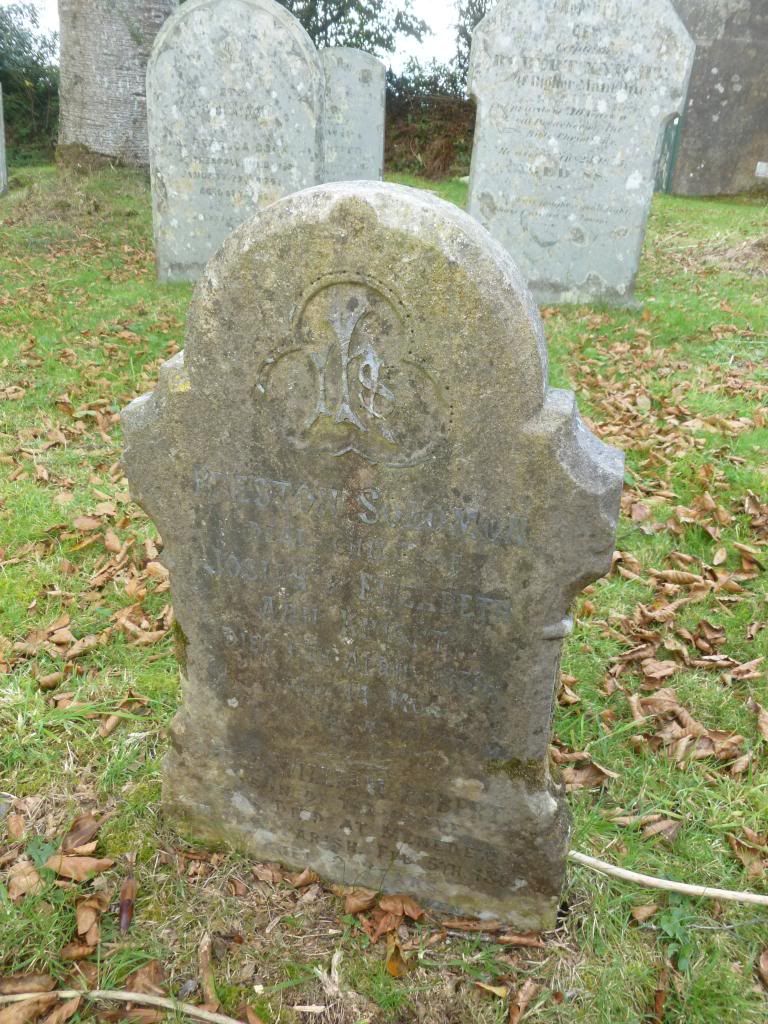 [inscription reads: "Preston Solomon dead child of Josiah & Elizabeth Ann Knight died 6th April 1889 aged 14 mo. Also William Robert son of the above died at Menedew Feb 5th 1894 aged 2 years" - there was also a verse I could not read for Preston & something about a flower, obscured by turf, at the bottom]
Their parents Josiah and Elizabeth are elsewhere (see Luxulyan Parish Church later - evidently not Bible Christian Methodists)

Monday 22nd October 2012

On with Innis Chapel. Next came 2 old friends of mine. I haven't mentioned them here because others had more interesting stories. Robert Knight was born Feb 1776 in Roche & married Elizabeth (Betsey) Udy on 13 May 1799 at Lanlivery. They had 9 children & lived at Higher Menedew. Betsey died on 11 Nov 1860 & Robert 24 Jan 1865: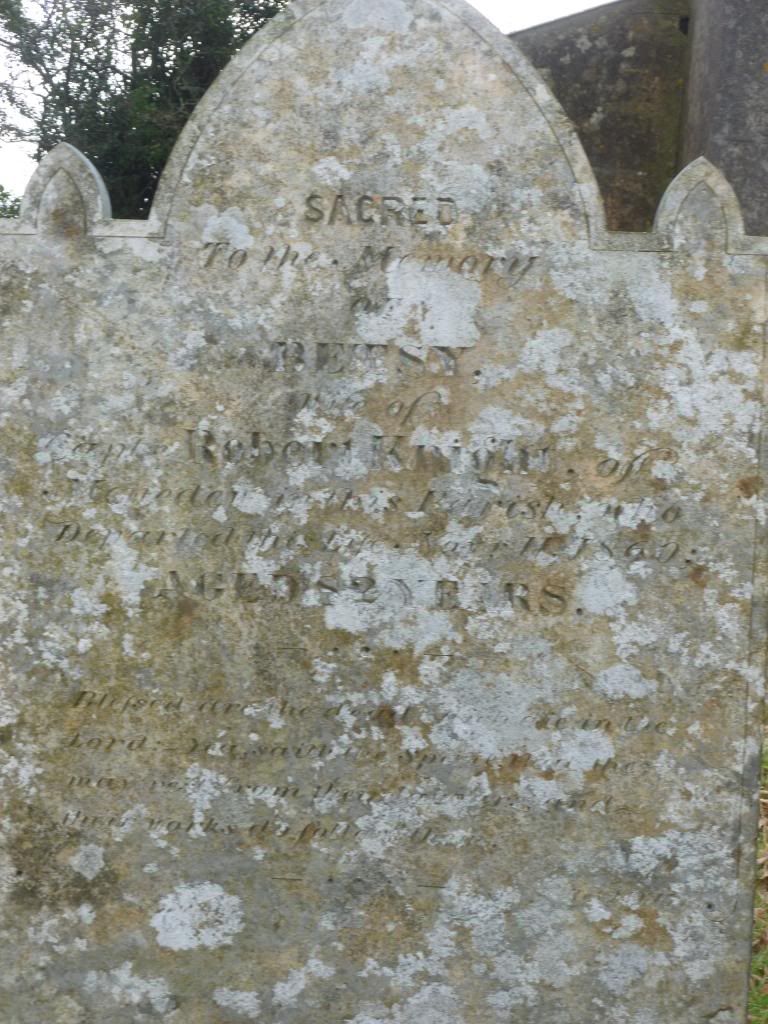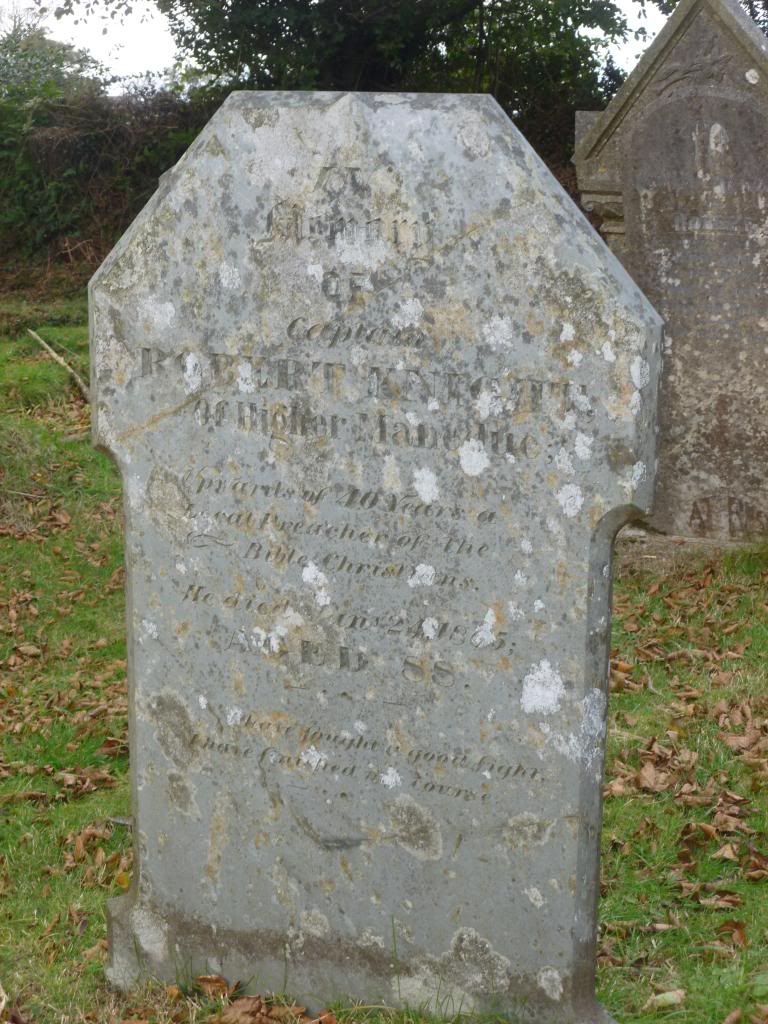 But again I learned a new fact from Robert's stone. [Inscriptions read: "Sacred to the memory of Betsey wife of Robert Knight of Menedew in this parish who departed this life on Novr 11th 1860 aged 82 years" and "In Memory of Captain Robert Knight of Higher Manedue (sic); Upwards of 40 years a loyal preacher of the Bible Christians. He died Jan 24th 1865 aged 88. I have fought a good fight. I have finished the course."] I didn't know he was a preacher or a Captain - which I presume is the same thing, ie a church title rather than a military one.

Sunday 21st October 2012

Innis Chapel is a very special place - as I have said, Methodist Chapels with graves are like hens' teeth - William O'Bryan, a relation of local family the Groses, was founder of the Bible Christian methodist movement and built the chapel in a former Quaker cemetery in 1820. It is very remote and fairly well maintained (I must admit I found all the cornish burial-grounds were looked after).

Frederick Guy Retallick was well known to me, and his grave was there, along with his wife Annie nee Lobb. For their story see 21st August below.



The next find was the grave of John Retallick born 1799, discussed on 11th September below, and his wife Nanny.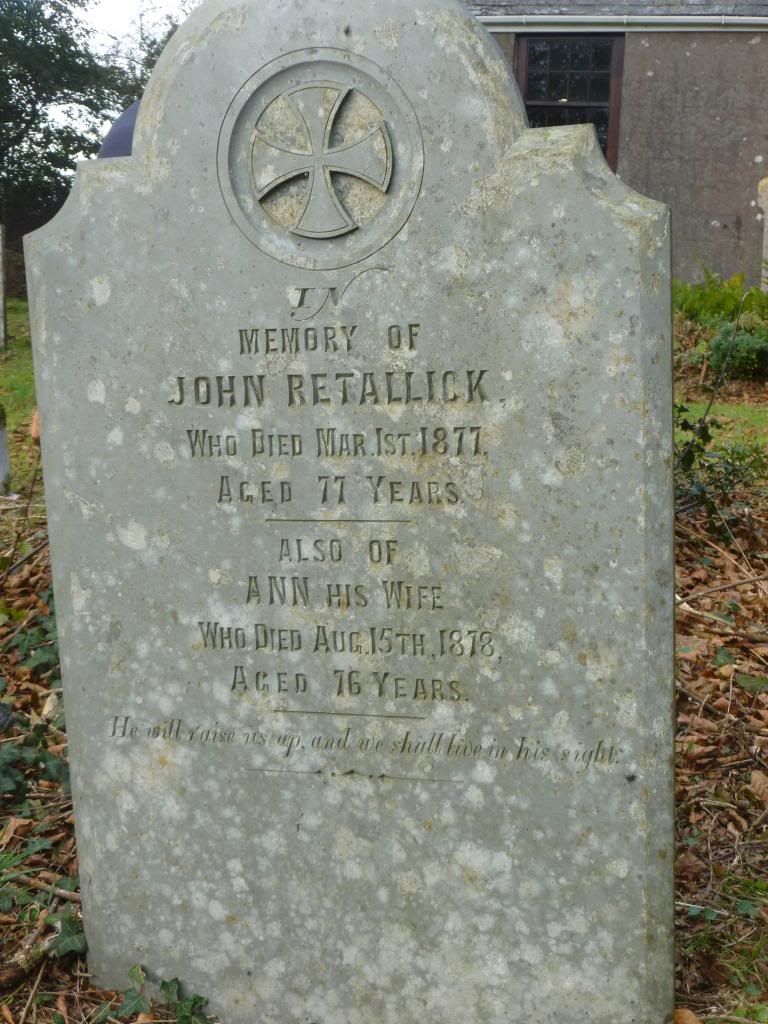 The next family is one I haven't dealt with here, except to mention the daughter's name on 1st August. William Henry Retallick was son of John & Nanny above, and lived at Savath until 1858 when he married Ann Grose Courtney (her middle name suggests a connection with the "founding family" mentioned above). They lived nearby and had a total of 15 children, 7 of whom died young, and William worked as a road labourer. He died in 1914 & Ann 1919: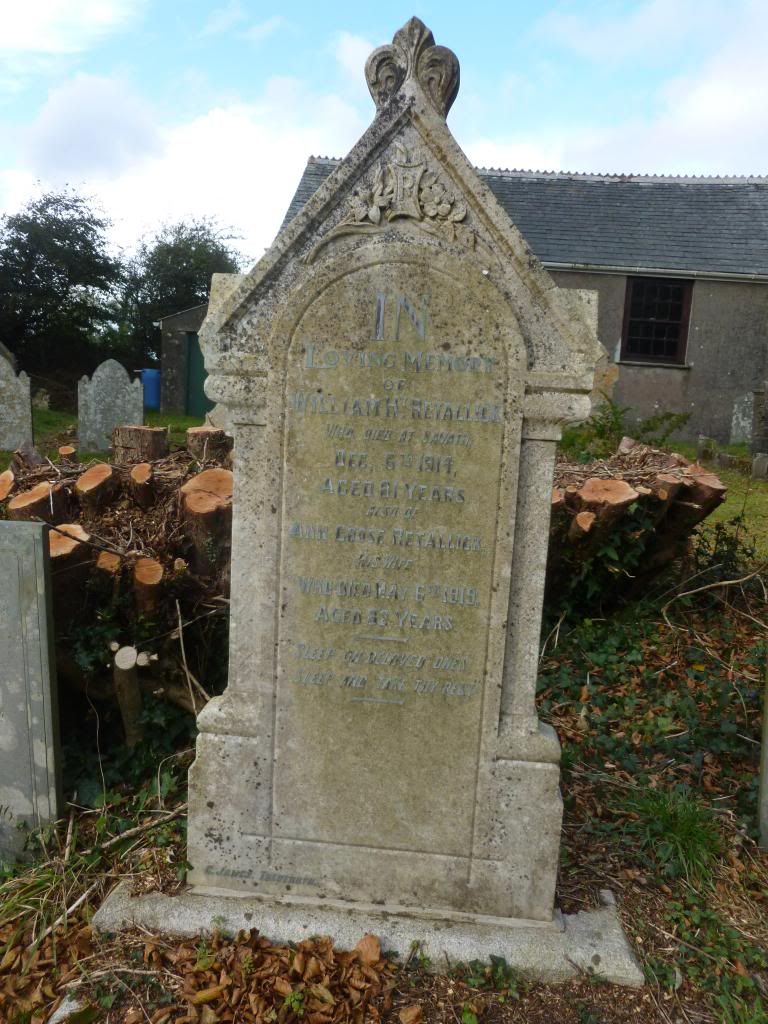 Their daughter Augusta Courtney Retallick is a name I mentioned, but not her story, as I didn't think it was interesting, as she was a Dairy Maid in Luxulyan at 14 and died at 24. However, the inscription on her headstone above says: "Erected by the nurses and attendants of the Cornwall County Asylum in token of respect to the memory of Augusta Courtney Retallick who died March 23rd 1891 aged 24". Intriguing - this suggests to me that she worked there, rather than as an inmate. I am not aware of the records being available, although there is a website where you can see the crumbling remains before it was demolished. This is what it was like in its hayday:



The next grave in our tree was interesting in that it released a new record. Joseph Knight b1815 was dealt with on 23rd April, but it appears I had the wrong death date; instead of 1860 he died in 1858. This may not be very significant, but with the correct year I have now tracked down his probate record. Added to the info known about him is now the fact that he was a yeoman and left £1000 to his widow Priscilla.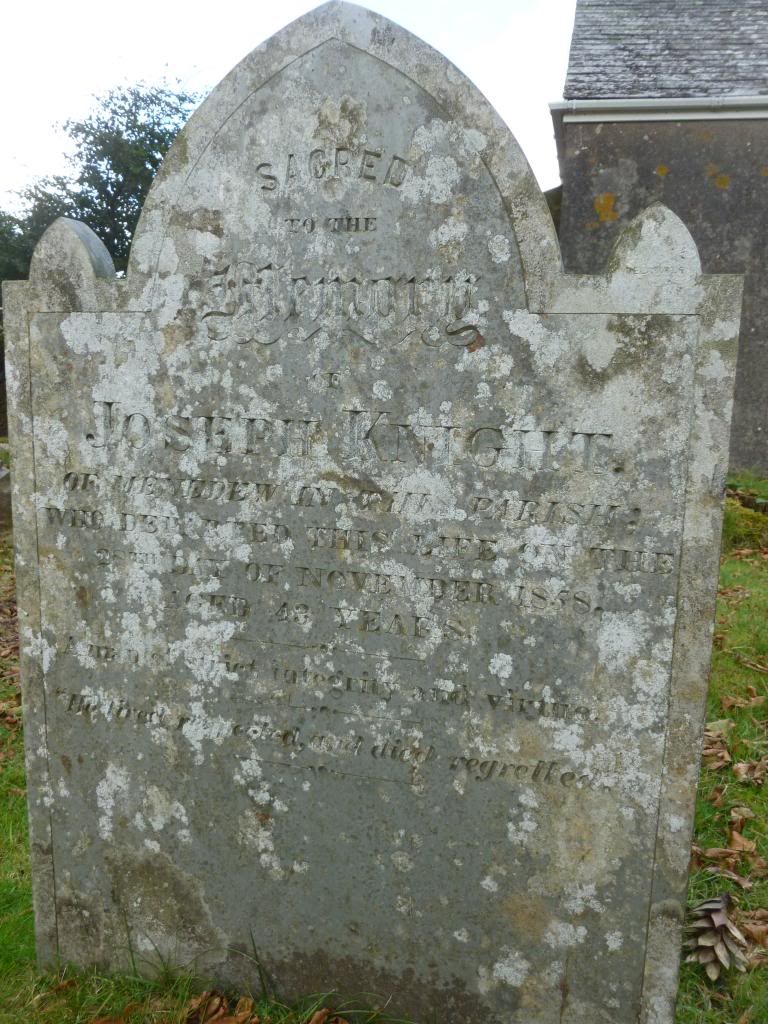 [inscription reads: "Sacred to the Memory of Joseph Knight of Menedew in this parish who departed this life on the 28th Day of November 1858 aged 43 years. A man of strict integrity and virtue. He lived respected and died regretted."]

Friday 19th October 2012

I'm back from Cornwall and have 368 photos, 279 of which are direct photographs of individual gravestones, and all of which are historical.

It will take me a long time to collate and identify these, so to keep you amused I will report on the process, rather than continue with the Retallick study, as I go. I hope this will be of interest to you, as it is all part of the genealogical process.

If you read this blog regularly you will meet old friends, as I did, and I hope this is fun for all of us!

The first place we visited was Lanivet, where there is a Methodist Chapel and the Parish Church. Now, it seems that Methodists (at least in UK) considered gravestones to be frivolous, and frowned upon them, so one finds the chapels generally have a little bare ground around them, and no proper churchyards. Lanivet Methodist Chapel is typical in this, so we moved on to the Parish Church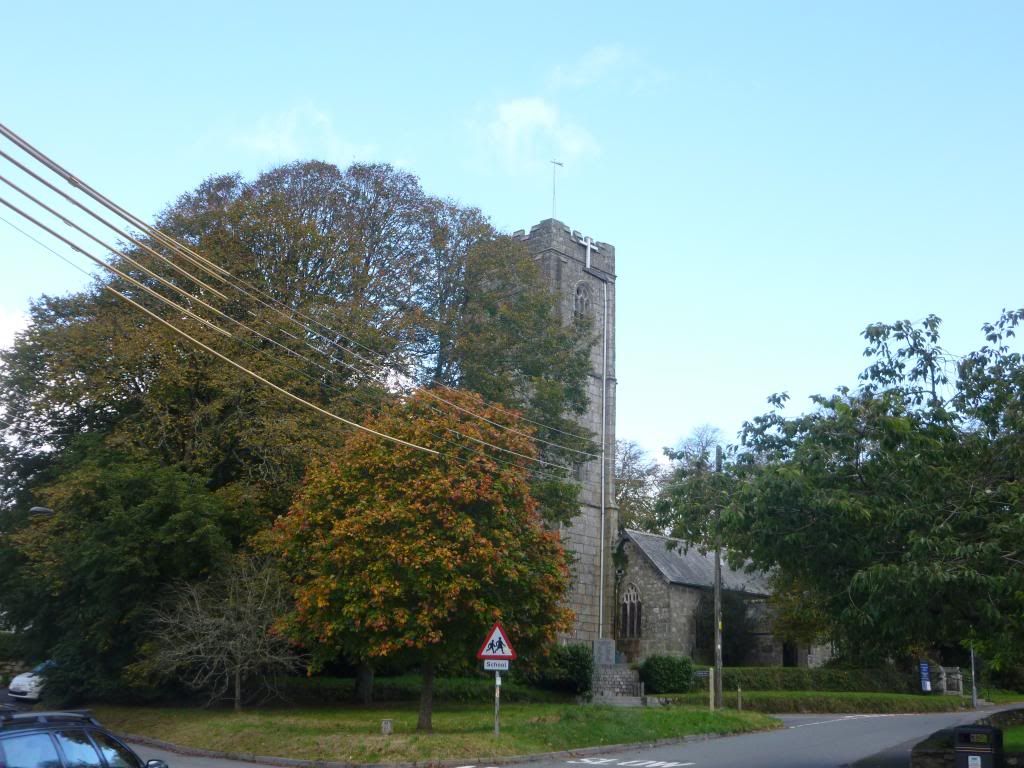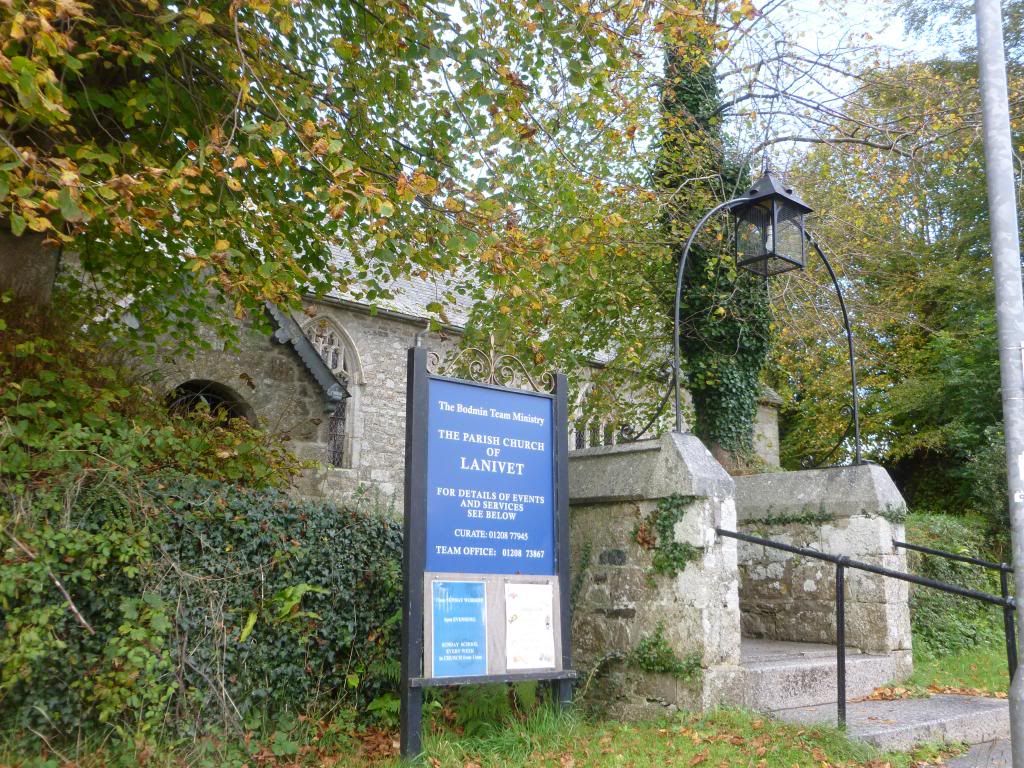 Ancestors I met here included James Knight and his wife Emeline nee Cook. Unfortunately I started this blog just after I studied them, so you won't be familiar with them. James was actually born in Chile, as his parents did some exotic travelling at the time of his and his sister's birth. He was christened at the age of 3 in Roche, and lived with the family in Lanivet, marrying Emmeline there on 2 Dec 1851, no doubt in this very church. They had 8 children, some with lovely names eg Lezzette, Cheveletia & Alberta. James farmed an estate called Bodwannick, just to the north of Lanivet, then in later life moved to Rosewarrick, just to the east. He was living here in 1894 when he died & was buried on 12 Feb. Emmeline joined him in the grave at her death in Aug 1903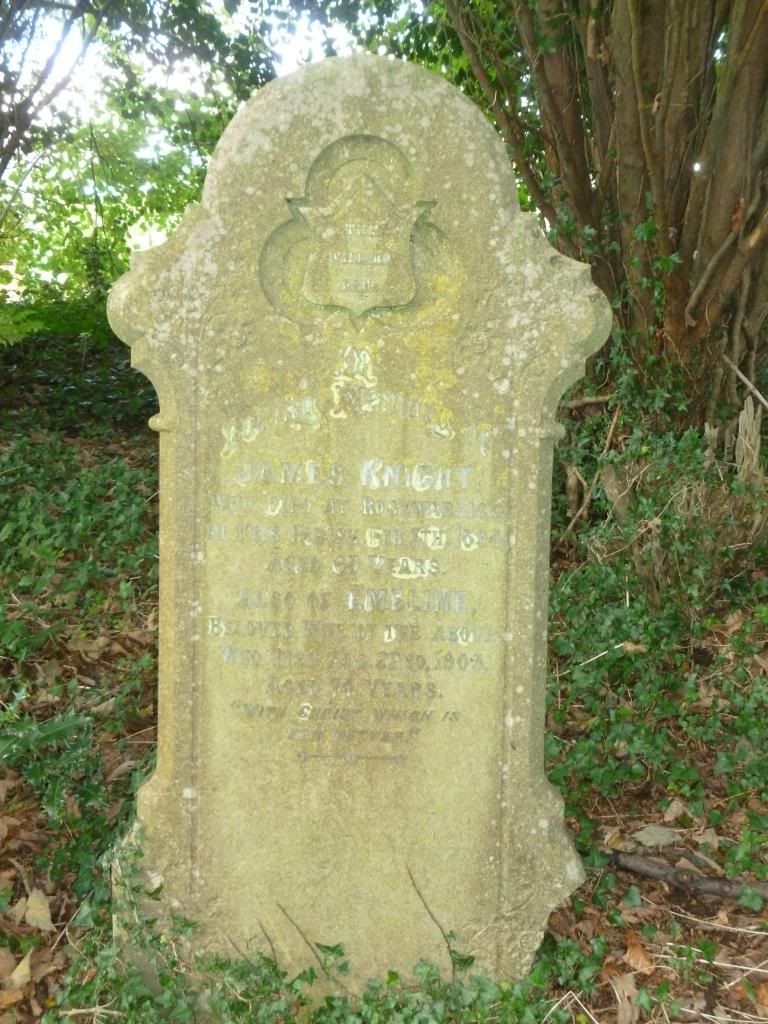 [the inscription reads: "In loving memory of James Knight who died at Rosewarrick in this parish Feb 7th 1894 aged 68 years. Also of Emeline beloved wife of the above who died Aug 22nd 1903 aged 74 years".]

A little further on we found their daughter Lezzette Monro Knight, who had died at home in 1888 at the age of just 30


[inscription reads: "In affectionate remembrance of Lezzette Munro 3rd daughter of James & Emeline Knight who died 7th Feb 1888 aged 30 years"]
Then one of their sons William John: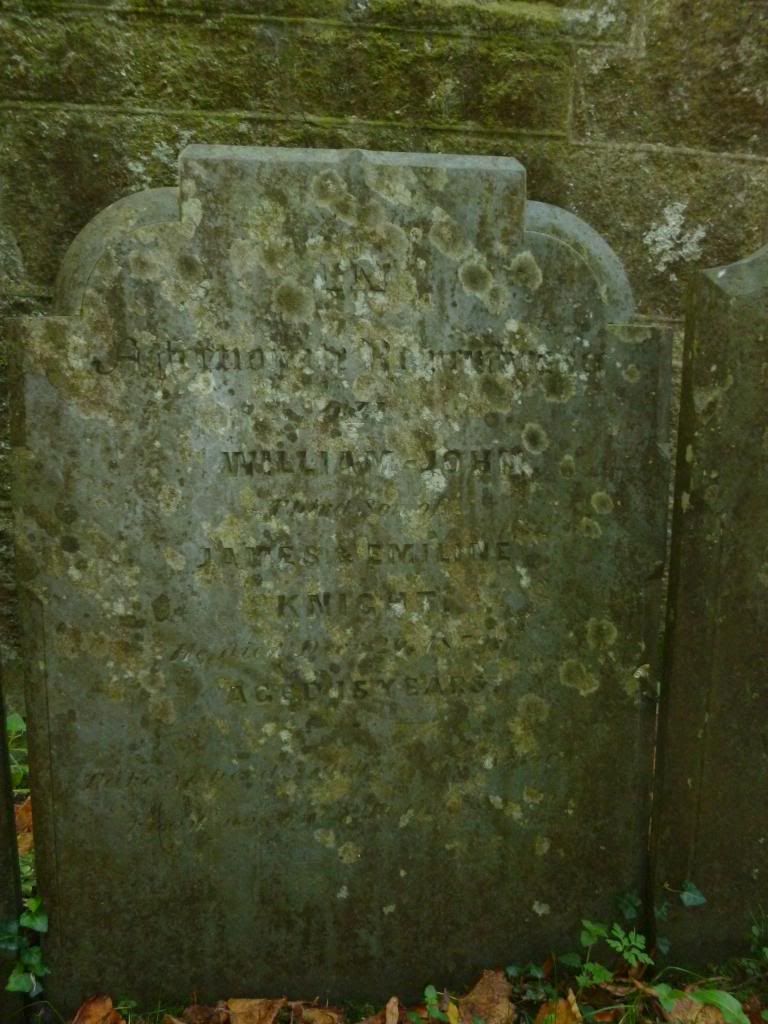 [inscription says: "In affectionate remembrance of William John 3rd son of James & Emiline Knight who died 20 Dec 1879 aged 15] - he was buried on Christmas Eve!

Another family of Knights were a little further along. Ernest Alfred (born 17 Oct 1898) & his wife Amy nee Wills in the same grave: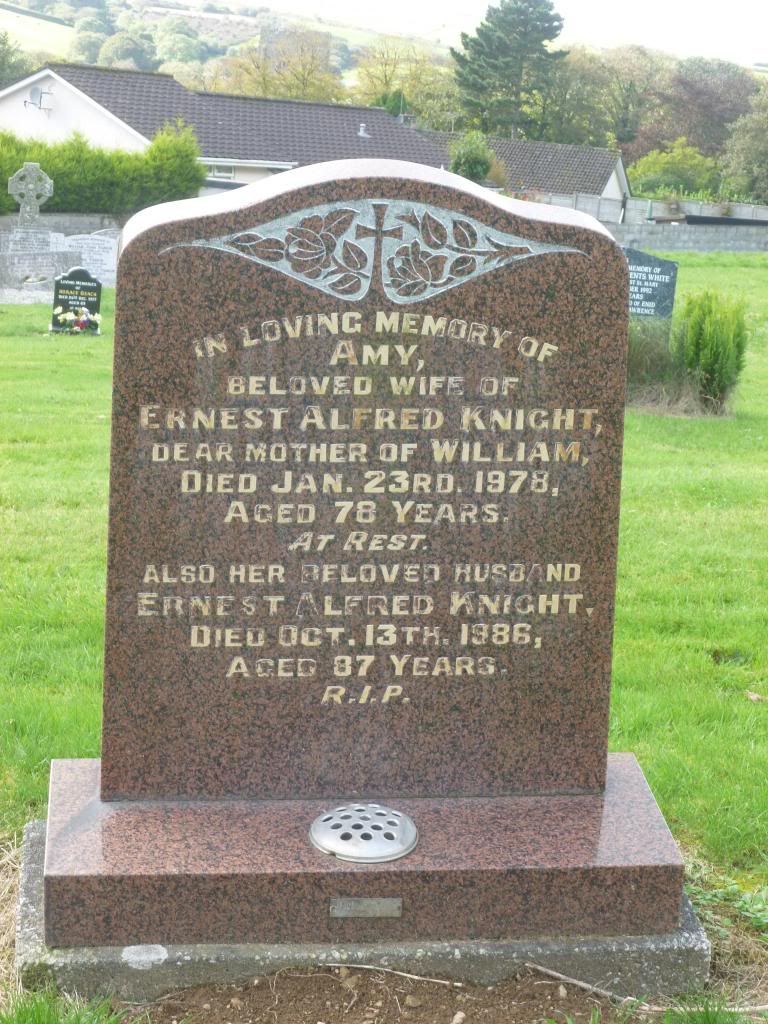 Their son William Alfred Knight, who died 21 Nov 1992 was nearby. As was James brother William James Knight, with his wife Annie.

If you scroll down to 20th May, you will find my entry for Paul Knight. He was one of the sons of our friends James & Emeline (see above) and died in 1923. I didn't find his stone, but found that of his wife Fanny & children George and Prudence. Incidentally, I answered my question posed on 20th May as to whether George was buried here:



The next cemetery was very special in that it was that rare thing; a Methodist cemetery.

Tuesday 9th October 2012

Next weekend I am lucky enough to be going to see these ancestors personally - well as close as I can! We are off to Cornwall for a few days, and I intend to photograph as many graves from this tree as I can. I'll report back next week with info and pics, I hope. In the mean time I am spending my spare time preparing & making notes...

I'll see you next week, on my return.

Saturday 6th October 2012

I may have mentioned before how variable the spellings were on our ancestors' names, mainly due to the fact that there was no standardised spelling and many couldn't read or write much anyway. Most Retallicks spelt the surname this way, but one branch in particular used Retallack exclusively, so I'm going with his spelling here.
John Retallack was born in late December 1807 to Anthony Retallack & Grace nee Freeman at St Keverne, and christened there on 6th January 1808, the 10th of 13 children. He only appears on my tree because one of his daughters was the mother-in-law of one of my "twigs", but as he led a very interesting life, I got sucked into researching him - and thought I'd bring his story to you! On 21 Apr 1833 at Manaccan he married Elizabeth Nicholls "with the consent of parents" (she was only 19 & age of consent was 21).

Elizabeth in later life
Witnesses were Robert Nicholls (father) and Ann Retallack (sister). The 1841 census showed them at Rosemithon, St Keverne with 4 daughters & John was what was commonly referred to as an "Ag Lab" (agricultural labourer) then commonest occupation in rural settings. In 1851 they were still there, but had 6 children. On 3 Feb 1852 the entire family (by then 7 children) boarded the "Joseph Somes" steamship in Wales and headed for Sydney, Australia. According to the passenger document, Elizabeth already had 2 cousins in Australia. On 18 Mar 1854 John applied for a publican's licence & in Apr 1856 one was granted to him and son-in-law Samuel Schofield (3 daughters married into the Schofield family) and they took on the "watering hole" on Windsor Road known as the Queen's Arms, until his death in 1864. [This is now a multiple venue known as the Mean Fiddler


altough of course it has largely been rebuilt, it is proud of its heritage]


John died on 14 Sep 1864 and Elizabeth in 1888.

Disaster!! As often happens in this hobby, you can get so involved in a story that it comes as a great shock - & almost bereavment - if you find they were not your family after all. After I had spent a lot of time & interest on this branch, someone showed me the marriage certificate linking daughter Elizabeth with my tree - and it shows her father as James!! So this file may well be irelevant :-( Of course, this may be a mistake - they do happen more than you'd think - but there is also the question of why she returned to Cornwall to marry, after having left with the family aged 8. Unfortunately, certificates costing £10 each are rather out of my reach nowadays. If I ever win the lottery, I'll send for all the certs on my trees, but until then I risk this happening again...

Moving speedily on..

John Courtney Retallick was born in the July Quarter of 1872 in Luxulyan to William & Ann nee Courtney, and christened on 22 Dec. A child with exactly the same name had been born to them the pevious year, but had died aged just a few months. On the 1881 census he can be seen with parents, sibs and grandmother at Innisvath, also in 1891, when listed as a China Clay Labourer. In Oct 1896 he married Mary Elizabeth Toms in the Bodmin area, and they can be seen in 1901 at Trenower, Roche with 3 children, next door to her family. In 1911 they are at Stenalees, St Austell with 4 children. John died in Jan 1952 at St Austell, leaving effects worth £410 to Mary.

Tuesday 2nd October 2012

John Retallick was born in Jan 1829 in St Wenn to John & Ann nee Chapman, and christened there on 8th Feb 1829. He can be seen in census returns of 1841 with parents & sibs at Savath, Luxulyan aged "10", and then with them again in 1851 at Lower Ennisvath, listed as a tin stream miner aged 23. In Apr 1852 in the Bodmin area (possibly Luxulyan) he married Mary Ann Matthews. At the time of the census in 1861 they are in Bilberry, Roche with 4 children, but they did move around a bit, as we have already seen. Through the 1860s they spent some time in Brixham, Devon, as Christopher & David were born there (see 4th & 6th August), then the 1871 census finds them at Trescoll. Luxulyan with 6 children. But as noted previously, after the death of son Harry in 1874 they moved to Cumberland for a few years, then returned to the Westcountry, where they apparently lived at the wonderfully-named hamlet of Withielgoose at the time of John's death in 1890:


He was buried in Withiel on 21 Nov 1890, and Mary Ann joined him on 8 May 1895, although she was living at Chillbrook, Roche at the time of her death (possibly with son Charles & his family, or Allivyan & his - it was after her death that they emigrated.

Sunday 30th September 2012

The next John Retallick was born Nov 1791 in Roche to Richard & Elizabeth, and christened there on 12 Dec 1791. He was married there too, on 23 Nov 1819 to Jenefer Rowse, and they had 7 children. In the census of 1841 thyey can be seen at Tremoderet, Roche, Farming, with 6 children at home. In 1851 they are at Bawdens, Roche with 3 sons & in 1861 retired back at Tremoderet, with son Reuben. John died on 9 Mar 1868 at home, aged 78, but Jenefer was 9 years his junior & survived him by 15 years, so she can be seen in 2 further censuses. In 1871 she is living with son John & his family in Bickington - a family group we are very familiar with (see 3rd & 14th August) at Adelaide Cottage, Exeter Road. Then in 1881 she is living with daughter Charlotte & family (see later) in Lanivet - parents liked to share the burden on their offspring in their later years & often moved about between them. She is listed as an outdoor pauper (the equivalent of "on benefits" today).

It was when working on this John that I realised I hadn't included his children in my listings, so had to back-track to cover Charles & Charlotte.

Charlotte Retallick was born to John & Jenefer in Feb 1826 in Roche & christened there on 5th Mar 1826. She is with the family in censuses of 1841 at Tremoderet, mistakenly listed as 10, rather than 15, but the enumerators in 1841 did a lot of rounding-down of ages. On 10 Apr 1850, living at Bawdens, she married Reuben Searle from Tremoderet (her brother Richard was one of the witnesses) and by 1851 they are living at Fancy, Roche, with a baby son John & a pauper lodger. In 1861 they are at Mount Whistle, Roche with 6 children, living next door to William & Ann Knight (of the other large branch of this family - I didn't mention them individually when dealing with them back in June). From 1871 to 1901 she settled in Nanstallon, Lanivet, with 6 children at first, then her mother (see above), then the final 2 decades with her grand-daughter Ida Nicholls - evidently the offspring of a liaison her daughter Lily had when she was working as a servant in Plymouth, but most useful as she trained as a nurse & looked after her grandmother in her later years, until she died in 1907 aged 81.

Charles Rowse Retallick was born in Sep 1828 in Roche to John & Jenefer & christened there on 21 Sep 1828. In the 1841 census he is listed aged 10 (as Charlotte above), servant on a farm near to home, at Chill Bank, Roche. In 1851 he is with parents & sibs helping on the farm at Bawdens. On 17 Nov 1853 he married Mary Ann Lobb, from Colebiggan, witnesses John Lobb & John Retallick (as both bride & groom had fathers and brothers of that name these could be any combination!). In 1861 census they are living in Fancy with 4 small children, Charles is an iron miner. The census was taken in April of that year but by October he was dead - aged 33.

Back on track with the Johns: the next John Retallick links up two of the stories running through this blog. He was born in Dec 1832 to John & Jenefer above & christened in Roche on New Year's Day 1833, when Charles above was 4. He can be seen, apparently aged 5 on the 1841 census, with parents & sibs at Tremoreret, then 1851 at Bawdens. On 13 Nov 1856 at Roche he married Mary Jane Retallick (see 3rd & 14th Auguat as above) and settled in Bickington, Devon for some years. 4 children were born here, and they can be seen in census returns of 1871 & 1881. By 1891 they are in Lower Hannaford, Widecombe-in-the-Moor with 2 sons, and again 1901 with son Charles & 3 grandchildren. 1911 sees them at Higher Putsham, Buckland-in-the-Moor, where John died in 1913 & Mary Jane in 1918.

Tuesday 25th September 2012

John Retallick was born 21 Nov 1839 at Roche to William & Elizabeth nee Hancock, and can be seen with them in the 1841 census at Carbis Common, aged 1. By 1851 he is at the age of 11 employed as a farm servant in Withiel with William Roberts & family. When his grandfather died, his grandmother married a Mr Roberts, so these may be relatives. In 1855 he joined the rest of his family in emigrating to Australia (see 18th August) aboard the Hooghly. A fellow Ancestry-user has the date of 19th April 1855, which fits within my time-frame, and this was the penultimate journey the migrant ship made to Australia. On 29 Apr 1861 at Ballerat, Victoria, John married Jane Prior, also from Cornwall, and they had 9 children.




The electoral roll of 1903 shows them at Lexton, Laanecoorie, Victoria with 5 adult children, farming, and in 1909, 1914 & 1919 they are still there with 2 sons & their wives. John died 28 Aug 1920 at Lexton & Jane in 1924. They are both buried at the cemetery there.

Saturday 22nd September 2012

John Retallick was born Nov 1806 in Roche to Richard & Elizabeth nee Lamb, and christened there on 26 Dec 1806. On 24 Nov 1839 he married Charlotte Edyvean in Roche, he was 33 and she only 19. The groom & his father were husbandmen from Trenoweth, bride from Belowda. 2 months later their daughter Catherine was born, followed 3 years later by another daughter Elizabeth. In 1841 census John & Charlotte are living in Broad Lane, Roche with 1 child, in 1851 with 2 daughters & 3 lodgers, in 1861 with 2 & 2, in 1871 in Churchtown with Charlotte's widowed mother & 4 boarders. John died in June 1877 & was buried in Roche on 27th June. After his death, Charlotte went back to Broad Lane and lived there, working as a nurse , with a couple of lodgers, until she became ill in 1892. Unfortunately, she ended her days at the County Asylum & was buried on 20 Nov 1892. Daughter Elizabeth moved into the Broad Lane home with her children and Catherine moved to Lodon (see 1st August). [The old Asylum aka St Lawrence's Hospital features in the following clip: http://www.youtube.com/watch?v=8DWZWF9n5gU if you care to take a look.]

Tuesday 18th September 2012

Sorry for the lack of activity on this blog in the last week - been busy partying! Will report back here soon.

Tuesday 11th September 2012

Working on several John Retallicks at the moment. I have 12 plain Johns on my database and another three with middle names. Not all have stories worth telling, though.

John Retallick was born in Nov 1791 in Roche to Richard & Elizabeth & christened there on 12 Dec. On 23 Nov 1819 he married Jenifer Rowse, the daughter of Joyce Knight (see previous entries) and they settled at Tremoderate, Roche, farming & bringing up 7 children. In the 1841 census they are there with 6 children, in 1851 they are at Bawdens, close by, with 3 sons left at home, and in 1861 back at Tremoderate with youngest son Reuben, and John is retired. On 9 Mar 1868 John died at Tremoderate, was buried on 11 Mar in Roche, leaving <£100 to wife Jenifer, and she can be seen in 1871 living with son John & his family in Bickington, Devon (we know this branch, as their children are James John, Elfrida, Charles & Hart, previously mentioned). In 1881 she is with daughter Charlotte & her family in Nanstallon, Lanivet, but oddly listed as "Outdoor Pauper (Union)" as if she was supported by the Workhouse. She died in 1883 aged 82.

John Retallick was born Dec 1799 to Christopher & Mary nee Soby in Luxulyan & christened there on 12 Jan 1800. On 31 Aug 1822 he married Ann (Nanny) Chapman in St Wenn and they provided a dynasty of 11 children, including the elder Allivyan (see 30th July) and the David who died aged 7 (see 6th August). In the early years of their marriage they didn't have an easy time. They had 4 children while living in St Wenn, but in 1830 one of these had died and they were ordered to be removed from St Wenn and handed over to Luxulyan for poor relief. This happened a lot in those days, before the Welfare State, when individual parishes had to support the poor, and often squabbled over families and batted them backwards & forwards (Bodmin Sessions on 19th Oct 1830 held over the appeal by Luxulyan re the above until the next session, but they ended up in Luxulyan anyway, as son William was christened there in 1833). By the 1841 census, they were settled with 8 children into a house next door to John's brother Francis in Savath, Luxulyan and John has found regular work as a Tin Miner; previously work as a shoemaker evidently hadn't been enough to keep the family. In 1851 they have 6 children & John is doing 2 jobs (as many did then), farming and mining. They remained at Savath with various children & grandchildren, until John died in 1877 leaving <£100 to his sons William & Allivyan.

Saturday 8th September 2012

James Retallick was born on 28 Apr 1844 at Hensbarrow, St Austell to William & Elizabeth Annie nee Hancock, and christened at Roche on 28th July. He was the brother of Elizabeth Retallick (see 18th August) and can be seen with parents & 2 sisters on the census of 1851 at Tremoderate, Roche. As I said before, the whole family emigrated to Australia on board the Hooghly, and the next time he appears is at his marriage to Margaret Marks from Antrim, Ireland in 1865 in Lexton, Victoria, Australia. They proceeded to have 9 children - 7 girls & 2 boys - and died in Australia, Margaret in 1889 & James in 1921 (the same year as his youngest daughter). They are buried in Lexton Cemetery:

the inscription on the left-hand stone above says: In Memory of OUR DEAR FATHER JAMES RETALLICK Died 4th Dec 1921 Aged 77 yrs Also Our Dear Sister LUCY Died 13th Oct 1921 Aged 36 yrs Interned at BURWOOD. The stone on the right says: Sacred to the memory of MARGARET, the beloved wife of JAMES RETALLICK, who departed this life 8th February 1889 aged 39 years

The other James Retallick of note was born in Dec 1822 at St Wenn, to John & Ann nee Chapman, and christened there on 19 Jan 1823. He was the eldest of their 11 children, who included the elder Allivyan (see 30th July) and David (see 6th August). He can be seen in the 1841 census at Savath with parents & sibs, just before he married in 1842 to Eliza Marks (no relation to Margaret above). They settled nearby and had 13 children themselves, including a set of twins, but unfortunately 4 of them died as children. In 1863 & 1864 they had 2 sons called Guy who died as infants, and this may have prompted them in 1866 to move "up north" to Cumberland, where James (who had been a tin miner in Cornwall) mined iron ore and lead. In 1871 they are living at Kirklang Village, Cumberland with 4 children & 4 boarders (all iron ore miners). However, tragedy followed James as in 1874 his wife died, 1875 their 10-year-old son Frederick, 1877 his father and 1878 his mother. In 1881 he is living alone with daughter Emily in a cottage in Whitehaven, and by 1891 has had to resort to the District Union Workhouse, where he died in 1895 aged 72, listed as "retired lead miner". (Ironically, the building was closed in 1960s as was unsafe due to mine workings underneath)



James John Retallick was born in 1858 (can't tell the month, as there are two & no baptism I can see) in Roche, to John & Mary Jane, elder brother of Elfrida, Charles & Hart. He can be seen in 1861 with parents & sister at Chellbrooke, Roche, then by 1871 they have moved to Exeter Road, Bickington, Devon, where his father is listed as mining at an umber works & he too mines, aged 13. In 1881 he can be seen boarding in King Street, Dalton-in-Furness, Lancs a mining engine driver. If this sounds familiar it is because 10 years later in the 1891 census his 1st cousin Adam Francis Retallick is boarding in the same town, doing the same job (see entry for 29th July). But by then James has returned to Devon, to help his father on the farm at Lower Hannaford, Widecombe-in-the-moor. He was married there in Oct 1898 to Jane Cock, also from Cornwall, and they had 3 children. They settled in Station Road, Bovey Tracey, and are seen there in 1901 & 1911 censuses:

(photo from 2008)
James was listed as "Agent to a Coal Merchant (Delivery)" and in 1911 had a servant. When he died on 7 Apr 1925 at Westerbrook Farm, Ilsington, he left effects worth £305 to his widow Jane, but son Alfred was running the farm in 1930 (Kelly's Directory) until his death in 1960.

Sunday 2nd September 2012

Had a little bit of an "aside" this morning. A few years ago I registered on Irish Records site rootsireland.ie and today received an email from them stating they had uploaded over 2 million irish records, including some from Northeast Cork, where my Dad's grandmother came from. So I dropped the Retallicks for a while and went on the rootsireland site. Unfortunately it is a pay-per-view site at £2.50 a record, so I loaded it up with some euros via my credit card & had a look. I entered details for a Catherine Noonan with father William, which is all I am really sure of, and it gave me a baptism in the right part of the country, but 1843 instead of 1840, and Catherine Carroll as mother's name rather than Catherine Murphy. Now, Murphy in Ireland is like Smith in England - no-one will touch it - so I am a little relieved, but am not happy to have to remove the Murphys from my tree without proper proof. So, a dilemma! The age difference may be explained by the fact that I know she was illiterate (made a mark on daughter's marriage cert, rather than a signature), so maybe gave the wrong birth date in censuses etc, or she may have been baptised at the age of 3.... I carried on with this site and found a marriage between William Noonan and Catherine Carroll, which was good but unfortunately no parents' names were given. I also investigated a burial for a William Noonan, as our guy died before the rest of the family came over to England, but the one it gave me probably wasn't him, as it was the wrong part of the country. I also looked up Catherine's sister Margaret's baptism & yet another maiden-name was given for her mother Catherine, this time Torpy(!). Along with some records for emigration to New York in 1851, I have quite a few that had just wasted my money. But then that is the risk you take with pay-per-view sites & why I much prefer to subscribe. I have just taken on a new one of these to help with the other branches; familyrelatives.com, so have hopes for other records from this in the next year. At the moment I will leave the irish side alone again.

Tuesday 28th August 2012

Sorry I have not added to this blog for a while. It has been a Bank Holiday, and I have had other distractions... Then the ancestors I have been working on have not had sufficiently interesting stories to tell here.

Hart Retallick was born in Oct 1866 in Roche, but the family moved to Devon very soon after, and he can be seen in Exeter Road, Bickington, Devon with parents, sibs and grandmother, in 1871 at Adelaide Cottage, then in 1881 next door at Princess Cottage. In 1891 they have moved to Lower Hannaford, Widecombe-in-the-moor and Hart is helping on his father's farm, before marrying Jane Millar from Stratfprd-upon-Avon, Warwickshire, who had been working as a servant nearby. They had a total of 7 children, although one died in infancy, and settled in Fore Street Kingsteignton, Newton Abbot, Devon, in a house between a school and a "reading room" ie library:


Hart was evidently an engineer, as he was in 1901 listed as "stationary engine driver" and in 1911 as a "machinist fitter in the Potteries", Jane ran her own bakery/confectionery business, and her sister Ellen lived with them as housekeeper. She died in 1945 and Hart in 1956, at 82 Chudleigh Road, Kingsteignton, leaving £1584 in effects to their eldest son Percival.

Tuesday 21st August 2012

I've been going through several Francises/eses, but none very interesting (and I don't want to bore you). So on to the Fredericks:

Frederick Guy Retallick was born in Apr 1878 at Innisvath, Luxulyan (brother to Alma & Augusta I mentioned on 1st Aug but gave no details). He was there with the family in 1881 & 1891, in the latter aged 13 a farm labourer. In Apr 1899 he married Annie Lobb at Roche and they had 2 children, Augusta & Myrtle. they were living at Griglands, Roche in 1901 then with his parents at Innisvath in 1911 census. On 10 Sep 1956 he died in E.Cornwall Hospital, Bodmin and left effects worth £1062 to brother Thomas, retired hospital attendant (he worked at the asylum) and son-in-law Nugent Arthur Bloomfield, "smallholder" (Myrtle's husband). The following year Annie died and left £1935 to Nugent, then called a "sandwasher", and Frederick Marks, "patrolman" (possibly a grandson).

Frederick Maunder Retallick was born Jul 1887 at St Austell 6th child of Luke and Ellen nee Vercoe, however he died in Jan 1889, so when their next (8th) child was a boy, they used the name again, as was the custom. This couple actually had 14 children & lost 7 of them; I have mentioned Elison last Monday - he was the 2nd "attempt" at the name. This Frederick Maunder Retallick was born 9 Sep 1890 at Levrean and christened on 21 Oct at Treverbyn. He can be seen with the family at Bugle in censuses of 1891. 1901 & 1911, when he is listed as a China Clay Labourer, like so many were. On 7 Jun 1915 he arrived in New York from Liverpool on the St Louis and on 21 Feb 1918 signed up to the Can adian Overseas Expeditionary Force, to take part in WW1. However, it was very soon over & he was back in England to marry Ann Whitwam in her home town of Golcar near Wakefield, Yorkshire on 20 Dec 1919 at the United Methodist Church. It appears they settled in Cornwall & only had one child, Frank. Frederick died on 17 Feb 1953 at St Austell, leaving effects worth £1121 to Ann. She died in Truro in 1971.

Gordon Reginald Retallick was born on 11 May 1906 in St Austell, son of Reginald & Henrietta nee Carter, brother to Agar (see 30th July), with whom he can be seen in 1911 census at Jubilee Terrace, Bugle. In Jul 1932 at Bodmin, he married Dorothy Myrtle P Stevens, with whom he had one daughter Pamela. He died in Jan 1980 in Bodmin, as did Dorothy in 1990.

The next section of my work will take a while. Every family has favourite & thus recurring names. This one has 6 Graces, but they are mostly in 18th century, which will no doubt be quicker, as there are fewer records before registration began in 1837 & censuses in 1841.

Monday 20th August 2012

The other Elizabeth I have studied was the only one of her family NOT to emigrate. Elizabeth Ann Retallick was born in Apr 1844 in St Keverne, nr Redruth, to John & Elizabeth nee Nicholls. They left in 1852, just after the census in 1851 showed them all at Rosemithon, St Keverne. Elizabeth is at that point difficult to track down - I would have expected her to be with her grandparents, but by the next census in 1861 of course she was 17 and could have been working anywhere. On 17 Mar 1867 she pops up again on the records, when she married Woodman Pascoe in Roche, and settled there with him. On 1871 - 1901 censuses they can be seen at Woon, Roche with up to 8 children, and after she died in 1910, Woodman is still there with some of them. When Woodman died there in 1918, he left effects worth £640 to sons William (mason), Emmanuel & James (engine drivers) and daughter Ethel Mary Eveline Vercoe (widow of 30).

Emily Ann Retallick was born on 6 Jan 1883 in Roche to Allivyan & Mary nee Liddicoat, and christened there on 13 March. In 1891 she is at Rosemellyn Moor, Roche with parents & 3 sisters, next door to Liddicoat grandparents & still there in 1901. In Apr 1903 she married Joseph Sandercock & in 1911 can be seen at Curyan Road, Nanpean with son Reginald. He was the only survivor of 4 boys, the other 3 all died in infancy. Joseph died in 1934 & Emily in 1973 in St Austell.

Ernest Retallick was born in Jan 1908 in Roche, to Woodman & Emmeline nee Collins. In 1911 he can be seen aged 3 at Stenalees with parents & brothers. In 1930 he travelled to New York on board the Majestic


and can be seen on the census a day or so later rooming with a Henry Collins (may be a relative of his mother) in Gayland Avenue, Cleveland, Ohio, listed as a Clayworker at Quarries. I cannot see him on 1940 census, but this is not complete yet anyway. However, the only record I can see is a death in Apr 1974 in St Austell, but I cannot find a return journey.

Eulalia Ellen Retallick was born in the October Quarter of 1854 in Broad Lane, Roche & christened there on Christmas Day. She can be seen at Broad Lane with parents and sister Annie in censuses of 1861 & 1871, then from 1881 she is employed as a housemaid in several classy establishments:

in London
and Brighton.
In 1911 she is listed in Peckham, London (coincidentally, where I grew up!) with her sister & family, as a shopkeeper and this is where she died in 1933. [Blakes Road - there are now modern flats on the site & it is where Damilola Taylor was killed.....]

Ewart Balthazar Walter Retallick was born in Jul 1898 in Dalton-in-Furness, Lancashire to Adam & Sarah nee Smith, and can be seen there at 4 Marton in the 1901 census aged 2 with parents, brother & grandmother Agnes Smith. In 1911 he is aged 12 at 20 Quebec Street, Ulverston with parents & brothers and gives the address of 16 Upper Brook Street, Ulverston on his WW1 pension record in 1916, occupation Clerk. He was in the King's Own Regiment, the Royal Lancashire, and was awarded 2 medals. There is a record of him arriving in Liverpool on board the Oroya, from Valparaiso, Chile, where he is listed as an accountant. The only death record I can find with this name is in Jan 1969 in Havering, London.

Saturday 18th August 2012

Going through lots of Elizabeth Retallicks, but none very interesting, until now. Elizabeth Retallick was born, according to her baptism transcription, at Coombe ---, St Genny's, near Bude, North Cornwall. Looking into it, the only Coombe anything there is Coombe Barton Inn, which would have been interesting...


She was christened there on 5 Feb 1849, the 5th of 6 children. In the 1851 census she can be seen with the family at Tremodrate, Roche. The entire family emigrated to New South Wales, Australia at some point in the late 1850s/early 1860s on board the Hooghly


and she married Smith Giles from Leeds, Yorkshire in Avoca, Victoria on 18 Mar 1865. Son William Smith Retallick had been born just prior to the marriage, and was later known as William Smith Giles. They had 6 children in total, although one died at birth. Smith died in 1901 and in the Electoral Roll records of 1903 to 1931 Elizabeth can be seen at Lexton, NSW with a variety of family, the latter including grandchildren. She died on 9 Aug 1933 at Lexton.

Tuesday 14th August 2012

Elfrida Retallick was born Jan 1860 in Roche to John & Mary Jane. She lived with her parents, brothers Charles (see 3rd Aug) & Hart in Exeter Road, Bickington, Devon, in 1871 at Adelaide Cottage, then in 1881 next door at Princess Cottage. In Apr 1889 she married a Yorkshire lad James Robinson in Marrick (as did brother Charles later that year) & in 1891 can be seen on the farm at Tongue Hill House, Marrick. They are still there in 1901 but with 5 children, and as Elfrida died in Oct 1905 (in Durham) James is seen in 1911 widowed living with 3 daughters back in Hurst, the village where he was born.

Monday 13th August 2012

Edmund Thomas Retallick was born in Jun 1822 at Carne, Luxulyan:


to Henry & Mary nee Thomas and christened there on 14th Jul 1822. He can be seen with them in the 1841 census at Livrean Moor, listed as a tinner. In Jul 1843 he married Eliza Grose and they are seen in 1851 & 1861 at Bedowen/Bodwen Village with 3 daughters & 5 daughters respectively, then in 1871 with 3 children. Edmund died in Apr 1875 at Bodwen aged 52 andwas buried nearby on 4th May. They had 8 daughters before they had a son!

Elison Gordon Retallick was born on 3 Apr 1896 at Livrean, St Austell, to Luke & Ellen nee Vercoe, and lived at Fair View, Bugle with them & sibs in 1901 & 1911 censuses. He then travelled from Liverpool to New York, landing on 7 Jun 1915, with brothers Frederick & Drew (William), all clay agents, on board the St Louis (the same ship Arthur Stanley Manhire sailed out on 8 years previously - see 30th June). Elison was drafted into the army in WW1 at Macomb, New Baltimore, Michigan, but returned to Cornwall in 1919 on SS Adriatic. In Jan 1921 he married local girl Louisa Doris Sweet at St Austell, they had 3 children & Elison died on 1 Jan 1966 in a caravan park in the New Forest (they lived there, I think) aged 70 and left £1675 to Louisa. She died 4 years later, in Herefordshire.

Tuesday 7th August 2012

There's a 3rd David, who is interesting in that he emigrated to Maine, a place I have been to, and new to the family tree. However, he is just that bit too obscure a relative - you have to draw the line somewhere, so on to Donald...

Donald Retallick was born 31 Oct 1909 to Reginald & Henrietta nee Carter, brother to Agar, who we have met previously (see 30th July). He can be seen on census of 1911 with parents & sibs at Jubilee Terrace, Bugle. In Apr 1930 he married Gwendoline Borlase in St Austell, had 2 sons & died in Apr 1974 aged 64.

Eden Retallick was sister to Allivyan & David, born Apr 1863 to John & Mary Ann. She can be seen with the family, travelling to Cumberland & it is here she met & married fellow Cornishman James Lean in 1881 (he was boarding in the area). They returned to Cornwall with the rest of the family, and can be seen in 1891 in Withiel. She seems to have followed her brothers out to Australia a few years later, as she & James are on the passenger list of the SS Austral, arriving at Sydney 12 Jul 1897 with a bunch of children in tow. They settled in Kennedy, Charters Towers (near David) and can be seen listed in the electoral rolls for 1903-12 at Natal Downs Road, James a miner, Eden "home duties". James died in 1913 & Herbert James, their son, moved in with his mother, listed as a butcher. In 1916 he married Maud Couch and moved to Armstrong Road (just around the corner), while Eden stayed alone at Natal Downs Road until her death in 1942.

Edgar Retallick was born Jul 1842 at Savath, Luxulyan to Francis & Kitty nee Beswetherick and can be seen there on census returns of 1851 & 1861. On 14 Mar 1864 he was in court, charged with assault & discharged on surety to appear at a later dat if necessary. It seems they didn't recall him & he is next seen travelling to Quebec, Canada on the SS Nova Scotia. Nothing seems to have come of that as he returned to England & in Jan 1873 married Louisa Hore from Molinnis. The following year they emigrated to Rough Ridge, Otago, New Zealand, where their daughter Luisa Maud was born. Unfortunately Edgar died there in 1877. Louisa married again soon after to James William Pascoe & had 3 further daughters.

I have another Edgar Retallick on this tree. He was born Jan 1893 in Ulverston, Lancashire to Adam & Sarah nee Smith (see 29th July). He can be seen on the censuses of 1901 & 1911 with them in Ulverston, in 1911 listed as an apprenticed ironmonger. In Oct 1924 he married a Yorshire lass with the amazing name of Mystic May Dent. He died in Ulverston in 1953 & she in Barrow-in-Furness in 1976, aged 82.

Monday 6th August 2012

Today I'm catching up with correspondence from Ancestry contacts, so will be recapping stories already covered on here. This morning I have updated my records with info from a relative of Elizabeth Mary Manhire (see 3rd July). She has filled in the story for me, confirming that Jack went out to Kellogg, Idaho, to stay with his brother Eddie & work at the Bunker Hill mine. Elizabeth remained at home with their daughter (her great grandmother), but by 1911 census Jack was back & working as a coal-carrier at the coal-works. Here is a photo of them with their 2 daughters in later life:


Elizabeth died in 1956 & Jack in 1959, both in Camborne.

I have also received a lot of help from blog-reader Tim - thanks so much, Tim! - regarding Louisa Jane Knight & family (see 17th June). He has confirmed that her husband was a widowed drayman from NSW, married on 8th Jun 1898 at the family home in Vessey Street, Waterloo, NSW, witnesses William Butler & Eva Knight (Oliver's aunt? - if so, she must have gone to Australia from Battersea!). By his previous marriage to Sarah Butler John had 7 children, then with Louise 6 more, all of whom lived & died in NSW.

Now! Back to Retallicks. Currently trying to untangle 3 Davids....

2 of the Davids had brothers called Allivyan, which could have caused much confusion - but didn't, thankfully, as they are a generation apart! David Retallick born Aug 1835 in St Wenn to John & Ann nee Chapman, was christened at Roche on 1 Sep 1835. He can be seen with parents & sibs at Savath, Luxulyan in 1841, but no more censuses after that. I soon found out why - he died aged 7 in Oct 1842 at Ennisvath & was buried nearby on 6 Oct.

David Retallick born Apr 1870 at Brixham, Devon to John & Mary Ann nee Matthews can be seen in censuses of 1871, 1881 & 1891 with the family at Cornwall, Cumberland and Cornwall respectively. Then straight after the latter census, he set off on board SS Jumna with his brother Christopher bound for Queensland, as mentioned before. He settled in Australia, and the electoral roll has him from 1903-08 at Wellington Flat, Kennedy. In 1909 he did return to England for 6 months from Mar-Sep. I cannot find a family event he could have returned to - yet. He returned to Australia and in 1913 there are 2 records for David Retallick, one at St Mungo, Boulia & the other Kidston, Georgetown, both in the Kennedy area, but I can't tell which, if either, he is. Unfortunately he died on 18 Jul 1914.

Saturday 4th August 2012

Just had a very satisfying little breakthrough in the Retallick tree. I had 4 generations of Christophers, but the dates of the middle one (2nd one) were unknown - just inferred from dates of marriage etc. I have just found his burial record on a site I only discovered fairly recently and have been able to fill him in! Hooray! Also added details of a wife's previous marriage :-)

"Christopher Retallick 2" was born in 1761 (from death record) in St Wenn, and married Mary Soby on 29 May 1792 at Lanivet. (It turns out that he was 10 years her senior, so my guess was a bit out). They had 7 children and he died in Sep 1839 at Ennisvath, buried there 30 Sep 1839. Mary stayed on there until she died in Jun 1851, living with their son John & family.

"Christopher Retallick 3" was a very interesting chap - the youngest of their 7 children, born in Aug 1802 at Luxulyan and christened there on 19 Sep 1802. On 12 Jan 1837 (at the age of 34) he married Ann Thomas nee Hoare, a local lady of 40 who had been widowed a year earlier and had 2 children. They can be seen on the census of 1841 & 1851 in Carn Rosemary, St Austell, he listed as "Retail Brewer", with 5 children; 3 Retallick, 2 Thomas. Now, they ran what was called at the time the New Inn but I think it was what became The Bugle and gave it's name to Carn Rosemary's new incarnation when the town changed it's name to Bugle. [The coaching inn is still there, dominating the town]


Ann died in Apr 1857 & in the census of 1861 he is still in Bugle, with his son Christopher & step-daughter Jane Jenepher, running a draper/grocery shop & flour-dealership. The records can be seen of his leasing "house and land for years" btween 1851 & 1865. In 1871 census he is retired, living at Rosevear, with Jane as housekeeper. Now, when he died 8 Jun 1874 aged 71, his probate document stated he was a veterinary surgeon (innkeepers often were vets/doctors too) and left his effects worth £200 to James Lanyon, draper/grocer, sole executor. He may well have been his business partner in the shop, and inherited as unfortunately all 3 children died young (28, 21 & 16). Our branch of this tree descended from this Christopher's brother Francis.

"Christopher Retallick 4" was the eldest of the 3 children mentioned above, born in May 1837 & christened on 4 June. He is there in 1841 & 1851 with parents, sister & step-sibs, then in 1861 with widowed father, step-sis & servant. In Apr 1862 he married Jane Gilbert Osborne, but unfortunately died of consumption on 5 Mar 1866. Jane married again a year later to Thomas Udy.

That only leaves "Christopher Retallick 1", born in Nov 1734 to Richard and Grace nee Brenton at St Wenn & christened there on 2 Dec 1734. His son Christopher was born there in 1761, but I cannot locate a marriage. He died in 1796 at Roche.

Oh, there's another Christopher Retallick not part of this dynasty, brother to Allivyan & Charles, born Apr 1865 at Brixham, Devon (were his parents on holiday?) to John & Mary Ann nee Matthews. As I have said before, this family left Cornwall for Cumberland, then returned, where the parents died and the sons went off gold-mining. I think I have yet to discover the full picture here - I'll let you know as it unfolds - but this son went too, for a while. In Apr 1889 he married Mary Richards Lutey in Penzance (she was from Roche - how they met would be intriguing). Now, in 1891 they were living in Cornwall, with his mother, brother, daughter & nephew and Christopher was listed as a Gold Miner. On reading around, I see that although gold was/is found in Cornwall, it was never commercially viable, so wasn't surprised to see them travelling off to Australia a few weeks later on board the SS Jumna. Conditions must have been pretty basic, and I don't know any details but they returned in 1902, having lost 3 of their 4 children. There was another son Harry born in 1903, but their 2 children ended up with 13 years between them... In 1911 they can be seen on the census return, settled once more in Millom, Cumberland, living in a fish & chip shop - well alongside, presumably - at 46/48 Queen Street. The building is still there, it has been a shop for some years, although changed hands several times. In 2005 a newsagent business went bust and in 2007 it was sold - now is a private house, but you can imagine it as a chippie, with the corner door:


the family probably lived in number 46 with 48 the shop. I thought I had finished the adventures with this Christopher until Google gave me a glimpse of a document in the National Archives:
1904: File re County Court case brought by Grace Penaluna, of No. 110 Wellington Street, Millom, at Millom against Christopher Retallick, fried fish and chip dealer, of No. 46 Queen Street, Millom, defendant, by which she claims one week's wages for wrongful dismissal [endorsed: 'for complainant'].
Naughty boy! Anyway, Mary died in Apr 1926 and a year later Christopher followed. His probate gave effects worth £2470 4s to son Harry, ironmonger and daughter Lilian, by now Mrs James Henry Edwards.

Friday 3rd August 2012

Charles Retallick was born in the July quarter of 1863 in Roche to John & Mary Jane and christened there on 8 Dec 1863. He lived with his parents, brother & sister in Exeter Road, Bickington, Devon, in 1871 at Adelaide Cottage, then in 1881 next door at Princess Cottage, listed as an Iron Miner. in Oct 1889 he married Yorkshire lass Mary Hodgson in her home village of Marrick and in 1891 census they can be seen there at Hill Top House with a baby daughter. However, Mary died in Apr 1898 having their 3rd child, and Charles moved back to Devon. He can be seen in the census of 1901 on Hannaford Estate, Widecombe-in-the-Moor, Devon, with his parents, 3 children & servant, helping his father run the family farm. In 1911 the same are at Higher Putsham, Buckland-in-the-Moor, near Ashburton, Devon.


[pictured here in 2009]. He died in the area on 5 Apr 1945 and left £963 effects to his daughter Mary.

Another Charles Retallick was born in Jul 1867 in Luxulyan to John & Mary Ann nee Matthews, brother to the younger Allivyan (see Monday). As previously described, they were at Trescoll, Luxulyan, then moved to Cumberland on the death of Harry. They must have been back in Cornwall by 1899 though, as Charles married at Luxulyan in October. His bride was Margaret Elizabeth G Rodda, and in 1901 they are living in Church Town, Roche with baby son Viole, Charles listed as a mine labourer. A lot happened in the next 10 years and tracing the records was a now familiar adventure! On 4 Apr 1903 Charles travelled to New York on the SS Umbria, with the intention of going on to Hancock, Michigan. I have no idea if he reached there but on 17 Dec 1904 he travelled from Liverpool to New York on the SS Compania with Margaret & Viole "returning home to Bisbee, Arizona after 2 months", landing on 24 December. Unfortunately Margaret died the following June & Viole was sent home to live with his grandparents in Cornwall. Charles carried on mining, and can be seen in US censuses of 1910 in a Nevada quartz mine, 1920 & 1930 at Butte Silver Bow, Montana - we have come across this area before with several Manhires. Looking into it, 1920 was apparently the peak time of prosperity for a very prosperous area in the era of mining booms, and so many Cornishmen moved there that they still have a local snack very much like the famous Cornish pasty, inherited from the miners of the time!


In 1930 he had turned to mining copper, lodging in a road called Quartz Street. He apparently died in the area, but I do not have access to Arizona death records, so I cannot say when.

Wednesday 1st August 2012

Continuing with the lovely Retallick names, but unfortunately no story is interesting enough to write up here: Alma, Alvon, Augusta Courtney & Augusta Ruth, Austell Glendower and the unfortunate Barnet James Sturbridge Beswetherick Retallick, whose name was longer than he was, as he died when just 2 years old.

Much of today's work was already done - thank goodness, because I'm not feeling too good.

Catherine Retallick was born Mar 1777 at St Wenn to William and Elizabeth (also a Retallick), and christened there on 6 Apr. On 24 Sep 1798 she married John Payne at St Columb Major and had 8 children before dying in Aug 1835, and was buried in Roche on 1 Sep, aged 58. John died in 1844.

There was another Catherine Retallick born in 1777, this time to John & Catherine nee Martin, christened in Roche on 14 Jan 1778. However this one died aged just 6 and was buried in Roche on 2 Sep 1784.

Another Catherine Retallick was born Mar 1812 in Roche to Richard & Elizabeth nee Lamb, and christened there 26 Apr. She was apprenticed on 12 Jul 1820 aged "about 9" to John Robins to "learn housewifery". On 7 Jun 1835 she married William Tregoning and they can be seen on censuses of 1841 in Broad Lane, Roche near her parents & brother, in 1851 & 1861 at Mount Whistle, St Austell, then 1871 at Rosevear, St Austell. By 1881 William is retired & they are in Bugle, then he died in 1886 and she remained there. However, by 1901 she has been admitted to the County Lunatic Asylum in Bodmin, and is listed as a pauper patient & lunatic. She died there the following year.

The final Catherine Retallick was born in Jan 1840 in Roche to John & Charlotte nee Edyvean. She can be seen in census records of 1841 and 1851 in Broad Lane, Roche with parents & lodgers. 1861 sees her living at 87 Union Street, Plymouth a servant in the household of a linen & wool draper [now a rather run-down takeaway, unfortunately]. On 8 Dec 1864 she married John Borlace Hawke, and in 1871 they are living in Rock Cottage (appIn 1881 they are at Trebilcock Farm [now a substantial modern bungalow], then in 1889 John died and in 1891 Catherine is at Parkwoon, with 2 children and a lodger, listed as a Sewing Woman. By 1901 she is living in London, as a cook to a retired doctor (with 2 housemaids), admitting to 54 but really 61.


She managed to retire back to Cornwall before she died in 1906.

Monday 30th July 2012

I really like the imagination shown by some of the names in the Retallick branch of the tree!
Agar Alexander Retallick was born on 18 May 1908 in Bugle, St Austell, Cornwall, to Reginald & Henrietta nee Carter. He was on the census return of 1911 living with his parents & 2 sibs in Jubilee Terrace, Bugle. He is next seen in 1932 living at the Police Station in Amersham Vale, Deptford, London. I am not sure if he was in the Metropolitan Police - I must do some further work on this, as I would so love him to be! [The building is still there:


the Old Police station, whose side wall we can see here, is now an Art Centre, with a shiny new police building next to it, beyond the tree in front]. In Jan 1934 he married Kathleen Gladys Nichols in Camberwell and they settle into 12 Tressillian Road, Deptford:


(well, probably only a part of this big house, maybe only one room).
Their daughter Yvonne was born here in 1936, but unfortunately Kathleen died in 1939 & they had no further children. In 1937 they had moved to a house in Greenwich: 66 Foyle Road:


and lived here until 1942. By 1945 he had moved to 369 Blackheath Road [this is no longer a valid address, as numbers now only go up to 114 as there are many blocks of flats]. Now, I picked him back up in his subsequent role as Travelling Security Officer, on board some illustrious liners (including the Queen Mary & Mauritania) between Southampton & New York, giving his address in England as Foreign Office, London and in US as British Embassy, Washington. It seems he stayed in USA for 18 months in 1955-6 then again for 3 months in 1959. No further sign until he died in 1997 - in Bodmin of all places (so further investigation needs to be done with modern records).

I have 2 ancestors called Allivyan Retallick on this tree. One was born Oct 1840 and grew up at Savath/Ennisvath (see yesterday). It is such a strange name that on the 1841 census he was listed as baby aged 7 months called Lavinia Evelyn - the enumerator obviously struggling to get hold of the name, and probably asking several times! But after this it settles down. In 1861 he is listed as a tin stream labourer. On 31 Oct 1865 he married Mary Liddicoat at Roche parish church & they settled next door to her parents, on Rosemellyn Moor. They remained there for 3 more decades, bringing 4 daughters into the world, one of whom died in infancy, and finally retiring to Fore Street, Bugle, where Mary died in 1917 and Allivyan in 1925.

As he only had daughters, this chap could not pass on his lovely name to a son, but another John Retallick did this for him. He & wife Mary Ann nee Matthews called their 8th child Allivyan Retallick born Oct 1872, then after they lost their 9th & final child Harry in infancy, moved Up North to Arlecdon, Cumberland, where Allivyan can be seen with the family in 1881 census aged 9. They must have returned fairly soon, though, as both parents died in Cornwall in 1890 & 1895. Alli can be seen in Withiel aged 18 tin miner with brother Christopher & family, also mother. In 1893 he married Alice Kate Cock, a neighbour's servant, and had a daughter Miriam in 1894. In 1895, on his mother's death, they set off for USA, & can be seen in 1899 at 107 Beattie, Helena, Montana. In 1900 & 1910 they are at Meagher, Montana, in 1900 a gold miner, although by 1910 he has given up mining & is a farmer with 4 daughters. I cannot find them in 1920, but 1930 is quite intriguing, as the farm is now full of "inmates", Allivyan is called farm manager, and the place is called Meagher County Poor Farm, evidently something like a workhouse. I also found a gravestone where he & Kate are buried, in Gig Harbor, Pierce, Washington:



Sunday 29th July 2012

The final Manhire in my list, Woodman Manhire was born Apr 1868 to Thomas & Hannah nee Yelland, and although he was there with the family at Molinnis in 1871, 1881 & 1891, a labourer in the china clay mines, brother to Jasper, Wilson, Lona etc, he seemed to disappear off the records. However, I have tracked him down! In 1896 he can be seen travelling between Freemantle & Albany in Australia with a note attached "For Goldfields", then to Adelaide in 1900. In 1906 & 1907 he is travelling between Southampton & South Africa (one would imagine, working in the goldmines there). In 1913 he seems to have decided where he wanted to be & emigrated from London to Adelaide, where he lived at Broken Hill. Unfortunately, however, he died at Adelaide Hospital on 13 Dec 1914, leaving his effects worth £164 to his father Thomas (probate took until Jun 1916 & he died later that year himself).

OK. Now I have finished the Manhires, on to the next branch in my file: the Retallicks...

Adam Francis Retallick was born Oct 1837 in Ennisvath, Luxulyan, Cornwall to Francis & Catherine nee Beswetherick and was christened there on 19 November. He appeared on the census returns with parents & sibs (his sister was Lavinia, Clive's great great grandmother, who married Robert Knight, and whose daughter married Richard Manhire - here the branches link) at Savath near Luxulyan:


listed as a tin stream miner. On 9 Oct 1864 he married Ann Retallick, a distant relative and one of the witnesses was a John Retallick, another distant relative - her brother-in-law (her sister also married a Retallick but they are all only related several generations back - it's just that families didn't move about the country much in those days). In 1871 they are at Savath, living with his mother, his father having died in 1864, with 3 children. He remained there for the rest of his life, and died there in 1918, Ann in 1929. Adam left effects worth £91 to son Cyrus.

Adam Francis Retallick was eldest son of the above, born Jan 1865 at Savath & christened at Lanivet on 29 Jun 1865. He is with the family at Savath in 1871 & 1881 for the census, but in 1891 he is seen boardng with his future wife Sarah Elizabeth Smith in Dalton-in-Furness, Lancashire and her mother, listed as driver of a stationary engine at an iron mine. They married Jul 1892 at Ulverston and in 1901 are at 4 Marton, Dalton-in-Furness with mother-in-law and 3 sons. By 1911 they have 4 sons and are living at 20 Quebec Street, Ulverston & Adam is listed as a "fruit hawker and unemployed engine driver". Sarah died there in 1924 and Adam in Apr 1945.

Saturday 28th July 2012

I have been busy recently, so need to catch up now.

William Manhire b 1820 in Roche to George & Mary nee Snell, was christened 2 Apr 1826 in Kea, Cornwall & can be seen with them in the census of 1841 in Roche, aged 21 a China Clay Labourer like most. In 1846 he married Elizabeth Yelland and in 1851 is in the census at Colevreath with her & 5 children, Unfortunately this story is short, as he died in Jan 1852 aged 29. Elizabeth moved to Wales & married Richard Davies, with whom she had 2 further daughters and died in 1893 aged 71. Strangely enough, she lived for 40 years in Newport, S. Wales, where Clive's family settled 86 years after her death.

William James Manhire was born Jul 1875 in Camborne to William Richard & Eliza nee Bennetts, and was the young man in the photo (see 30th June) standing in the middle at the back. I have actually told much of his story already, through his family. He can be seen on census returns of 1881 & 1891 with them in Camborne, in 1891 listed as a 15-year-old Tin Miner. On 19 Aug 1896 he married Adeline Nicholas, he 21 she just 17, and they had a son William Lambert a few weeks later. Unfortunately the baby died aged 6 months, then William himself in Jan 1899 aged 23. As previously noted, Adeline went on to marry his brother Edward (see 2nd July).

William Richard Manhire was the father of this family, and can be seen in the photo sitting in the middle. He was born on 18 May 1852 in Roche to Richard Williams Manhire and Martha nee Stephens. There had been a William born to them in 1850, who died in Jan 1852, so when the next baby was a boy, as was the custom at that time, the name was used again and this William was christened on 23 Jul in Roche church. He can be seen on census returns of 1861 in Brea, Illogen aged 8, and in Roskear Fields, Camborne 1871 aged 18 listed in both cases as a Tin Mine Labourer, in the latter it specified "under surface" (his 2 younger brothers were "at surface"). He married Eliza Bennetts on 22 Nov 2873 at Redruth Reg Office, and settled at 35 Wesley Street, Camborne, then moved round to 5 Adelaide Street. they had 14 children, but 2 died in infancy. Eliza died on 17 Mar 1925 aged 70 and William on 5 Oct 1928 aged 76, both in Adelaide Street, and both are buried in Camborne.

Wilson Manhire is the most famous/successful twig on this tree. He was Oliver's 1st cousin and I have come across this description of him: "Wilson Manhire (1884-1942) from Molinnis near Bugle composed over 800 pieces for piano, violin, choir and organ and was leader of the Handel Festival orchestra at Crystal Palace in London. Apart from composing several sacred compositions, he was also a leading figure in setting up a Choral Society at Bugle Methodist Chapel in the 1930s."
He was born on 25 Mar 1883 to Thomas and Hannah nee Yelland & christened on 9 Aug 1883 at St Austell Primitive Methodist church. He can be seen on census returns of 1891, 1901 & 1911 with parents & sibs, at Molinnis, St Austell, listed on the latter two as School Teacher. He never married, and I suspect lived at Molinnis Crossing with sister Lona in his later years, as when he died on 17 Jul 1942 he left £3323 14s effects to her (see 14th July) at that address. Somewhere I have a music book written by him that I bought a few years ago on eBay - I think I may have given it to his 2nd-cousin, Clive's mother. His most famous title is "100 easy classics for piano" and is pretty well-known.

Tuesday 17th July 2012

It might seem from accounts like this that the work is always productive, but far from it! I appreared to have hit a purple patch yesterday and today, but I do hope that has broken now. I have spent many fruitless hours searching for records concerning the little lad in the photo in the back row, standing to the right, Thomas John Manhire. The lady who provided the photo has assured me he was born on 22 Apr 1879 at 35 Wesley Street, Camborne, and died on 17 Dec 1964 in the same area. Although I can see him in the census returns of 1881 and 1891 with the others, aged 1 and 11 respectively, I cannot track down baptism, marriage, burial or even birth registration (which was mandatory by law by then). Such a shame - and such a waste of time....

In dealing with Verena Manhire, I had high hopes, because of the unusual name. She is there with her family - she was a sister of Jasper & Lona I mentioned the other day - in censuses of 1881 & 1891, at Molinnis, St Austell, in the latter listed as a draper's assistant. It was frustrating that I couldn't find birth record, the only one even close was called Josepha, so that was no use. In Oct 1897 she married William Hawke (born at the same time & place, so they probably went to school together...) and had a daughter Lilian in 1900. She can be seen in censuses of 1901 & 1911 at 7 Glen Road, Wadebridge, which is where William died in 1919 (aged only 45), leaving his effects to Verena - and there on his probate it stated her middle name was Josepha! Suddenly the mists cleared, and I can complete her file. She died in Aug 1949 aged 75, and is buried in the churchyard at St Endelion Parish Church.

Sunday 15th July 2012

I have now come round to Clive's grandfather Oliver Manhire, and I ought to tell his story, as this is his tree.
He was born in Oct 1895 at 19 Anhalt Road, Battersea, London to Richard & Tahpenes nee Knight, and remained there with them until going away to war in 1914, when he was registered at 20B Albert Bridge Road, Battersea as an absent voter, with a military vote (presumably postal). On his return (with 2 medals, Victory & British) he must have lived there until his marriage on 7 Jun 1924 to Ivy Maud Buckwell. In 1926 he is registered at 443 Battersea Park Road with his mother-in-law Jessie Buckwell. This address is very familiar to us, as Clive grew up with this as his grandparents' shop, a tobacconist/confectioners, and it remainied in the family for many years. [What a lucky boy - who doesn't love the idea of their grandparents running a sweetshop? And even better, it's next door to a pub! The internet tells me it is now being run as a chinese takeaway]. Oliver & Ivy had 6 children, Oliver died in 1964 and Ivy in 1983 - I remember her well!
photo of the "shop" I took a year or so ago - a private house:



Saturday 14th July 2012

Tying up a few loose ends on this tree today. I discovered that Lewis Manhire's middle name was Cyril and that he married Freeda May Best (sic) in St Stephen-in-Brannel (see pic above) in 1933. I can't see that there were any children, but that doesn't mean there were none...

Lilian Manhire was the lady who married her first cousin Jasper - oops, I didn't tell their story, so I may as well now. He was born Aug 1870 to Thomas Manhire & Hannah nee Yelland, and Lilian to Richard Manhire & Tahpenes Knight (Clive's great grandparents) in Dec 1880, both in Roche. Of course, Lilian moved to London with her family & grew up in Battersea, but in 1901 she was living with her grandparents in Bugle, St Austell, working as a housemaid. Thus, she was in close proximity to Family & in 1906 married her first cousin. They settled in Bugle & had 3 children, Kenneth, Edgar & Dorothy. In 1920 Jasper died and left £783-worth of effects to Lilian & his brother Wilson (who was a fairly famous musician & author - more at a later date). I did think Lilian married again & moved back to London, but today I have found her probate record & confirmed this was another lady of the same name, and she remained in Cornwall, as a widow, until she died on 7 Mar 1955 at a lovely-sounding address: Grendor, Tehidy Road, Tywardreath. I can find this road, but no sign of the house, but there are newish bungalows which may have replaced an old property. She left £1575 to her son Kenneth, schoolmaster.

One of my favourite names on this tree is Lona Armenia Manhire, a spinster lady who worked as a nurse. She was born in Apr 1886 to Thomas and Hannah nee Yelland (she was sister of Jasper, Wilson etc), who did not go with the family to London, but stayed with her sister Verena in Cornwall, then went to work in Plymouth, as a nurse in the household of a Royal Navy Commander. I knew she died in 1956 in the St Austell area, but I have today traced her probate document and her address is given as 1 Armenia, Molinnis Crossing, Bugle - I don't know if the house was named after her or vice versa! Molinnis Crossing is nowadays rather run down and the level crossing is currently under threat, and may be closed off, in which case this part of the village may fade away and die. Sad really, but it is all in the name of Safety (21st Century Issue - don't get me started on that!). She left effects worth £1970 to her niece & nephew.

Louie Edith Manhire was the little girl in the photo (see Sat 30th June) sitting on the floor in the middle. She was born at 5 Adelaide Street, Camborne to William & Eliza nee Bennetts in Oct 1889, and can be seen on the censuses of 1891, 1901 & 1911 there with the family. In 1911 she is listed as factory hand at a fuse factory, no doubt the Bickford-Smith Company, whose building is still there, apparently:


(manufacturing fuses for use with explosives in mining, not electric fuses, as I first thought...) In Jul 1914 in Camborne she married James Henry Thomas, who appeared to be one of these Cornishmen constantly crossing the Atlantic, and this may well have been how they met. I am trying to pinpoint her, but as yet only have a death in 1948 in Woolwich, London and I'm not too confident of that....

(later) I have confirmed that this was she. In 1919 they had a son Donald, born in Camborne, but they are next seen in 1922, living at 1 Martin Bowes Road, Woolwich, London, listed on the electoral roll there. Until 1948, listings name Louie and James, then at the same address from 1948 James and Donald until 1960, when the records stop (James died in 1962 anyway). His probate document shows James died at the same address and left effects worth £892 to son Donald, a labourer.

Tuesday 10th July 2012

Leonard Manhire was the mischievous-looking little lad at the far left of the photograph (Sat 30th June). Born 19 Sep 1886 to William & Eliza nee Bennetts at 5 Adelaide Street, Camborne, he can be seen on 1891 & 1901 censuses with the family there. In 1901 he is listed as a 14-year-old butcher, but that didn't last long (or may even be an error). He is next seen criss-crossing the Atlantic, like many of his family, listed on his journeys as a miner. In 1906 he travelled to USA on the SS St Paul and again in 1909 on SS St Louis, then I have also found him on a return journey in Apr 1911, which explains his absence from the 1911 census (the St Paul again, an American ship). On 4 Jan 1912 in Camborne he married Beatrice Lavinia House, who was the servant of his brother Edward, and they managed to have 3 children: Leonard Raymond, and 2 "attempts" at Gwendoline Mavis (one died aged less than a year). I am surprised, because he was forever off somewhere: I have found trips from Cape Town to Southampton in 1914 on the SS Grantully Castle, West Africa to Plymouth on the Farquah in 1915, West Africa to Liverpool on the Apapa in 1917 and in 1921 Tenerife to Liverpool on the Abinsi. And if I have found these, there must numerous others (including of course the return journeys). Beatrice died in 1955 in Camborne aged 66, and Leo followed in 1974 aged 88.

Monday 9th July 2012

I have some more snippets to add to the Emigrating Miners saga. I discovered when studying Gladys Victoria Manhire that she married a neighbour Clifford Stanley Liddicoat, they had a daughter also Gladys, then Mrs Gladys died in October 1927, probably in further childbirth. Just out of interest, I followed him further to see what he got up to when widowed, only to find him hopping on the SS Majestic from Southampton & joining the mining community in Butte, Montana. In his 1919 WW1 draft papers, he gives the address of 1003 East Galena Street, Butte, a miner for the Ourcond (or something like that) Mining Co. He was sent home ?invalided out, to the care of his mother in Cornwall. I have a copy of a letter she wrote, asking that he not return to the States and there is no evidence that he did. He died in St Austell area in Oct 1927.

Jane Manhire was born 1888 at Hillside Cottages, Shaugh Prior, Devon to Joseph & Jane nee Brewer, and can be seen with them there in 1891 census aged 3. In 1901 census she is living with a farming family in the village, working as a general servant. She married Lancelot Hicks, local boy, at the age of 14 (he 19) in Shaugh Prior and they had 3 childen in as many years. On 10 May 1908 Lancelot travelled with John (probably his brother) aboard the SS Kensington from Liverpool to Quebec, final destination Calgary. Lance was listed as a "navvy", John as "farm labourer". It was evidently a success, as on 5 Aug 1909, Jane & the 3 children travelled out on the SS Empress of Britain from Liverpool to Quebec, to join them. She was listed as "wife of corporation labourman". [In later years, when retired in 1955 & 1957, Lancelot travelled home to 14 Broad Oaks Cottages, Lee Moor, Devon for 3 & 4 month stays respectively]

The rest of today was spent mostly unravelling the 4 generations of Johns, extending (so far) back into the early 1700s, but encountering the spelling problems, as Manhire migrated to Menhire to Menheer....

Thursday 5th July 2012

The next story is of another of the little guys from Saturday's photograph, who emigrated. Fred Manhire (the little chap sitting at his mother's feet, on the floor in the middle) was born on 27 Dec 1891 at 5 Adelaide Street, Camborne to William & Eliza nee Bennetts, seen there on censuses of 1901 & 1911. Then he set off for USA: 25 Apr - 2 May 1914 he sailed on board SS St Louis (coincidentally the ship I mentioned on Tuesday that carried Ella & family the following year), from Southampton to New York. 3 years later, his WW1 draft form gives his address as Division St, Kellogg, Idaho, occupation Groundsman, Electric Line, working for the Washington Water Power Co, claiming exemption from the draft as his parents were dependent. On 18 Apr 1919 he returned to England on the Mauritania, listing USA as his permanent residence, on a visit, and married Camborne girl Beatrice Elizabeth White 12 Feb 1920 in Cornwall. This lady was the sister of Annie's future husband Ernest - the families were presumably close. He took Beatrice back to the States with him - they sailed Southampton to New York on the SS Lapland, arriving 1 May 1920. They settled in Michigan, listed in the 1930 census with 3 sons at Margaret Avenue, Detroit, Wayne, Michigan, and Fred is a Seat Cleaner in Auto factory. It looks as if sons Roy, Percy and Frederick E are still alive & living in Michigan, very elderly gentlemen... Fred died in Aug 1963 and is buried in Ferndale, Oakland, Michigan and Beatrice 1982, likewise.

Tuesday 3rd July 2012

Not getting on too well with Elizabeth Mary Manhire. This was one of those "recycled names" I mentioned. An Elizabeth Mary was born in Apr 1874, to William & Eliza nee Bennetts, but died on 27 Jun 1875. So in Jan 1878 a new baby was given the name. She's the young lady on the left at the back of the photo (see Saturday). She was born at 35 Wesley Street, Camborne, and moved with the family to 5 Adelaide Street, where she can be seen in the 1891 census, aged 13 & listed as a Tin Miner (?). In 1897 she married local boy Walter John Stoddern (aka Jack), who we have met before, as he was the brother-in-law who travelled out to USA with Arthur & Emily in 1907. Now, I cannot trace him either in UK or US, or her, or any children - it could be because, like Manhire, it is an unusual name with many variations, but I have contacted a fellow-genealogist who appears to have some photos, including one of their daughter Doreen. So here's hoping...

Ella Manhire was born on 23 Nov 1877 to David & Ellen nee Lukes, at St Stephen-in-Brannel (the place with the cemetery at the top of this page) and can be seen in 1881 census with parents & sibs at Grampound. In 1891 she is staying with her grandparents in Camborne as her father has died. In the 1901 census she is back in St Stephen with her mother, also step-father & his children but not for long. She married William Henry Cock from Little Petherick on 13 Apr 1901 (2 weeks later). Daughter Florence Ada was born in 1902 and son Marshall Henry in 1905, and they can be seen in the 1911 census at The Fields, Union Road, St Austell. However, on 3 Nov 1915 they boarded the SS St Louis at Liverpool and set of for USA, arriving on 11 November in New York. In the census returns of 1920 & 1930 they can be seen at 15013 Summit Grove, Maple Heights, Cuyahoga, Ohio, where William's occupation is given as "Mason's Helper" in the "House" industry. In 1930 Florence is married with 2 children and Marshall likewise lives next door & is a truck driver for a coal company. Actually this is Florence's second marriage, as her first husband died within 4 years. Looking at Google maps, this seems to be a nice area, a suburb of Cleveland nowadays.

Monday 2nd July 2012

We have come across the next Manhire already - David Manhire, the boy on the far right of the photo - as he was one of those members of the family who emigrated to USA. Born on New Year's Day 1882 at 5 Adelaide Street, Camborne, he lived there with parents & sibs, following the local tradition to become a Tin Miner. On 17 Jun 1906 he arrived in New York on board the SS New York, giving the name of a brother in Michigan. I'm not sure who this is, as the initial could be C or E & this doesn't make sense. Never mind! As mentioned on Saturday, his fiancee soon joined him, travelling with his brother Arthur on board the SS St Louis, arriving on 11 May 1907. I cannot locate a marriage record, but they state on 1910 census they have been married 3 years, so we have to trust them, don't we? ;-) Daughter Lillian Maude arrived on 4th March 1908 and son William David in Jan 2010. Unfortunately, William died aged 16, but I have read an article about the scary amounts of lead in the children's blood in that area, due to the mining, so I'm surprised any survived at all! Emily herself died in 1911, but whether that was due to the same, or the more common cause, childbirth, remains to be seen. The 1910 census shows them all living on Main Street, Kellogg, with David as a lead miner. He married again in 1916, another girl from "back home", Laura Eva Champion, who travelled out to join him in Aug 1916 on board the SS Saxonia. On 9 Dec 1918 his WW1 draft card gives his address as Kellogg, but Lillian's as Butte, Montana, but they can all be seen in the 1920 census living in Walkerville, Butte, Montana, and David is a Zinc Miner. However, it was probably too late for him by then, as he died in 1923 aged 41. I have looked at both areas on Google Maps, and am struck by how similar they are in appearance to the ruined areas of Cornwall the family came from... due to the despoiling effects of mining.

Change of tack completely for Edward Manhire, although he too was in the family photo. He is the one sitting next to his father, with his arms crossed. He was born on 4 Sep 1880, in the previous family home 35 Wesley Street, Camborne - just up the road from Adelaide Street, and can be seen in the 1881 census there at the age of 6 months. By 1891, as we know, they had moved round to 5 Adelaide Street and he is seen there aged 10. In Oct 1900 he married Adeline nee Nicholas, who had married his elder brother William in 1896 at the age of 17, but he had died in 1899 after losing a son William Lambert Manhire aged 6 months, and she turned to his brother. In 1901 they can be seen living with her family - parents & 4 siblings - on the family homestead, Kieve Mill, still a substantial farm, Edward listed as a tin-miner. This must have been a temporary arrangement, though, as he was the brother referred to as E Manhire, who first went out to USA. In 1902 Adeline had a son & named him Edward, only for him to die the next day, and in 1903 Edward is calling for her to join him in Michigan. I'm not sure when he had left, but she travelled with 2-year-old daughter Hilda in Aug 1903. A further child, Gordon, was born in Kellogg in 1908, so they must have joined the others in the mining community. It must have been very bleak and tough, and by 1911 they are back in England, happily settled in Treswithian, Camborne, running the Three Cornish Choughs Pub.


(pictures from 2009)
He ran this establishment for the next 40 years, until retiring in 1952, possibly funded by a legacy from their unmarried daughter who died in St Thomas' Hospital, London on 28 May 1952, leaving £1674 12s 2d to her father. He died himself in Dec 1968 aged 88 and is buried in Penponds Cemetery.

Sunday 1st July 2012

Doing this the way I am - ie alphabetically - means I jump around all over the place in time. This is deliberate, really, as it keeps me from getting bored, but is a little odd at times. Today I have ranged in just a few minutes from one of the little guys in the photo posted yesterday, to Clive's great-uncle, who was in the navy in WW1 & he only missed meeting by 15 years.

Unfortunately I didn't get much detail on Charles Manhire, the little blond boy sitting bottom right in the photograph. He was born 18 Dec 1890 and died Jan 1964, both in Camborne. He can be seen at home with his parents & sibs in census returns of 1891 (aged 3 months), 1901 & 1911, all at 5 Adelaide Street. In the latter he is aged 20 & working as a sawyer in a saw-mill. I suspect he may have married Emily Aherne in 1944 in Plymouth, Devon, but without buying the marriage cert I cannot tell, as there are no fathers' names on the record I can see. It would be unusual as he would have been 54, but you never know.... I have no idea why he didn't go to The States with his brothers.

Claude Manhire was born 12 Aug 1879 in Bugle, St Austell, to Richard & Tahpenes Knight (link-ancestor) and was on the census return of 1881 with the family there aged 1. By 1891 they have upped sticks & moved to London (which is why Clive's family come from there). He is aged 11 in 1891 living in Battersea with parents & sibs, but by 1901 he is found in Hong Kong in the Royal Navy. A couple of years ago, I sent for his service records and have a long list of ships he served on between 1897 and 1919. When he was 18 he signed up for 12 years service [described as red-haired with blue-grey eyes & fresh complexion - this is where Clive gets his hair-colour from - well, before it turned white!] and 21 sailings are listed, totally consecutive, so he must have been at sea for 14 years! His character was described as Very Good always, although he was always an Able Seaman, never getting "promotion". On 14 August 1909 he joined the RFR (Royal Fleet Reserve) in Chatham, and was working as a labourer in a flour-mill, living at home, as can be seen on the 1911 census. At the outbreak of war he was called up again & served on 6 more ships until Feb 1919, when he was paid off and left. He was awarded 3 medals: Star, Victory & British War Medal:



There is a marriage under this name, in Hackney, to a Grace Jones (no, not THAT one!) but I don't think he was in the country at the time.... I cannot see anything else until his death in Jan 1941 aged 61 in Surrey.

Saturday 30th June 2012

Moving on to the next Manhire, Annie, I found she was one of a large family, several of whom had moved to the USA. Now, there has been a recent explosion in interest in genealogy "over there", possibly due to the "Who Do You Think You Are" franchise being transported across the Atlantic. (Although I have heard it has been pulled, so there maybe wasn't as much interest as anticipated). But it does mean that Ancestry.com has a lot of info on branches who emigrated there. This is the case for the family of William & Eliza Manhire, who had 13 children, 4 of whom emigrated. A distant relative has posted a wonderful photo of them, from approx 1896:


so I shall be referring to this pic several times over the coming months. Annie is the little girl bottom left, aged here about 8. There had been a baby called Annie born to the family in Jul 1883 but unfortunately she died aged 6 months and, as was the custom at this time, the name was recycled and used again in 1888, this time with the addition of a middle name. Annie Jane Manhire was born 28 Aug 1888 at 5 Adelaide Street, Camborne, Cornwall, but she left these shores for USA to marry fellow cornishman Ernest William Cecil White, who paid her passage from Southampton on the "Majestic" 4-10 Jul 1923, to settle in Michigan. They were soon married, but after 10 years she returned to these shores, and Ernest died 4 years later in Utah. She lived in Camborne for the rest of her life and died there in 1978 aged 89.

Arthur Stanley Manhire is the little blond standing to the left of his mother in the photo (our left, not hers). He was born on 14 Feb 1885 at 5 Adelaide Street, and he too emigrated. He left on the "St Louis" to join brother David in Kellogg, Idaho 11 May 1907, travelling with brother-in-law Walter Stoddern and Emily Jane Tippet, David's fiancee. In 1910 census he can be seen boarding with dozens of other miners at Kellogg, working in a lead mine. He was married 19 Jun 1917 to Florence Bare, daughter of William Buchanan Bare & Arminta Nail (love those names!). He became a naturalized US citizen in 1918 & registered for the WW1 Civilian Draft, and they had a son Victor 1 Jul 1918. In 1920 census they are living a few houses away from his in-laws at Mount Hope, Spokane, Washington and he is a Farm Labourer. The 1922 directory lists him as "trav" at Sinto Avenue. Both he & Florence died in 1963, she on 9 Feb and she was buried on her family plot in Spokane, and Arthur in August in Michigan.

Tuesday 26th June 2012

Sorry to have missed this week, but I was busy, then away for the weekend. I have been polishing off the last of the Knights, and today finished with Zerua Rosina, born 18 Nov 1854 at Molinnis, St Austell (birth recorded as Zerua). She can be seen on the census of 1861 staying with her grandparents & uncles (as Arusena/Frusena), then in 1871 at Molinnis with parents & 4 of her 9 sibs (as Vernah - but then her baby sister Oretta is recorded as Horatio!). She married John Bennetts 31st Jan 1877 at the local church in Treverbyn & they had 12 children in the next 22 years. They can be seen in censuses 1881 at Ruddle Moor (as Serniah) with 4 children, 1891 at Higher Blowing House, St Austell (as Zerwiah - nearly!) with 8 children & her brother Alec, then 1901 & 1911 at Bojea Cottage, St Austell:


where she remained for some years. John died in 1925 and Zerua in Oct 1930 (as Zerniah R).

The next big group of ancestors on this tree are the Manhires - the most important really, as this is my mother-in-law's tree and that was her maiden name. As with Zerua above, however, this name causes a lot of confusion through mis-spelling. Originally I believe it was Menhir=the Standing Stones of antiquity, but the earlier the record, the more variants there are of any spelling. So Menhir became Menheir/Menhear/Mennear/Mennire and so on..... So one has to keep an open mind, and searching the records becomes very vague.


First of the new batch:
Andrew Manhire born Jul 1857 at Breage (reg district Helston), Cornwall is in 1861 with his parents & sibs at Illogan aged 4, then in 1871 aged 13 in Camborne with the family. In 1881 he can be seen in Camborne boarding with the Walters family, and working as a labourer at the local tin mine. He was married in Apr 1884 at Redruth to Eliza Jane Rowe (5 years his junior), and they set off for Queensland, Australia, on board the "Indus", arriving there on 22 Aug 1884. Their daughter Emily was born in December of that year, and they had a son David in 1890, but he died aged 2. On 8 Jul 1905 Mrs & Miss Manhire can be seen on the passenger list of the "Warrimoo" from NSW to Wellington, New Zealand (Andrew had probably gone on ahead) and here they settled.
The Electoral Roll shows they lived in Wellington for the rest of their lives, until Eliza died in 1930 & Andrew in 1939. Emily was apparently married in 1906 to Gustav Meiers, but I have not seen any documentation, so have no more details. I can see 2 of their children are called Arthur Gustav Andrew Meiers and Gladys Gwendolyne Rawina Meiers, and that the latter travels back to Australia to live.

Sunday 17th June 2012

I have another of those Emigration stories. It may sound as if the occupants of this tree were always scattering to the four corners, but far from it! Most stayed within a few miles of their birthplace. I just tell of those who didn't, as they make good stories!

William John Knight was born in May 1847 in Roche to Anthony and Ann nee Pinch, and christened there on 7 Jun 1847. He can be seen on the census returns of 1851 and 1861 with the family at Carbis Common, then Woon Common, where daddy was an agent for the local china clay mines. He can next be seen in 1870 in Northumberland, Pennsylvania US, staying with distant cousins the Hoopers and working as a miner. He married Elizabeth Couch there on 17 Sep 1870, a girl from "back home" and they evidently returned to UK, as their 2nd child was born back in Roche in 1874. They didn't stay long though, and on 19th Aug 1878 the whole family (by then they had 4 children) sailed from Plymouth to Sydney, NSW, Australia aboard the vessel Smyrna:

I am aware of 4 further children, and there are tales attached to many of the offspring....

OK, to the "children":
William John Knight was born Sep 1871 in Pennsylvania, about the same time as his parents' marriage (not on the day, I hope!). He travelled with the family on board this handsome vessel pictured above in 1878 & in 1897 married a local girl Rosa Florence Evelyn Derrett. They only had one child, William Arthur, as he (William John ) died in 1899 aged 28.
Louisa Jane Knight was born 18 Oct 1873 in Roche, emigrated with the family in 1878 & married John Wheeler (whose parents were English, incidentally) on 8 Jun 1898 at Waterloo, NSW. They had 7 children and she died 29 Mar 1939 in Mascot, NSW, aged 66. Opinions are divided as to whether he was a widower & whose children these were - another 8 or so appear on some records, but I don't have sight of the originals.
Nicholas Uriah Knight was born 10 May 1875 in Roche & sailed with the family aged 3 in 1878. He married Nancy Alice Sharp in Waterloo, NSW in 1899 and they went on to have 9 children, but 2 died in infancy. On the 1930 Electoral Roll Nicholas is listed as a "trolleyman" - possibly a tram-driver, living at 183 Botany Road, but by 1943 he has become a poultry farmer at Epsom Road, Moorebank, and in 1963 at Fairoak, Dubbo, retired. He died 3 Sep 1963 in Dubbo.
Anthony Charles Knight was born 12 Mar 1877 in St Austell & travelled to Australia with the family aged just 1. in 1902 he married Amy Amelia Forsyth from Sydney, then had 3 daughters before dying in 1933 aged 56. In the 1930 Electoral Roll he is listed at 18 Robinson Road, Chatswood, as a "traveller" - presumably a salesman/rep rather than itinerant....
Susan Evangeline Knight was born 23 Jun 1879 at Wallsend, NSW, and married twice. The first time was to Joseph O'Neill from Ireland, on 27 Jan 1909 but he died in 1914 and straight away she married John Christopher Fogarty, tram driver. She died in 1953 & he in 1972 in Sydney. She never had any children.
Joseph Couch Knight was born 21 Aug 1881 in Waterloo, NSW & he has an intriguing tale. He married on 15 Oct 1901 in Kogarah, NSW Isobel Marguerite Crew, and had 2 children with her; Olga & Roy. In 1909 he left his family, and set off for USA, where he was naturalized as a US citizen in 1915. Olga stayed living with her mother at Montgomery Street, Kogarah until she died in 1956, then alone until her own death in 1973. She was listed in the Electoral Roll as a "forewoman". Meanwhile, Joseph was drafted into the forces in US in WW1, giving a German-born wife Cecelia G Kondziela as next-of-kin (which must have been popular at that time!) in 1917. After returning from the war he settled in Wisconsin and is listed in 1930 census as a farmer/baker in Appleton, which was where he died in 1970 aged 89. He had 3 children with Cecelia and it seems she had another 7 of her own.
Elizabeth Ann Knight was born 23 Oct 1883 in Waterloo, NSW and in 1907 married Frederick Charles Brack tram-driver in Canterbury, NSW. They are listed in the 1933 Electoral Roll at 229 Lakemba Street, Reid, NSW. They had a possible 4 children and she died 6 Apr 1957 at Campsie, NSW.
Edward James Knight was born 20 Aug 1890 Waterloo, NSW, but only lived to the age of 2y 4m & died 31 Dec 1892. He was buried on 2 Jan 1893 at Rookwood Old Wesleyan Cemetery in a family plot, where he was joined by his father in 1919.

Saturday 16th June 2012

Haven't had much time to spend on this lately. Apologies.

An update: The William Knights have not proved to be fascinating so far, but I have just come across one who appears to leave these shores with his family to joint the kiwis - more later!

William Knight born 6 Jan 1806 in St Austell to James Knight & Philippa nee Hooper & christened there on 23 Feb 1806. He was also married there on 16 Apr 1827 to Mary Ann Penrose, she having given birth to a daughter Mary Ann the previous October.

(daughter Mary Ann in later years)
They settled in Penpillick, Tywardreath and had their next 4 children there. William, like most men in Cornwall at this time, was a miner, but whether of lead, tin or china clay is unclear. In 1834 on son John's baptism record he is described as "miner & beer dealer". In 1839 when their 6th child Samuel was christened, they lived in Greediow, Lanlivery, but the following year they packed up and emigrated to Lower Hutt, Wellington, New Zealand. Here they had 7 more children and died here, William in Oct 1867 and Mary Ann in 1871. One son moved on to USA, but the rest lived & died in New Zealand.

Monday 4th June 2012

Susan Knight b Jul 1871 was daughter of Christopher & Jane nee Roberts. She married Charles Hancock in Jan 1898 in Roche & they lived next door to her parents. They can be seen there in 1891, then 1901 census returns, at Criggan, Roche, before moving to Parkwoon by 1911. She died in Jan 1934, aged 62, after which he remarried - in Oct 1938 to Victoria Maud Tregaskis.

Susan Jane Knight was born in Apr 1843 to James & Grace nee Woon in Roche, and christened there on 10 May. She can be seen with the family in 1851 aged 7 at Carbis Common, then in 1861 at Bodelva, St Blazey, where she is listed aged 18 as a dressmaker. She married Johnson Bennett on 8 Feb 1862 in Tywardreath, then can be seen in 1871 at Killhallands, surrounded by her husband's family (a whole street of Bennetts), with 3 sons. In 1873 they left these shores for Pennsylvania. I cannot find them in 1880 & 1890 census records, but they are there in 1900 at a house in Second Avenue, Jermyn, Lackawanna, with 4 children (I understand they had 9). In 1910 on Main Street, Latrobe, Westmoreland, Pennsylvania, Susan is widowed and living with her son Edward. I cannot locate her death record, but understand she died in Pennsylvania too.

I have been ploughing through a whole bunch of Thomases and bring you the best story:

Thomas Knight b 1765 Roche was christened there on 15 June, son of John & Joyce nee Williams. He married on 13 Nov 1790 in Roche Elizabeth Mark, but it was at his death when he becomes interesting... I found a transcription of his will, which runs as follows:

"Copy will of Thos. Knight of Roche, yeo.
- w. Eliz., freehold estate at Hallew, Roche, late occ. Sampson West; also household furniture
- s. Thos. at 21, leasehold estate at Pentevale "whereson I now live", subject to £6 annuity payable to dau. Eliz. K.
- s. Thos. 1/3 part of tin works and bounds
- dau. Eliz., £6 yearly out of Pentevale; also the shop at Pentevale in occ. Joseph Higman, Jn. Lanyon, Jn. Thomas and others
- s. Phil., 1/3 part of tin works and bounds
- s. Joseph, 1/3 part of tin works and bounds
- Jn. Knight, illegitimate son of Marian Snell, £10 annuity until aged 10 then £5 until 21, then £50 payable out of Hallew; Jn. Knight Snell's mother not to take him away from living with testator's wife "if she shall be desirous to keep him with her"
- friends Jn. Robins of Roche, innkeeper, and Jas. Roberts of Roche, tinner, to be guardians of children until 21
- £4 yearly to Eliz. Docking, lately housekeeper of testator's uncle Ben. K.
Made and proved 1814"

Now, this would be quite normal, leaving his wife a property, splitting up a tin-mine (very lucrative in those days) and leaving his 2nd son to keep his daughter with income from the "homestead" (which is leasehold) etc etc. But it is the end part that is of interest, as I knew nothing of the illegitimate son! Looking into it, the birth record of said John Knight Snell give as father John Knight - the eldest son who is conspicuous by his absence in the will above, and aged 23 at this time - supposedly deceased but I have records showing him married and bringing up 5 children, in the same town of Roche! In fact he had been married 3 years at the death of his father. Sounds like a great novel, eh?

If anyone remembers the novels and TV series Poldark in the 1970s this is the same part of the world, and evidently the same stories/scandals!

Saturday 2nd June 2012

An update is called for.
Simon Knight was born in Jul 1819 in Roche, and christened on 1 Aug 1819, the 2nd of 11 children of Joseph Knight jnr & Betsy Merrifield (old friends eh?). On 11 May 1845 he married Grace Bennett, local girl, and settled down in Polpinka, Menheniot to raise what amounted by 1866 to 12 children. Polpinka is still a farmhouse:


When Grace died aged 64 in 1883, he married again (also at the age of 64 and as also was his new bride) to Fanny Brokenshire and lived with her at Bilberry, Roche until his death in May 1897, when he was buried there & she moved in with daughter Mary Jane in Bodmin until her own death in 1905.

Now, the stories of these 12 children have kept me busy all week. Catherine Knight b1840 on investigation appears to be an error - in that she only ever appears on the 1851 census, listed as "daughter" but there are no other records for her, birth or christening or even subsequent censuses, marriages or deaths. [I must admit I was a bit suspicious from the first, as she was born 5 years before her parents married, when they were both living with their parents]
David b Dec 1845 was christened in Menheniot 10 Jan 1845 (7 months after his parents' wedding - much more normal!) and can be seen with the family in 1851 & 1861 censuses at Polpinka. After this he vanishes - probably goes off to another part of the country/world on marriage & his is a common name....
Mary Jane was born Sep 1847 and christened at the Wesleyan Methodist at Liskeard aged 11 weeks. She married in 1873 to Alfred Marshall and settled at Higher Margate, Bodmin [now a modern farmhouse, although very nice] and had 3 children. They can be seen there in the census returns of 1881, 1891, 1901 & 1911, sometimes with staff eg dairymaid, cow man, waggoner etc. Alfred died in 1923 aged 73 & she on 29 Oct 1938 aged 91, leaving £153 to daughter Edith.
John Knight was born in Aug 1849 & died in December aged 4 months, as did his brother Joseph in 1867 and brother Daniel in 1856 aged 1 month.
Louisa was born in Sep 1850 at Polpinka, can be seen there aged 6 months in 1851, in 1861 aged 10 with grandparents at Criggan Downs, then in 1871 aged 20 as servant to Edward Hambly farmer & family at Bodway, the other side of Menheniot to Polpinka, then no more.... (probably married)
Elizabeth was born Mar 1852 at Polpinka, christened 28 Mar, then married William Tucker, Stationmaster on 9 Apr 1874 in Exeter, Devon. They settled in the pretty village of Bovey Tracey & lived there for 5 decades & raised 8 children. In 1920 she died & left £211 to her sons William, a police detective & Herbert, now stationmaster himself.
Ellen was born & christened in Menheniot in 1853, then lived as servant on a farm Heskyn, St Germans, one of several staff, including a governess, but again when she gets married I lose her...
Emily b1854 also, although she lives at home & trains as a dressmaker until 1871, then vanishes...
Amelia and Charlotte are christened aged 9 and 10 in 1869, probably as the 3 boys had been lost at a few months old, but again, I lose them; Charlotte last seen as a servant in Plymouth, Amelia aged 12 at home.
Well! That sorted Simon & his offspring.

Next I had 2 Susans - more about them tomorrow.

Wednesday 30th May 2012

I seem to have opened up a whole new can of worms here - or should I say can of ancestors! Simon Knight appears to have up to 12 children and 2 wives, many of whom I knew nothing about before yesterday. I have been compiling a list of baptisms, and investigating a daughter who is somewhat fictitious. More details at a later date...

Monday 28th May 2012

I found a branch of the family who emigrated to Oz, as opposed to US - makes a change!

Robert Knight was born in Oct 1806 in Roche to Robert/Robin and Eleanor nee Kite, and christened there on 26th October 1806.
He married Elizabeth Hore in Roche on 25th Oct 1829 and had 4 children there. On 31 Aug 1838 they packed up & set off for Sydney on board the ship "William Metcalf". Robert was a Quarryman & Miner (useful in Australia!) & Elizabeth a Farm Servant. They settled in Sydney & had 4 more children there. In 1849 they were resident at Kent Street, Brisbane, according to the electoral roll, and Robert died there on 14 Jan 1855. Elizabeth followed in 1867 & was buried in Eden, NSW. Nearly all their children went on to marry & had families:
William m Ellen Wigley 1855 Victoria & died 1881
Harriet m James Bourne 14 Sep 1848, had 6 children & died 1884
Lancelot m Mary Ann Bayliss 1860, had 9 children & died 1883
James m Agnes Wallis 1865 & died 1881
Samuel m Annie Mackey 1864 & died 1883
Jane m William Francis 14 Sep 1871 & died 1882
Robert jun m Grace Townsend 8 Dec 1879, had 2 children & died 1918

Robert Knight jun b 1853


Saturday 26th May 2012

I have 2 Richard Knights to report on:

Richard Knight b Oct 1854 in St Stephen-in-Brannel to parents John & Amy nee Rowe, can be seen with the family aged 6 & 16 in the census returns of 1861 & 1871, at Bloomdale, St Stephen, in 1871 he was a blacksmith. Unfortunately I cannot trace him in 1881 or 1891. (He may have been in the services or living somewhere else under a slightly different name - it would help if I knew his middle name, but never mind...) He next surfaces in the records when he was married in Apr 1896 to Emily Yelland, in St Columb, where Emily was working at the time. They settled in Whitemoor, St Stephen, where he set up a grocery & draper shop. They can be seen here in 1901 with a servant, and in 1911 with help from niece Olive Yelland. He died here on 21 Jan 1923, aged 68 & left £1074 12s 11d worth of effects to his widow Emily. She died in 1944 aged 82.

Richard Knight b Jan 1832 in Broad Lane, Roche to Anthony & Philippa nee Varco, is similarly seen with his parents & sibs on the family farm in Bodwannick, Lanivet


In 1861 he is living there with his bride, Mary Ann nee Stick, (who he married in Jan 1856 in Lanivet) staff of a dairy maid, a carter and a ploughman and daughter Jane. He farms 151 acres at this point. By 1871 they have 5 children and there are 4 servants, 2 Agricultural & 2 Domestic, and the farm has extended to 240 acres. He remained farming at the same place until in 1911 he can be seen, retired, at the age of 80 in Tremeere, Lanivet


He died there in Jan 1915 and was buried at Lanivet 11th Feb 1915

Monday 21st May 2012

Prudence Knight was one of those who never quite made it to adulthood. She was born in July 1856 at Lanivet to James & Emmeline, a sister to Cheveletia & Alberta I mentioned a few weeks ago. She died in January 1873 at Rosewarrick, Lanivet and was buried there on 21st January, aged 16.

Rebecca Knight b Feb 1812 was christened on 10th March 1812 in Luxulyan and married there on 18 Oct 1836 to Nicholas Cock (no sniggering please...) They settled into Trescoll Farm, nr Lockengate, Luxulyan:


and lived there all their lives. They only had one son, Robert, and he took over the farm, while Nicholas gradually moved over to working for the local tin mine as agent, then retiring but continuing to live with Robert & his family after Rebecca's death in 1879, until his own in 1891 aged 85. She was buried at Innis Chapel, Bodmin, built in an old Quaker cemetery by the founder of the Bible Christian Methodist movement in 1820.

Sunday 20th May 2012

Thought I'd pop on a couple of Pauls today.

Paul Knight born October quarter in Lanivet to James & Emmeline nee Cook can be seen in the census returns of 1861, 1871 & 1881 with his parents & sibs on the farm at Higher Rosewarrick, Lanivet. He marriedlocal girl Fanny Jane Allen in October 1883 at Lanivet. They settled at Tretoil Farm, having a total of 5 children & can be seen there in 1901 and 1911:


When Paul died here in 1923 he left £100 to his widow Fanny and son George (3rd son inherited as eldest son John had emigrated to USA and 2nd son had died 3 years previously). George may have remained here until his death in 1964, but without buying the death certificate I cannot tell as the parish records of this time bear no age, dob etc.

The other Paul in this tree was born in Dec 1835 at Lanivet to Anthony & Philippa nee Varcoe, and christened there on 27 Dec 1835. He can be seen with the family on the farm at Bodwannick, Lanivet in 1841 & 1851, but then died in 1852 aged 16. He was buried in Roche cemetery on 25 Oct 1852 in the same grave as his father, who was buried on 4 November, 10 days later.

Saturday 19th May 2012

It's time for the story of my favourite ancestor from this tree. He was born on 28 May 1845 to parents Philip and Betsy Knight in Luxulyan, Cornwall, and christened on 10th June in Roche as Oscar Orlando Knight. But I prefer to refer to him by the name he was recorded with aged 15: Oscarlando. He can be seen in the censuses of 1851 and 1861 at home with his parents & sibs, in 1851 in Bilberry and 1861 Hallew, both in Roche. In 1861 the entire street is made up of Knight families - quite a dynasty. In 1866 he married Mary Ann Cock & joined them, moving in next door to his widowed mother. In 1871 they have 3 children & he is farming 40 acres. In August 1878 mother Betsy died & the following year they set sail with their 7 children, on board the steamship Devon, from Bristol. They stayed in Ontario, Canada for a while, as he can be seen as atenant of Lot8 Main Street in the voters' list of that year and the birth of 8th child Arthur Theodore was registered there on 12th Feb 1880, although by the census in June they had settled in Clinton, Michigan, where they remained and established a dynasty of their own. In 1880 they can be seen on the census return in Riley, with 8 children. I cannot access the 1890 census, it seems, and by 1900 they have moved to Bengal with 6 children. Mary Ann died in 1908 and in the censuses of 1910 & 1920 the family are still there with the addition of grand-daughter Thelma. By 1930 2 daughters are living back home, having both been widowed, and son Arthur Theodore is living close by. This record has so many details it's unbelievable (probably due to the unique name). In 1909 Oscar's brother Robert was very ill, and as he had been widowed himself recently and had 2 sons in their 30s at home to mind the farm, he set off back Home for a visit. I have his passport application form of 3 May 1909, in which he is described as 5ft 10ins with blue eyes, grey hair & full-face with sanguine complexion. He travelled 2nd class on the steamship Ivernia (Cunard Line) from Boston to Liverpool, journey 3-10 June 1909:


Unfortunately, Robert was so ill he died in July and Oscar was there for the funeral in Cornwall. He returned to the US on the Majestic, sailing 8-15 Sep 1909 from Southampton to New York:



Oscar died in 1930 and was interred in the family burial plot I mentioned a few weeks ago. He & Mary Ann are there, along with at least 4 of the children




Wednesday 16th May 2012

Nancy Ann Knight had an interesting life, although it had its ups & downs. She was born in Feb/Mar 1801 in Roche to James and Philippa nee Hooper, and christened there on 15th March. She was married on 21 Oct 1821 in St Austell to John Daniel, local lad (they may even have been some kind of cousins, as their mothers had the same maiden name). After her marriage, Nancy had a couple of years full of contrasts. She had been married 7 months in May 1822 when son James was born, then in Dec 1823 her husband John died of a fever, while she was expecting their 2nd child. In a few weeks she had a boy and naturally called him John. Unfortunately first son James died in the June of that year from croup, aged 2. She married again 2 years later, to Thomas Jane on 27 Jun 1826 at St Austell. In censuses of 1841, 1851 & 1861 they can be seen as a family with their total of 7 children, firstly at Mount Charles Village, then Fat Works Downs, then Priory Row. At each place Thomas worked as a tailor. Now, in 1852 daughter Nancy married and immediately set off for a life in Wisconsin, USA. This evidently appealed to her mother as when next daughter Sarah died aged 38 in 1869, the parents & youngest boy William (then 23) emigrated too. They settled in Galena, Jo Daviess, Illinois (they always seem to live in places with a strange name!) and can be seen there in the census of 1870. Nancy died there aged 77 in 1879, and Thomas lived on there alone and "partially deaf" until he joined her in 1882. William married Annetta Pinch, whose parents were from Cornwall too, and settled in Colorado.

Friday 11th May 2012

I've been working on a few Mary Anns this week:

Mary Ann Knight born 1825 at Carnrosemary (later called Bugle) was the daughter of Anthony Knight & Ann nee Jeffery, christened in Roche 29 May 1829. On 23 Sep 1847 she married Henry Chapman in St Austell, then settled there & had 8 children. In 1851 census she is at Mount Whistle, St Austell with 2 daughters, her b-i-l Robert Chapman & nephew Edwin. Her bro William lives next door. In 1861 they are in Gracca Lane, Roche with 6 children & a boarder Thomas Jeffery (probably a relative of her mother, but I haven't checked). In 1871 their address is Paradise, Roche, they have 7 children and Thomas Jeffery is next door. By 1881 she has been widowed, is back in Gracca with 3 sons, then 1891 alone. She died in Jan 1900.

The next Mary Ann was born May 1806 in Roche & was christened there 9 Jun 1806. On 18 Sep 1833 she married Thomas Snell, who had been widowed a few months previously & had 5 children. He & Mary Ann then proceeded to have 5 of their own and can be seen with them in the 1841 census along with 5 assorted "servants" in Carbis, Roche, where they lived for the rest of their lives. Thomas died there in 1877 & was buried at Roche on 7 May, Mary Ann joining him 20 years later. She spent her remaining years at Carbis, with boarders and grandchildren & was buried at Roche 1 Jun 1897.

Mary Ann Knight born 26 Nov 1827 in Chile, was christened in Roche on 18 Jul 1829 with her brother James, also born abroad. They can be seen in the 1841 census with their parents & sibs at Bodwannick, Lanivet. She married on 17 Apr 1849 John Grose, and moved in next door. they can be seen there in 1851 with 3 children, a lodger widow Mary Grose possibly John's mother, and 3 servants. In 1861 it is the same, but they have 5 children. 1871 is a bit different, Mary Ann's mother has recently been widowed & she is staying with her & her aunt in Bodmin, while John is farming a large farm Appledore in St Ive, Liskeard with 5 children and 3 servants. This is an interesting place, one of the old farmsteads mentioned in the Domesday Book in 1086. John lived here for another 30 years, and his son after him. In 1881 Mary Ann is back with the family, but by 1891 has died and John continues with his children until he died in 1901.

Now, the next Mary Ann was going to be a juicy one - I thought I had found the Black Sheep. I found her working as a servant at the time one by the same name was indicted for stealing goods from her employer, at Bodmin Sessions in 1861 and sentenced to 6 months hard labour. The trouble is, I then discovered a marriage some months earlier and the felon was described as a single girl. [I still do not know how one young servant could carry off £9 11s, 4 beer glasses, a wine glass, 2 "rummers" (whatever they are), 2oz tobacco, 2 chargers (likewise), 2 night-dresses, a tablecloth, pair of stockings and a towel on 1 Aug 1861 (ie all at once) but not to worry, as she was not my ancestor]. My Mary Ann married George Bennett Coon on 23 Mar 1861, had 2 children and then died at the tender age of 27. Quite mundane really. Sigh....

Tuesday 8th May 2012

The final Mary is not a Mary at all, but I picked her up in the list as she first appeared at the age of 3 months as such. She was born Rosa Mary Knight on 28 Sep 1861 in Lanivet, Cornwall to Philip & Elizabeth nee Willcocks, and christened there on 13 Mar 1863. She can be seen with the family in censuses of 1861, 1871 & 1881 at Churchtown Village, Lanivet, as Mary in 1861 then as Rhoda (!) in 1871 & 1881 (these enumerators were often church wardens etc & sometimes elderly & hard-of-hearing). Some time between 1881 & 1890 she emigrated to Michigan as in 1891 she married a distant relative from Cornwall Joseph Trudgeon, a widower with 10 children! She went on to have 6 sons herself, but died of heart failure following childbirth in 1900 having her final son, who himself did not survive, unfortunately. Joseph went on to marry for a 3rd time. I discovered a lot of photos of the family on Ancestry:


Joseph & Rose

Joseph & his 3rd wife Emma, with Rose's 5 boys - aren't they lovely!
***

Two more Mary stories this morning. One was born on 28 Jan 1849 at St Columb Major in Cornwall, to John Knight & Charlotte nee Behenna and christened there on 27 Oct 1850 with her baby sister Jane. They can be seen in the censuses of 1851, 1861 & 1871 at Goss Moor, St Columb Major:


with uncle Nicholas Behenna lodging. In 1881 Mary is living with employers in Trekenning House, St Columb, where she works as domestic servant to a solicitor & his family. In 1891 she is cook in the house of a chemical manufacturor in Compton Gifford, Devon. After that I am afraid I cannot find her - she either died, married or emigrated without a trace I can pick up on.

The next Mary was born in Jan 1793 in St Germans, Cornwall to John Knight & Elizabeth nee Prin, and christened there on 17 Mar 1793. She was married there on 8 May 1816 to William Small and had 3 children; Betsy in 1817, Mary in 1818 and William jr in 1822. Unfortunately she died, probably in childbirth, and was buried on the same day William was christened 6 Jan 1822. Life could be short in those days; she was only 29.

Monday 7th May 2012

After a weekend of partying, then recovering, now to tackle the Mary Knights. I have listed 11 of them, although not all will have stories to tell.... back later with some info.

***
After a couple of false starts, with Marys for whom I could only find baptisms and nothing else, I came across one of those emigrating families with very detailed stories to tell. This Mary was born to Robert Knight and Elizabeth nee Udy in June 1802 in Luxulyan, Cornwall and christened there on 21 June. She was married there too on 9 Nov 1819 to local boy William Bryant & settled down there. They had 4 children in 12 years; Betsy, William, Joseph and Lydia. It is not clear exactly when or why, but round about 1840 they emigrated en masse to Ontario, Canada, where they proceeded to put down roots and raise families. In the 1861 census they can be seen, living as neighbours in Reach, Ontario, with Lydia and William jr in log cabins alongside Joseph & family and their parents in frame houses. They are "Bible Christians" by religion and farmers & teamsters by profession. When Mary died in 1870, William continued to live close by, and can be seen in 1871 census next to Joseph & family, then in 1881 he has moved in with Lydia & family until his death later that year. Both William jr and Lydia married twice and had several children. I have found pictures of Joseph & his wife and of their gravestone



I wonder if any of you know this area and any relatives there called Bryant - would be interesting.

Tuesday 1st May 2012

Let me tell you the story of Louisa Knight. She was born in 1868 April-June quarter, to Christopher and Jane, of Criggan Downs. In 1871 she can be seen aged 3, at home with her parents, sibs & grandfather and the same aged 13 in 1881, daddy a tin-miner. By 1891 she is admitting to 21 and employed as a live-in nurse with the household of Charles Durham, coal factor from Cornwall, in Broadhurst Gardens, Hampstead (very similar to Lavinia, I wonder if there's a connection - mind you, this is 10 years later...) Similarly, she met a husband living in London, the wonderfully-named Frederick James Higbed, and they were married in her hometown of Roche on 13 Nov 1895, then settled in Poole, Dorset, where they both died many years later - in 1948 (Louisa aged 80) & 1952 (Fred 85). Unusually for those times, they had no children. In 1901 census they are at 8 Carlton Grove, Branksome and in 1911 Victoria Road, Parkstone. Both of these places are regions of Poole and nowadays the houses are fairly modern, so have evidently been rebuilt. The interesting thing about their address in 1911 is the house name is Criggan, so they must have named it themselves after the place she was born - a nice touch.

Just mopping up a few of the Others, before launching into the Marys - 10 Marys & 7 Mary Anns! Today I studied one of my favourite names Lucretia Elsie Ashton Knight, born 11 Jan 1885 in Bodelva, St Blazey. Her parents were Woodman Knight & Elizabeth nee Ashton, and moved the family to Tonbridge, Kent by 1911. Lucretia can be seen in censuses with them 1891 & 1901 at Penpell, Lanlivery near Bodmin, Cornwall before they left, then in 1911 she is with her sister Ethel, helping to look after her children aged 5 and 2 (occupation given charmingly as "Mother's Help"). She must join the others at a later date, though, as it is in Tonbridge that she dies in 1962.

Lucy Beatrice and Mabel Knight are part of a large family who shipped off to Clinton, Michigan and established a dynasty there. I have only today discovered there is a memorial plot for the whole family in Mount Rest Cemetary, St John's, but I will go into this in more depth when I do the father Oscar Orlando Knight (sometimes known as Oscarlando!) at a later date...




Sunday 29th April 2012

The next Lavinia is quite interesting. She was born here in Carnsmerry, Bugle, St Austell to Robert Knight and Lavinia nee Retallick


(Well, not in the claypits, presumably, but nearby) lived at Molinnis with her parents & 9 sibs until her teens, when she went to work in Hampstead, London as a housemaid to a retired lace merchant. Her father was a merchant, so may have been a colleague. She met George Henry Jarrett & married him in the Parish Church St Marylebone on 18 Feb 1883, and lived there for a while at 28 Northumberland Street, having their first child there in 1883. They theen moved to Crawley, Surrey & had 2 more, then to Faringdon in Berkshire, where she can be seen in the 1891 census with 3 children and her sister Eva with her son. By 1896 they have moved again, this time to Thornton Heath, Croydon (strangely enough where my husband lived for part of his childhood!) and had the final daughter there. They remained at 28 Luna Road, including the census of 1911 & may have stayed there for the rest of their lives, as George died in this area in June 1938 & Lavinia too the following April, aged 84 & 78 respectively (good longevity genes in this tree!)

When I looked up the youngest daughter Eva in 1911, with a thrill I found her staying with her uncle Alexander Knight and his family in Penge! When you follow the twigs on these trees you literally go out on a limb and it is so gratifying to find something like this that confirms you are on the right track (sorry about mixed metaphors here!)

Saturday 28th April 2012

Finally through the Js & Ks & into the Ls (feels like progress...) Launched into Lavinia Jane Knight this morning. I have half-done her in the past, but as she appears in the 1901 census 6 years after her death, obviously it all needs checking & sorting out. I'll report later...
***
It took a bit of untangling, and I had to remove one of her children... but I got there. Her story runs as follows: She was born Sep 1850 in Roche, christened 6 Jan, parents Anthony & Ann. In 1851 & 1861 censuses she can be seen on the family farm with her parents & various sibs (she had 3 bros & 3 sis). 1871 is a problem, as there are 3 possibilities: one in St Austell workhouse, one in Kenwyn but staying with a sister she doesn't have... or one working as a servant in Carbis (the village where she was born, so this is my favourite option) but working for a family of Knights I do not know of and under the name Jane (very possible, as they often used middle names). Hmmm

Anyway, she married Edward Johns in Plymouth (where he came from) in Jan 1878 and went on to have 4 children. They can be seen in the 1881 census at 53 Wolston Street, Plymouth [now replaced by fairly modern terraced houses] with son Thomas John (known as John, see above), but unfortunately I cannot track down the family in 1891 (this is usually due to an error or mis-transcription and this name is so similar to Jones, of which there are many thousnds, it is a problem). Lavinia died in Jan 1895 in West Ham, possibly due to complications after the birth of her 5th child, as an Allison Joseph Johns was born in Oct 1894 in West Ham and subsequently died there in the April. Edward went on to remarry - Ada Gracey 5 Oct 1895 & had 7 children with her. At some point between 1905 & 1909 they moved to Enfield (not far from me now) where she died 1926 & he followed in 1928.

I think the main problem I had with her was there was another Lavinia Johns born at much the same time & she remained in Cornwall with her son Frederick. Thus providing a false trail for me to follow. I do have another Lavinia on my tree - more of her later.

Thursday 26th April 2012

The final Joseph is being elusive. I found his baptism quite quickly yesterday, on 19th April 1835 in Withiel. Here is a pic of the font used...


I could find him on the farm with his parents & sibs, aged 6 & 16 in 1841 & 1851 censuses respectively and his marriage to Mary Rowe on 24 Nov 1860 in St Stephen-in-Brannel. But he is working away (lodging in Illogan) in the next census, while Mary & son Edwin (born 3m after the wedding - oooo) are staying on the family farm with Joe's parents. I cannot find any of them after this, which may mean they emigrated, although I do have access to US and Austrailan records & cannot find them. Although Mary & Joseph are common names, Edwin is less so, but there is a death aged 8 (which could explain the emigration, if so - this often happened in reaction to such things in those days. The Family Bible I "inherited" that started off this whole escapade for me told just such a story, when our branch of my grandmother's family in Leicestershire came down to London in response to the loss of 3 of their 4 babies from TB & such in the 1840s). I shall drop this family for now, but hope to pick up the story at a later date.... As this was where they married, there is a possibility they may be in the cemetery pictured above.


Tuesday 24th April 2012
Continuing through the Joseph Knights today. The first one b1812 was frustrating - I found his baptism, which was a little out of the ordinary as it was at Roche, giving an address of "Littlejohns, St Stephens". Looking at his father's record, he too was born in St Stephens & christened in Roche, so they probably felt Roche was the Family Home (as a lot of the Knights did) and baptised their children there (or were trying to fool me!). Anyway, that was about as far as I could go with him, as the jump to Marriage couldn't be proved as the best guess did not give the fathers' names.... and 1841 census was when he was 31, so could have been any of the 5 married possibilities... 1841 ia always a problem, as it only gives whether they are from the local county, so isn't very helpful.

On to the next Joseph then... Joseph Knight b1822 was born on Criggan Downs, Roche, married a local girl Jane Thomas and lived there all his life, next door to his brother David, and very close to brother Christopher, listed as a tin streamer/miner. In their early 70s he & Jane moved to Bodmin for retirement, and can be seen there in 1901 in Higher Bore Street. Jane died here very soon after the census & it seems Joseph may have moved back to Criggan Downs, as his death a few weeks later is registered there, rather than Bodmin and on the death duty register it is a D. Knight who is named as executor, probably David.


The next three Josephs get in a tangle, and have to be sorted slowly and methodically, as they are known as Joseph junior at various times in their lives, then when the son comes along the father is known as senior & the son Junior.... etc - eek! They are born 1736, 1763 and 1790, and two of them marry Elizabeths...all live around Roche & I will report back when I have fully sorted them out.
***
Joseph b1763* married Elizabeth Williams in 1788, died in 1837 & was buried, all in Roche. He was called Junior until his son became Junior..

His father b1736 was Joseph Knight snr also spent all his life in Roche. He married 1761 Elizabeth Mark, with whom he had 7 children, until she died 2 weeks after having the 7th (probably of some complication). 6 months later he married again to Jane Harvey. He died 1808 & was buried in Roche.

The son of * above was Joseph Knight jnr b1790, also married an Elizabeth, but she was helpful in always being known as Betsy, from St Wenn. They settled in Roche, had 11 children & he died 1870 aged 79, she in 1877 aged 84. Really good ages for the time!

I have another Joseph, but as he is unrelated to these he can wait until another day.

Monday 23rd April 2012

I thought I should explain what this is all about. I have been researching the histories of both my and my husband's parents for some years now. Last year I had completed a lever-arch file for each of the 4 trees, with each family-member having a page of his/her own. Obviously this will always be a work in progress, as there are always new records becoming available and thus more info available on each "twig". So I am progressing through the files, working on several hundred in alphabetical order within each file. At the moment I am working on the tree of my mother-in-law Jessie Manhire, mostly from Cornwall. Her grandmother was called Knight, and I am amidst this branch, studying those beginning with J at present. They are interesting in that they come from great Cornish towns & villages in the area around St Austell where they used to mine china clay and where now the Eden Project can be found. With their Corninsh background there can be imaginative names amongst all the Johns & Janes etc, which is a treat!

Today I am "doing" several Josephs - a lot of the current work is checking old notes and writing them up in the lever-arch files, but it is valuable in that I make myself prove every stage along the way by finding the records - birth, baptism, marriage, death (& associated probate if at all possible), which is very good for any study.


Joseph Knight b 1815 spent his life here. Called Menadew in those days, a working farm, the spelling has now been modified to Menadue & its associated cottages are now holiday lets. He wasn't terrifically interesting, though, as he unfortunately died aged 44. So his main achievement was 3 children....

Joseph Henry Knight b1850 was a bit more enjoyable. He was one of those children, so grew up in this pretty place, but at the age of 10 had to go stay with his uncle, when his father died. However, Mummy recovered her equilibrium pretty soon & they moved to Rock Cottage, Roche, all together with a servant. He married a local girl (Mary) Emma Catherine Stickland in 1875 & had 4 children. In the census of 1881 they were obviously doing OK because he called himself Retired Farmer, he retrained as a Butcher but then found his niche in catering. In 1901 the family have moved to Exeter, Devon & he is running a Refreshment House, with the help of his daughter Priscilla. [Now redeveloped into a modern branch of Nat West bank and railway arches]. In 1911 he is recently widowed & they are running the Northernhay Hotel in Exeter [now there is a modern university Residence on the site as it was bombed out in WW2] with 2 live-in staff: a waitress & a Boots. He died in 1918, but for some reason left his effects to a solicitor (so there may be a story there!)